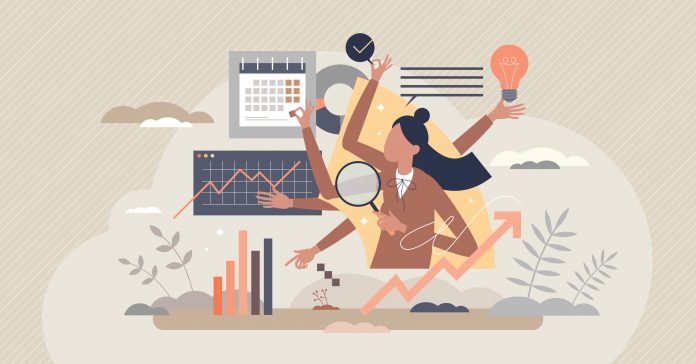 Uncertainty, hardship, and obstacles characterized the previous two years. However, it also provided several opportunities for personal growth, transformation, and lessons learned. We've all witnessed how the corporate world has been turned upside down as a result of massive labor shortages, a byproduct of the "Great Resignation" amidst a global pandemic.
The root of this problem comes down to employee dissatisfaction and unhappiness with the current work environment. Employees around the globe were not getting enough out of their old roles and desired more fulfillment, forcing them to seek out opportunities that allow them to grow and develop while maintaining a work/life balance.
These changes have contributed to a major shift in the digital learning market landscape. It now has evolved into something personal and flexible to accommodate varying needs and wants. To move forward, we first must look back and reflect on how the digital learning market has changed and how we can create future-fit learning and development (L&D) strategies.
Heightened Desire for Learning and Growth Is Here to Stay
Due to the pandemic, we saw a major shift in employees' mindsets. The US Labor Department reported 6.1 million Americans left their jobs in the month of February alone. Employees were not just leaving to have more free time, they wanted a career path that was more fulfilling and allowed professional development.
We've seen this devotion to learning illustrated in the 12.7 million digital badges earned by Skillsoft users through our Percipio platform last year, which is a 48 percent increase from 2020, and we expect this growth to continue. As employees self-direct their learning, earn new certifications, and develop new skills, they look for the next step in their career progression. Many companies are creating internal talent marketplaces to enable talent mobility—either in new roles or special projects—to retain talent and high employee engagement.
Reskilling and Upskilling Is a Must
We know upskilling across industries is needed, and this rings especially true for tech. A recent study found 76 percent of IT decision-makers are reporting critical technical skills gaps among their teams. These gaps hold companies back from achieving growth and transformation plans. While tech experiences the most gaps, every company is a tech company in today's world and most employees must be technically literate, if not proficient. Organizations focused on tech skill development saw increased employee engagement, faster performance, and improved job outcomes. In 2021, Skillsoft saw some of the biggest learning trends in tech—noticing that out of the millions of badges earned in the last year, most were in technical areas such as Cloud Security, OWASP, API Security, and Agile Basics.
Time to Address Gender Inequality in the Workplace
Women have been hit harder by the pandemic's financial and societal fallout than their male counterparts around the world. According to McKinsey, 1 in every 4 women has considered downshifting or quitting their job. C-suite leaders led by CHROs had to closely examine what women wanted out of their jobs in terms of skills, professional development, remuneration, flexibility, and work/life balance, especially as the Great Resignation continued to run its course. While this type of research is an excellent indicator of awareness and the first step toward change, we must not stop here. Businesses must work continuously to create a modern work environment that attracts and retains women in their workforce.
Focusing on diversity, equity, and inclusion (DEI) and building more inclusive mindsets and policies is top priority for Fortune 1000 companies. Learning and Development leaders are seeking out training on recognizing unconscious bias in the workplace, building awareness of micro-behaviors, challenging prejudice and stereotypes, nurturing empathy, and embracing diversity to attract and retain a talent.
Hybrid and Remote Work Is the New Norm
The concept of a "workplace" as a noun has evolved significantly, and it's no longer limited to physical location. Virtual, immersive, and collaborative learning approaches will be used to ensure a strong growth culture across all teams. For the second year in a row, Skillsoft's Aspire Journey, titled "Virtual Work in the New Normal," has been one of the most popular skill paths in the collection. This skill path covers time management, managing stress, trust building through effective communication, cultivating relationships, mindfulness, and work/life balance. Managing effective virtual teams has emerged as a critical skill and building proficiency in this is a top priority for global organizations. Similarly, being an effective member of a virtual team is now critical to advancing many careers.
What to Expect for Learning in 2022
Many trends and changes that emerged in 2020 and 2021 will continue evolve into deliberate L&D strategies and investments in 2022. These include using skill assessments and skill gain measurements as a measure of learning ROI, using c
The role of Learning and Development has never been more critical or central to corporate strategy. The skills and capabilities of the workforce are the biggest enabler—or the biggest barrier—to achieving strategic goals. This next year will be all about turning learning into a competitive advantage. Can your organization be the best in your industry at growing talent from within? Can you be the fastest at identifying skill gaps and closing them? Can you be the first to learn and adopt new technologies that are faster, better, cheaper?
The companies that are the best at learning will win.