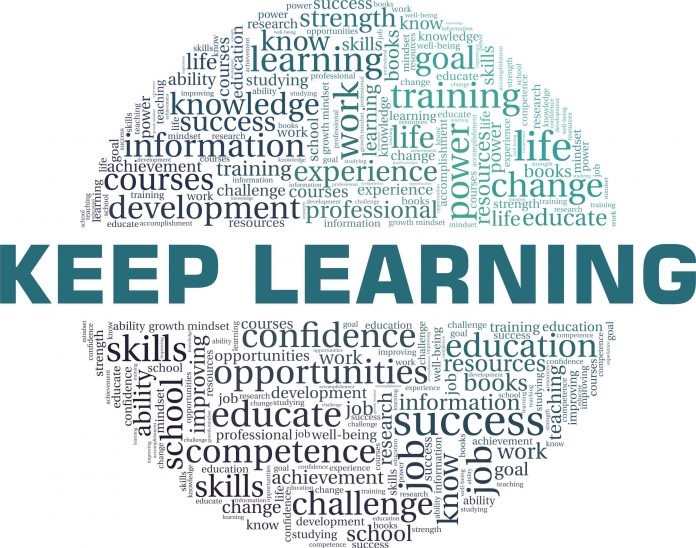 Digital transformation has vastly expanded the capabilities of many organizations by facilitating communications and allowing for more flexibility and efficiency. With this rapid digitalization comes a parallel growth that has been less welcomed—the growth of the skills gap.
As companies are rapidly evolving to keep up with the digital boom, the need for employees who understand the digital landscape and who can evolve at the pace of their industry is critical. While a formal degree can provide an excellent foundation for students preparing to enter the workforce, one thing is becoming increasingly clear: A formal degree is not always enough, nor is it the only path to a great career. Alternative learning methods provide an opportunity for prospective workers to continue building upon critical skills and can be a worthy option for those who are unable to access or afford one. Employers and learners alike have slowly shifted toward embracing these methods, as they provide ample opportunity for more people to upskill and enter the workforce, leading to a more diverse and qualified pool of applicants, and encouraging lifelong learning.
As companies struggle to search for qualified talent, it is in hiring managers' best interest to look beyond the formal degree and to consider potential employees who have a lifelong learning mindset, who can bring applicable experience, and who fit the company's culture and mission. By doing so, organizations can tap into a wealth of diverse perspectives and experiences, strengthening their organization and helping to close the ever-widening skills gap.
The Cultural Learning Shift
What was once a gradual cultural shift toward alternative learning methods became greatly accelerated and cemented. Digital transformation over recent years has given rise to new programs, broadening the available opportunities.
Back in the 1970s, companies dominating the market required formal degrees among applicants. There were little to no exceptions to this rule, especially in the IT field where specific degrees such as computer science degrees were necessary for the proposed position. However, as digital courses, trade schools and other alternative learning modes have grown, the demand for a formal degree has decreased. Additionally, organizations that previously could tap into the talent pool with ease are finding the hiring landscape to be more competitive than ever.
The increased availability of digital learning opportunities combined with the ruthless hiring landscape has led to a cultural hiring shift. According to a recent Indeed survey of 502 employers across the U.S. on how the COVID-19 pandemic has shaped current recruiting and future plans, 59 percent of employers are considering eliminating college degree requirements for hiring altogether. Additionally, 30 percent of employers believe removing degree requirements would help them hire more diverse talent.
Expanding Opportunities for Learners Everywhere
For employers to gain footing in the hiring market, they must adapt to suit this shift. Widening the talent pool to applicants with alternative learning experiences will not only have monumental benefits for their organization, but for the broader economy, as well.
Online learning and development opportunities provide potential learners with the flexibility to learn from anywhere, often providing a flexible schedule for people who have time constraints or competing priorities. Whether it be a student trying to kickstart their career or someone trying to shift into a new career trajectory, alternative learning and development opportunities allow the vast benefits of learning to reach beyond the classroom, creating a larger pool of qualified applicants.
While potential employees may seek out alternative learning methods on their own, there is also an opportunity for companies to build out these skill development methods internally, tailoring courses to their specific business needs and encouraging existing employees to continue building upon their existing skillsets. Learning and development programs today can offer expertise on a wide range of topics, many of which are emerging concepts and skills needed to keep up with digital transformation efforts.
The Case for the Lifelong Learner
Throughout the duration of my career in the tech and education space, I have witnessed that people committed to continuous learning and personal development often experience rapid growth and success within a company or career path. As they enhance their skillset, they become valuable assets to colleagues across their organization, who can tap into their knowledge for a wide array of business needs.
This continuous learning mindset is incredibly advantageous to organizations and is a mentality that is not contingent on obtaining a college degree. That said, I do not believe the formal degree is going anywhere. Formal education provides remarkable benefits to students, giving them a unique developmental experience that can pave the way to wonderful opportunities. However, employers and potential employees alike will benefit greatly from seeing the value in alternative learning programs.
These development programs are unlocking more opportunities for learning and growth than we've ever seen and will continue to do so. They are providing opportunities to communities unable to access traditional learning methods, they are combatting the ever-growing skills gap amidst the unpredictability of digital transformation, and they are providing a means for potential employees to become lifelong learners.