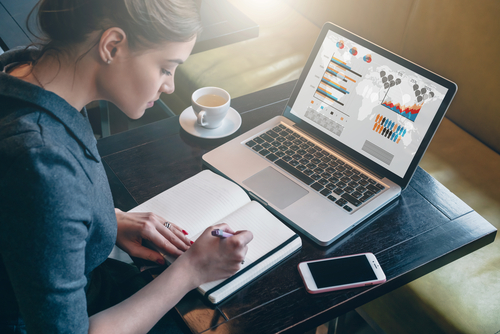 The speed and scale of business change has never been as dramatic as it is right now. At the same time, customer knowledge and expectations are at all-time highs.
For many organizations, that means new products roll out more frequently and existing ones are updated rapidly. Combined with the fact that revenue generation is the #2 business priority, as companies seek to recover from the impact of the COVID-19 pandemic, it becomes clear that sales performance is under great pressure.
How can large, distributed sales organizations keep up with these changing conditions? Enterprise sales teams able to adapt and respond quickly to changing needs and trends will be well-positioned to stay a step ahead of the competition. This involves agile sales enablement training with fresh, accessible, and measurable content.
Organizations with extensive partner and reseller networks face a host of challenges keeping these groups properly trained. Typically, sales professionals are tasked with selling multiple, often competing, brands and product lines that keep getting new versions. This makes for some complex training needs. When you also take into account that these sales teams are widely dispersed and often aren't even employees, it only adds to the complexity.
Traditional, event-based learning no longer fits well within the dynamic nature of the role of the modern sales professional. This means companies must find solutions that fit better into their workflows, providing more opportunities for collaboration and learning in the moment. This requires a new look at sales enablement content.
More than three-quarters of organizations say they satisfied using sales and partner training developed in-house. Keeping up with the demands of the role can be difficult, time-consuming and costly. Sales enablement learning should be targeted, tailor-made, self-driven, and engaging for sales reps, giving them the tools and information they need to confidently meet sales goals.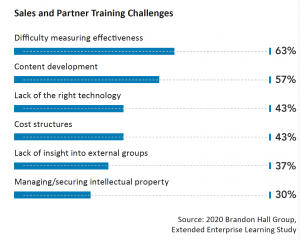 Best Interests
It is clearly in an organization's best interests that the people responsible for selling its products and services have the best, most up-to-date skills and knowledge available to be successful. This is especially true in a reseller/partner environment. Salespeople will sell products and services they feel they know more about and are comfortable and confident with. In a multibrand reseller environment, the right training can make the difference between what gets sold and what doesn't. And these objectives are confirmed when we look at the benefits organizations say they achieved through their extended enterprise learning efforts. Many companies are increasing awareness of their products and improving customer relations, among other outcomes. Companies that deliver partner and reseller training are recognizing multiple benefits.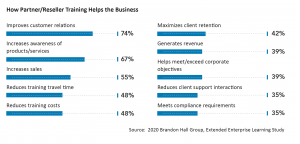 A big driver of effectiveness, though, is technology. Eighty-seven percent of companies say technology is the main reason for the effectiveness of their customer training. Most companies use a learning management system (LMS) for sales and partner training. Taken in aggregate, it becomes clear that organizations need to focus acutely on the content and modalities they use to deliver training to their sales and partner networks.
Organizations seeking to improve the customer experience must address these key issues:
How is sales enablement content created and updated?
How is sales enablement content distributed?
How is sales enablement content consumed by sales reps always on the move?
How do we ensure that content is fresh and addresses current market/customer requirements?
How do we track content consumption?
How does sales enablement impact sales performance?
The Right Technology
Most employee groups are equally pressed for time when it comes to their busy workload, but for sales professionals, it is a somewhat different environment. Time spent on training is time they are not generating revenue for the business nor income for themselves. This puts a huge burden on how and when we expect this segment of the workforce to engage in learning. Learning should be targeted, personalized, and engaging and consume as little time as possible, while delivering specific outcomes that are immediately relevant and recognizable to the learners. Sales professionals tend to spend their work lives in a sales portal or platform such as Salesforce, so it is important that their training can be accessed quickly and easily from within this environment.
Measurement of this kind of training is a huge challenge for organizations. As such, one of the key requirements for a technology solution is robust reporting and analytics. Sales reporting and analytics is a function that lives and dies by its numbers. Sales performance data can be correlated with learning data to measure true effectiveness of learning programs. Learning must consider this and leverage the vast amounts of data generated by sales to measure the effectiveness of its programs. Metrics such as revenue attainment, customer retention, cross-selling, and upselling should be factored into the development of programs so they can be measured later.
Organizations seeking to supercharge their sales and partner training must recognize the unique nature of these audiences and their job requirements. A strategy designed to meet their needs and the technology to make it happen is essential.
Points to Remember
Sales teams require agile, accessible training.
Limit the amount of time learning takes away from the job.
Sales teams learn best from one another, so connect them.
Sales professionals respond well to incentives.
Sales performance is one of the easiest things to measure; base everything on KPIs.
Click here for information on Brandon Hall Group's Professional Certification Program
David Wentworth is principal learning analyst at Brandon Hall Group. The firm's vision is to inspire a better workplace experience, and its mission is to empower excellence in organizations around the world through its research and tools. Brandon Hall Group has five HCM practices and produces the Brandon Hall Group HCM Excellence Awards and the annual HCM Excellence Conference, in West Palm Beach, FL.