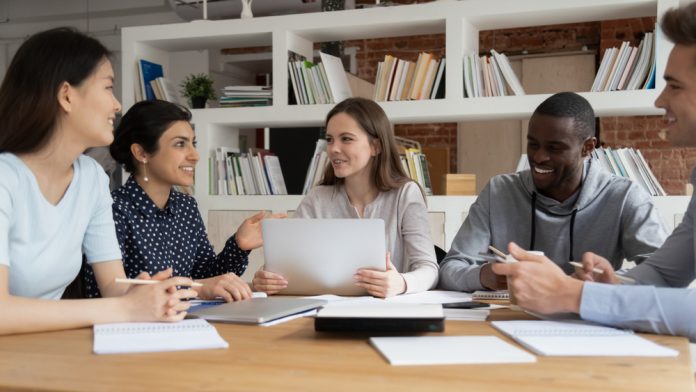 Labor shortages. Something we keep seeing pop up in the media over and over again. We've also seen stories covering disengaged workers and talent looking for bigger and better opportunities.
This raises the question of how we can find, nurture, and retain a workforce that is excited about their work. The answer: investing in internship programs.
Given the bandwidth of small-to-medium businesses and start-ups, putting time and effort into internship programs can take time and effort. But they're missing out on a fantastic opportunity. A key way to build a talented, eager pool of candidates is to develop an engaging internship program that gets students out of classrooms and into boardrooms.
At Knak, we've seen the value of internships as more than just extra bodies in the room. Our interns are coming to the table with fresh ideas, excited to share their potential and help us make a mark on the world. This is why Knak has spent time putting together an internship program that benefits our brand, Knak employees, and, ultimately, interns. As we implemented our program, we've learned some lessons along the way for recruiting, training, and engaging with students across the country.
Lesson 1: How to Recruit Interns
Everyone knows that the first step when hiring is to post on job boards. Take it a step further by building connections with college internship program coordinators.
Many colleges offer fall, winter, and summer internship programs. The institution's program coordinators manage these programs and are where the majority of hiring takes place. Most interns are affiliated with a college program, and those colleges often offer support coordinating internships beyond posting on their job boards. These teams are incredible resources and put a massive effort into connecting employers with students. Each school has unique program offerings, so take advantage of programs colleges have developed for employers and students. If you know you need marketing and communications support, target institutions that are known for those programs.
As a recruiting and training professional, the best thing you can do when starting your program is connect with department representatives at your target schools to understand what resources are available to employers and how to engage students.
Lesson 2: How to Onboard Interns
Once you've narrowed down a solid group of students, you need to train them.
Treat them as you would any other employee in the organization in their onboarding. Encourage them to be part of social events and have them work side by side with your full-time team. By sitting co-ops side-by-side with full-time colleagues, they get to contribute to projects that land in front of customers. Students learn on the job while performing actual work that benefits our business. At the end of their program, students feel a sense of pride and accomplishment.
The onboarding process is your first chance to introduce the new interns to the company brand. Hook them in and get them excited. A consistent and well-thought-out onboarding process provides an equitable experience for everyone and ultimately removes extra stress from the staff.
By onboarding interns and full-time staff simultaneously, using the same onboarding program, you are adding more job-ready candidates to your talent pool who are dialed into your corporate culture.
Lesson 3: How to Engage Interns
After onboarding them onto your team, here are a few things you should consider to give interns the best experience possible.
It all comes back to interns knowing and feeling that their work matters, is meaningful, and is providing value to the team. Trust that students want to work on projects that make an impact. Before bringing an intern onto your team, work with your employees to identify where the intern supports actual tasks. Plot out areas they can drive the business forward. That way, students provide real value to campaigns, projects, or day-to-day tasks.
When you think about investing in people, there's an excellent opportunity to educate the next graduates eager to learn, grow, and challenge themselves. Keep in mind that working with an intern is a two-way street. Be open to new ideas from a younger generation. Gen Z is highly tech-savvy and can bring an entirely new perspective to your team. They also offer new opportunities for emerging leaders in your organization to manage, mentor, and train talent.
Thousands of students enter the workforce every year across North America. Getting in front of students is an opportunity to share information about your brand, product, and culture. Whether students intern, interview, or stop by your recruitment booth, your brand is reaching the next generation of talent. Those micro-interactions add up and allow businesses to carve out a name within their industry, city, and country.