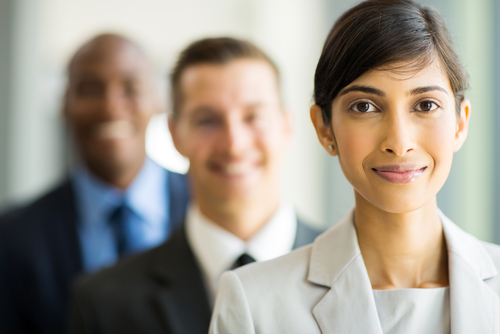 It is difficult for leadership development to have a strong business impact without a rich strategy that embraces a culture of continuous learning with a heavy emphasis on practical experiences. Only 10 percent of organizations are at that level of maturity, Brandon Hall Group's latest Impact of Leadership Development Study shows.
The impact of the COVID-19 pandemic, the lack of diversity in the leadership pipeline, and ineffective use of technology and assessments complicate the process of improving leadership development.
The workforce is in flux and leaders must improve a wide range of skills within a disruptive environment where time rarely is provided for reflection and self-development. Many organizations can't prove that leadership development helps the business and need assistance from outside the organization to ensure leadership development works.
Organizations also often fail to determine whether high-potential leader candidates are aligned with their values and mission, so they spend money on developing leaders who will not meet expectations in the long run.
Right Now
The majority of organizations are in the formative stages of building a sustainable leadership development strategy that contributes to business performance.
Approximately 20 percent do not have a leadership development strategy and 36 percent are in the process of building a strategy that involves inclusive development of leaders at all levels. Most organizations are transitioning from event-oriented leadership development to a system of continuous learning. Brandon Hall Group's Leadership Development Maturity Model, based on its 2020 Impact of Leadership Development Study, shows that only 10 percent of organizations—those at Level 4 of the model—have a fully developed leadership development strategy yielding strong business results.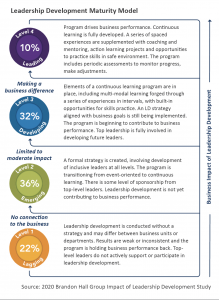 These organizations' leadership development efforts are fueled by a culture of continuous learning, including coaching and mentoring, action learning projects, and other opportunities for leaders to apply their new skills in a practical setting. Only in this kind of environment, wherein leaders are empowered to take ownership of their development, can leadership development programs have real business impact.
Employers must build programs that develop leaders who can:
Drive engagement across the organization while implementing an effective employee value proposition
Empower collaboration to drive business results
Drive a culture of diversity and inclusion
On average, only about half of organizations do any of those things. But when continuous learning is in progress or fully in place—Levels 3 and 4 in the maturity model—it is closer to 70 percent.
Bottom Line
It is difficult for leadership development programs to truly impact the business without a multifaceted strategy aligned with the organization's business objectives. And since business objectives change, especially in a disruptive environment, HR leaders must be vigilant to ensure the leadership development strategy stays aligned with the organization's needs. That is not easy and this report offers strategies to improve the impact of leadership development.
Prove Impact
In our research, only 34 percent of organizations said they can prove their leadership program significantly impacted business results, i.e., develop leaders who can help their organizations meet their business goals.
However, that percentage rises to almost 60 percent among Level 3 and 4 organizations.
Similarly, when asked whether they are equipped to implement and sustain effective leadership development programs, 44 percent of organizations overall said, "Yes." At Levels 3 and 4, 68 percent said the same
A Closer Look
The disruption of the COVID-19 pandemic and the resulting increase in remote workers put a magnifying glass on leadership challenges organizations struggled with for years.
The pandemic inspired some leaders to embrace inclusive leadership behaviors—empathy, perseverance, and fostering employees' well-being—while accentuating weaknesses such as managing emotions, self-awareness, and understanding one's biases and acting to minimize them.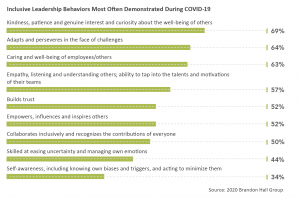 Going forward, the key is to reinforce and build on the inclusive behaviors leaders demonstrated during this unprecedented disruption and address the most critical needs that held leaders back.
Goals
The problem is that many organizations have so many barriers to effectiveness
to overcome, it can be overwhelming. This is why a well-defined and mature leadership strategy is important. If you know the business goals, you can align leadership development goals to business objectives and prioritize the challenges you must address.
Beyond challenges that are specific to your organization, these three dimensions of leadership development receive the lowest ratings for effectiveness, according to our research:
Technology leveraged for leadership development
Assessments of leadership development candidates/participants
Targeted programs to improve the diversity of the talent pipeline.
All three of these elements are critical and should be evaluated. Technology and assessments are addressed later in this report.
Diversity Is a Driver
Diversity is an issue that goes beyond leadership development. HR should work with stakeholders across the enterprise to improve diversity in the leadership pipeline. Diversity and Inclusion (D&) has emerged as an important business driver in recent years, and its importance intensified due to the events of 2020, most notably the social justice movement.
But there is a significant disconnect between business importance and performance. For example, only:
31 percent of organizations believe their talent pipeline is diverse
23 percent of organizations believe their leadership reflects the composition of the workforce
22 percent of organizations believe the diversity of leadership reflects the composition of the customer base
Amid all the other challenges, diversity of the leadership pipeline stands out as a barrier to success and should be a prominent part of every organization's leadership development strategy.
Click here for information on Brandon Hall Group's Professional Certification Program
Claude Werder is senior vice president of Research Operations and principal Human Capital Management (HCM) analyst at Brandon Hall Group. The firm's vision is to inspire a better workplace experience, and its mission is to empower excellence in organizations around the world through its research and tools. Brandon Hall Group has five HCM practices and produces the Brandon Hall Group HCM Excellence Awards and the annual HCM Excellence Conference, in West Palm Beach, FL.