Just a few years ago, organizations were only concerned with having a learning management system (LMS) to serve their internal employees. Now, there are multiple learning technologies in play and they must work with each other, as well as with other systems in the organization, to meet the needs of the organization's internal and external learners.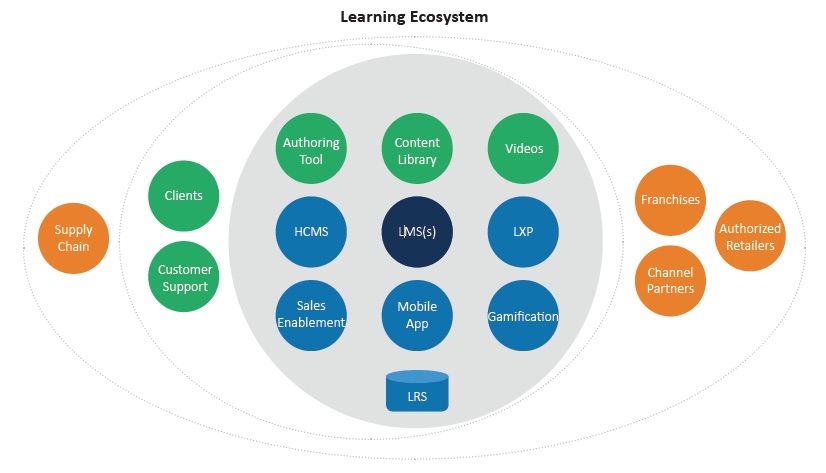 At the heart of it all, is the need for a solid, effective blended-learning strategy that allows learners to learn, apply, and refine what they are learning. This includes at least the basics:
Instructor-led training
Hands-on training
Video-based training
Coaching
E-learning
To execute this kind of learning strategy, a learning-management system must be deployed to help organizations create, assign, distribute, and measure the success of e-learning and other training. According to Brandon Hall Group's 2019 Learner Experience Survey, 93 percent of companies currently use at least one LMS, far more than use any other learning-related technology.
A proper LMS must address the needs of two audiences: learners and administrators. There should be a balance between their requirements or else you end up with a system that is either too complex for administrators to manage or too difficult for learners to use. Learning management systems have numerous features and functionalities—with some of more value to an organization than others. However, the main functionalities companies want is to manage compliance training and support a blended learning strategy.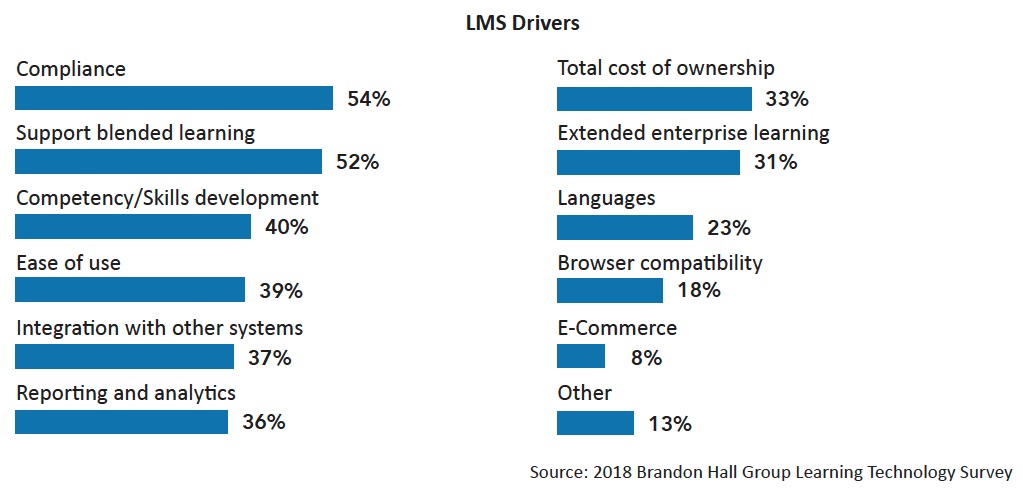 Ultimately, the goal is a tool that enables an organization to deliver quality training to its employees and the extended enterprise. Doing it poorly can be costly. Study after study shows that it is far more expensive to replace an employee than develop one. That cost only increases as you move up the salary chain. Retention becomes a critical outcome for learning, and the LMS is a key tool for achieving it.
The LMS also can be a productivity tool. According to a study by IBM, every dollar invested in training results in $30 in productivity. How the LMS helps achieve these goals is by allowing companies to provide just-in-time learning—where and when people need it most. Without technology, learning becomes a series of front-loaded training events where employees are presented with everything they need to know all at once. According to the Ebbinghaus Curve, people retain a fraction of what they learn in this environment for only a few days. The LMS provides repetition and reinforcement to boost retention.
6 Features of a Great LMS
Self-authoring tool
SCORM compliance
Access to a course library
Easy to use
Tracking and reporting
Integrations and customizations
Role of the Modern LMS 
Integration
A top requirement for any LMS is the ability to seamlessly integrate with other systems, leveraging a robust set of APIs. Integration provides the opportunity for an organization to have a 360-degree view of its learner experience. The integration of data from the LMS with learning, talent, workforce management, HRIS (Human Resources Information System), and ERP (Enterprise Resource Planning) systems gives an organization a robust data table that serves as the foundation for optimizing the quality of learner analytics, along with invaluable insights into improving the quality of learning. 
Assessments
Basic functionality around tests, exams, surveys, and other forms of assessments is important for measuring learner progress, and length and depth of retention. Assessments are well supported through LMS functionality and provide a straightforward and scalable approach to quickly developing and launching assessments.
Traditional Learning Resources
The functionality of the LMS is designed to support SCORM-oriented content. Because the LMS is uniquely formatted to accept this content and deliver it, the expediency an LMS offers in uploading and feeding this form of content into the experience is key.
ILT Support
Instructor-led training (ILT) is and will remain a major part of learning for many organizations; therefore, instructor, resource, course, and classroom management remain important functions for an LMS to support.
Administration
The LMS still plays an important role in overall learning administration, especially in supporting instructor-led training and managing compliance training. 
Key features are:
Content catalog/domain management
Administrator rights and permissions
Data security and privacy
Learner/user management
Reporting
Learning that takes place on the LMS is best reported by leveraging features built into the LMS including:
Report-building engine
Standardized report templates
Schedules for training management
Notifications and Reminders
Push notifications are needed to keep learners and administrators aware of important actions that reside within the LMS and include:
Notification configuration for administrators
Notification for learning events
Notifications for progress in completing assigned or mandatory training
Certification Management
Many organizations depend on the LMS to support and deliver training that ends with a certification or maintains a level of certification and tracks the progress of learners in their certification process.
To download a free copy of Brandon Hall Group's research summary, "Rethinking the Learning & Development Budget," click here.
David Wentworth is principal learning analyst at Brandon Hall Group. The firm's vision is to inspire a better workplace experience, and its mission is to empower excellence in organizations around the world through its research and tools. Brandon Hall Group has five human capital management (HCM) practices and produces the Brandon Hall Group HCM Excellence Awards and the annual HCM Excellence Conference, in West Palm Beach, FL, February 4-6, 2020.