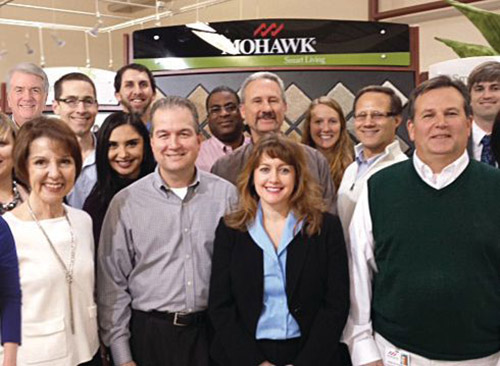 Flooring manufacturer Mohawk Industries knows it's at a pivotal point in its growth. Last year, the Training team distinguished itself by supporting the company in its efforts to top competitors. There also were gains made in providing learners with the technology they need to be prepared for their jobs. The investment in a new learning management system (LMS) had the company thinking about the needs of its employees and the type of technology that would best suit them. These forward-looking efforts were complemented by continued work to improve ongoing challenges such as leadership development and employee engagement.
PREFERRED PROVIDER
Mohawk's Learning professionals understand the importance of supporting the company in its push to outpace competitors. "A key component of Mohawk Industries' business strategy is to be the preferred provider for more than 25,000 residential and commercial customers," says Training Director Amanda Arnwine. "Training has helped to deliver on that goal in many ways."
For example, Arnwine points to the success trainers had supporting its ceramic tile segment, which implemented Statements, a new aligned dealer program. "The company supported new program participants with both classroom training and e-learning opportunities," Arnwine says. "Sales among program participants exceeded projections by 20 percent, with the retailers gaining critical product knowledge and design expertise to boost sales at the store level."
Similarly, says Arnwine, trainers also supported the residential carpet team with specialized training around communication skills, system skills, and engagement for customer service associates to address the three most common order entry errors that cause incorrect shipments to customers. The training resulted in these types of claims reaching a record low of .01 percent of shipments in June. "This ensures that our customers are receiving their orders right the first time," Arnwine notes, "and eliminates freight costs to and from the customer on returned orders."
TACKLING TECHNOLOGY
Sometimes changes you wouldn't think would require much in the way of change management end up requiring significant support. That's just what Arnwine and her team discovered last year. "Surprisingly, one of the most challenging changes that took place recently was perceived as a relatively minor event, which proved to be a contributing factor to the issues that ensued," says Arnwine. The company switched its e-mail platform earlier last year, she explains. Because the new platform was familiar to many people through their home computer use, engaging them in training was more challenging.
"Adult learners tend to balk at being taught something they feel they already know. Unfortunately, changes to the platform's calendar function were unfamiliar to most of the audience, and the corporate directory was not as easily accessible," says Arnwine. "Call volume to the IS help desk rose sharply as calendar entries did not migrate consistently to the new platform, meeting rooms were identified in a different format, and meeting acceptances weren't syncing between smart phones and computers."
Arnwine points out that within a week, much of "the tempest" was resolved, but the lesson was clear: "When change management involves tools people feel they already know well, creative internal marketing is required to help explain the scope of the change and its potential impact."
LMS ABCS
Like many companies, finding the LMS to suit its particular needs hasn't been easy for Mohawk. The last few years have seen the use of a few different systems. In 2013, the company strived to resolve these issues and find the right solution for its learners.
Arnwine describes the search for the perfect LMS as akin to "searching for a unicorn." She says you're spurred on to think there is such a thing only to find compromises are necessary. "There are legends about its existence, but no one actually can claim to have found one. We sought a system that could meet the needs of a complex organization, provide a simple user interface, and offer great value to the business."
She says Mohawk has implemented three different LMSs in three years. "Our previous system did not sync with Workday, our Human Resources information system, and we needed to find a platform that could ensure an easy and accurate flow of data between the two systems," says Arnwine. "Our administrator spent hours doing manual enrollments, and reporting was a nightmare."
As a result, Mohawk transitioned to Cogentys, which Arnwine and her team learned about at last year's Training Conference & Expo. Cogentys partners with WeComply, and through that relationship, offers a library of more than 150 courses on topics such as safety, general business, and creating a harassment-free workplace. "Workday and Cogentys work seamlessly together, and we were able to partner with Cogentys to get the customizations necessary to satisfy the needs of our business units," says Arnwine. "The new LMS also resulted in a 150 percent reduction in cost per user, yielding a savings for the next three years of more than $350,000. For the Training team, the best shift has been that the time spent on the LMS by the average user has increased to 30 minutes per week, the highest utilization in terms of time the company has had since implementing its first LMS."
AIDING LEADERSHIP AND UP-AND-COMERS
As Mohawk's trainers meet the challenges of providing the most up-to-date technology, they also focus on the ongoing need to keep the company's leadership, and its next generation of leaders, strong. "Leadership training is critical to the success of any business, both in closing skill gaps among current leaders and preparing the next generation of leaders," says Arnwine. "Mohawk applies a modified confederated model for leadership training. The Mohawk Leadership Academy provides a progressive approach to leadership development, with each tier of the program building on the work done at previous levels."
Arnwine says the academy complements classroom instruction with stretch assignments, coaching, assessments, and online learning. "Our business units have distinct needs," she notes, "and each has developed leadership initiatives that are linked with their strategic business plans. We have been pleased with the results of this two-tiered approach, which offers both strategic leadership development, as well as focused learning around meeting business objectives."
The Mohawk Learning team's focus on leadership also extends to those employees who will be the company's future leaders. "We operate under the pipeline principle, believing that each group of leaders forms the succession pool for the next group above them," says Arnwine. "With entry-level and mid-level employees, our focus is on fundamentals."
For example, she notes that Mohawk's Leadership Potential classes help mid- and entry-level employees define their career path: technical/professional or managerial. These classes introduce the key components of managing oneself and others, drive desired behaviors across the business, and explore the importance of the company's Business Strategy as it applies to employees' current and potential roles. "We ensure that all high potentials complete a talent profile to define their current skills and their goals while measuring their progress through training, assessment, and more," says Arnwine.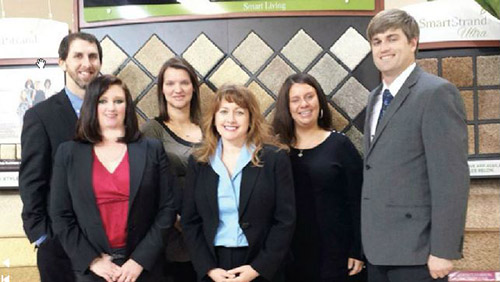 ENERGIZING ENGAGEMENT AND RETENTION
Mohawk's focus on engagement dates back more than a decade, Arnwine notes. "From climate surveys to focus groups, Mohawk has sought the feedback of employees to ensure that the company was meeting their development needs, informing them of the business' key objectives and giving them a forum for providing good ideas to benefit the organization," she says.
For instance, each employee completes a pocket card with his or her goals, which appear alongside the goals of the business unit and the enterprise. These cards become a catalyst for conversation with management and ensure alignment of personal and organizational objectives.
"Today, those cards represent just one tool for increasing interaction with management on an ongoing basis, particularly around career path discussions," says Arnwine. "The talent profiles we ask all high potentials to complete help them to better understand their opportunities within a growing business." Arnwine also notes that the company is providing greater communication through a variety of channels, including digital signs, video, Intranet, Internet, mobility, e-mail, kiosks, and print.
LOOKING AHEAD
As accomplished as Mohawk's trainers were in 2013, there is no time to rest on their laurels. "In 2014, we recognize that we must close skill gaps in some targeted functions to improve the success of the business," says Arnwine. One major challenge, she notes, will be the shortages the company will experience in technical areas such as maintenance and electrical positions, which has led the company to pilot with local community colleges to help employees earn certifications through accelerated programs.
In addition to filling these talent needs, the company is leaning on its Training team to aid corporate wellness initiatives. "We're continuing our efforts to improve the health of our employees and their family members," says Arnwine. "One new program we're excited about is a partnership with Georgia Tech that will help us to create a tablet-based wellness education platform to make it easier for people to access the information they need, to connect with experts in any of the five health risk areas we are targeting, and to keep track of their progress with nutrition, exercise, medication, and medical feedback."
Offering corporate wellness support is essential, Arnwine believes, to the company's goal of creating a satisfied, productive, long-lasting workforce. "One of the keys to retaining good people is to help them achieve their best, both in terms of their professional development and their quality of life, she says. "We constantly are working toward our goal of helping our people become the safest and healthiest workforce in American industry."