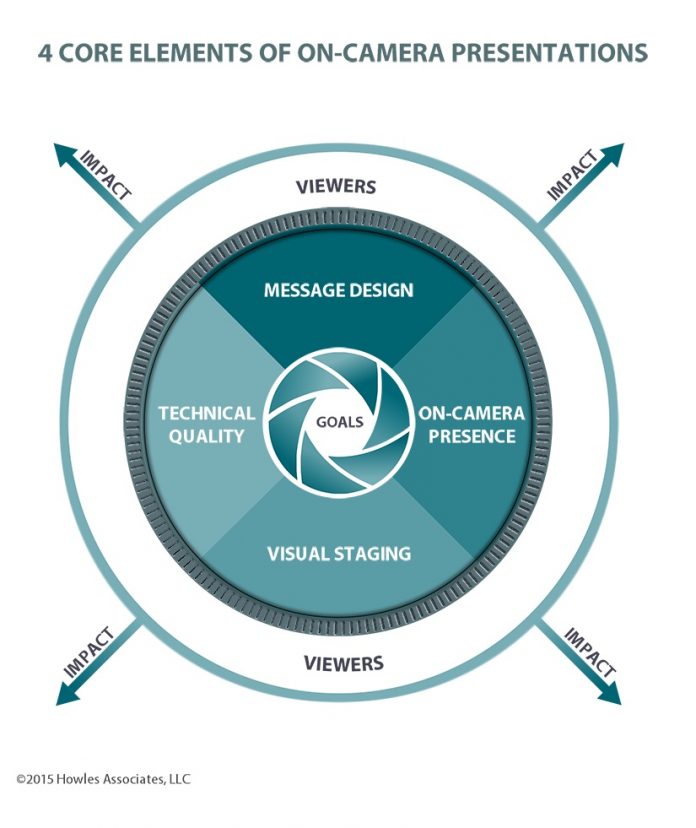 Video is on a roll. Over the last few years, video creation has become as ubiquitous as photography. Quick access to video hosting platforms such as YouTube or Vimeo, along with affordable mobile devices with easy- to- use recording and editing capability, has changed everything. According to YouTube, 300 hours of online videos are uploaded to the site every minute. Several sites, including curious.com, now offer thousands of video tutorials. Online video is not only transforming the way we train and communicate, but the way we learn. As Aragon Research lead analyst Jim Lundy said earlier this year, "The future of learning is video-based."
As trainers and educators, we need to thoughtfully consider how to leverage video for workplace learning in new, effective ways. According to Elliott Masie, chair of The Learning CONSORTIUM and president of The MASIE Center, "Our employees increasingly are turning to video as their medium of choice to access updated knowledge, skill development, corporate storytelling, and even peer-to-peer social collaboration." Some organizations are even accessing open-sourced (universal, free access) video content, or using online videos for corporate training, video-based learning modules, pre-work course material, and sharing corporate expertise.
If you haven't already, you also may find yourself presenting on-camera. An increasing number of subject matter experts (SMEs) and instructors now use videos to explain concepts, model tasks, and add a personal touch to online and blended learning. However, many professionals have little background in video presentation. Like any other medium of communication used for instruction, videos require knowledge and skills to be used effectively. If online videos are not designed and delivered well, they may not have an impact on learning and performance, or worse, may not be watched at all. In some of Purdue University's online certification courses for lifelong learners, research showed that students preferred watching shorter videos of professional actors presenting content instead of subject matter experts. Another option is to develop SMEs' on-camera presentation skill sets.
4 CORE ELEMENTS
Developing on-camera skills for instruction requires a framework. Through my experience as a multimedia developer, on-camera talent, and presentation coach, I've found it helpful to focus on a few core elements. In the model below, effective video begins with identifying the desired goals. These goals influence the four core elements of speaking on-camera, each of which runs deep with underlying strategies and principles. Each core element also can be used as a rubric for skill development.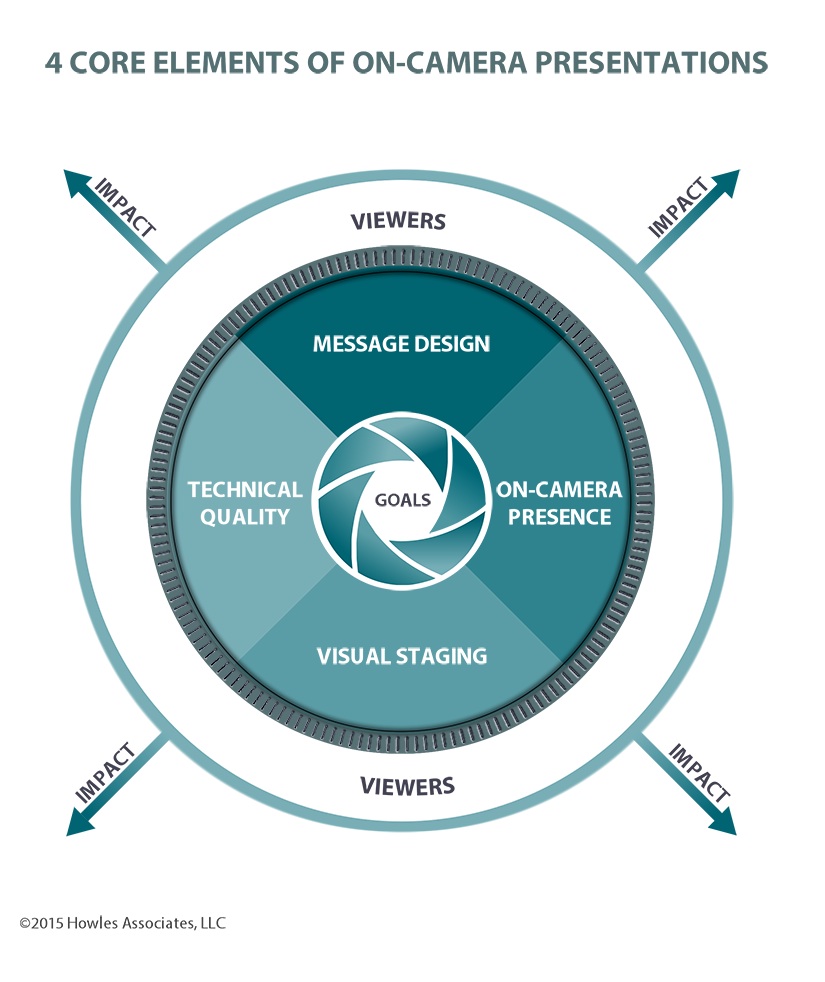 MESSAGE DESIGN
Content is inherently about message, so that's the place to start. Message design includes elements such as capturing attention, conversational scripting, supporting visuals, optimal length, and more. Let's focus on two essential principles here:
Chunk videos into four minutes or less. According to several studies on optimal viewing length for videos, learners tend to engage more with shorter videos. The optimal video length is four minutes or less. When you have more than four minutes of content, identify the content most conducive to video delivery, then chunk and sequence it into modular videos. Offload remaining instructional content to other media (such as self-paced reading assignments) when appropriate. When it comes to online video, brevity is better, because as videos get longer, viewers' attention spans get shorter.

Build a dynamic flow into intructional vidoes. Keep in mind that learners are able to click the "Stop" button at any time. Based on the concept of habituation, we need to work harder to capture and maintain learners' attention with online video. Habituation says that the more exposed we are to a stimulus, the less attention we pay to it. If a talking head remains static, if facial expressions do not change, if there are no cut-away shots to other visuals, learners tend to disengage.
ON-CAMERA PRESENCE
Staring into a camera lens and speaking in a fluent, compelling way doesn't come easy to most people. On-camera presence is about building credibility, using eye contact, projecting energy, and more. Here are a few principles to keep in mind:
Visualize one person whose name you know standing in front of the camera lens and speak to him or her. Imagine someone—preferably in your target audience—reacting facially to what you say. This will help your on-camera delivery be more conversational. Your delivery needs to feel like you're really talking to someone because the more natural you can be, the more effective you'll be.

Engage your audience by looking directly at the camera lens. Online video instruction is still about relationship, even though your learners may appear invisible. Eye contact is the most powerful way to connect. If you're using a teleprompter or cue cards, position them as close to the camera lens as possible. If it doesn't feel like you're looking at viewers, they won't engage. Maintain eye contact slightly above the center of the lens, never below it.
VISUAL STAGING
Viewers can easily get distracted. The next core element addresses management of anything inside the visual frame that could draw focus away from the content.
Use backdrops to hide visual distraction. If you have access to a studio, use it. If you don't, you can use photography background paper as a backdrop or weighted fabric. Overflowing bookshelves, office paper piles, and many other items compete for viewers' visual attention. The exception to this is if you shoot on a location related to your content. Pay attention to the background scenery because it subtly conveys messages that may compete with your content.

Avoid wearing bright, loud patterns, stripes, and logos. Many people ask what they should wear on video. Here's a rule of thumb: Avoid black and white, as well as bold, bright patterns, stripes, and logos. This competing imagery draws learners' attention away from content. White reflects too much light, and black can cause the speaker to be absorbed by a dark background or dark furniture. Solid, muted colors work best on-camera.
TECHNICAL QUALITY
Many people minimize the importance of technical quality for video. There may be some truth to "good enough," but with a little more effort, you can produce higher-quality video, giving greater credibility to your message. Technical quality includes good audio, camera equipment, lighting, and more. There are a few simple things you can do to ensure better technical quality:
Light the speaker well from the front. Good video requires lots of light. Pay most attention to lighting your speaker's face. Viewers don't want to see the speaker's face in shadows. Good lighting separates the speaker from the background. Consider using an inexpensive LED light placed near the camera directed at the speaker.

Use a lapel microphone to ensure audio is heard and understood. Poor audio can be a major distraction. Use a lapel microphone, which picks up more of the speaker's voice and less ambient room noise. This effect can happen when you use the microphone on your recording device, unless you are very close to it. Wearing a lapel microphone also allows you to move around, if needed.
These are exciting times for learning and training. According to Cisco's forecasting research, by 2018, online video will be one of the most highly adopted forms of media. As video use continues to grow and expand, let's build our skills for teaching effectively on-camera with these core elements: great message design; on-camera presence; visual staging; and technical quality. And that's a wrap!
Diana L. Howles is owner and president of Howles Associates, LLC, specializing in multimedia communication. As a speaker, consultant, and trainer, she provides workshops and coaching on how to improve on-camera presentations, visual communication design, and virtual instruction. She has worked as on-camera and voiceover talent, and is an awardwinning speaker with more than 25 years of experience in training and education. Follow her on Twitter @DianaHowles or visit www.howlesassociates.com to learn more.