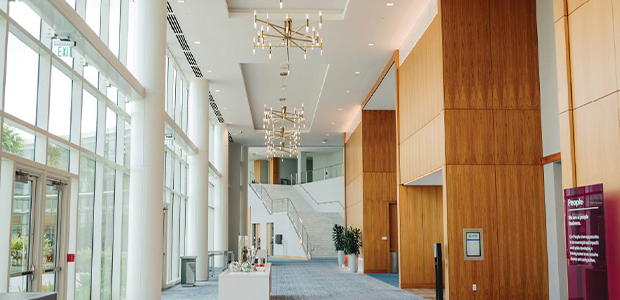 Photography by RTW Photography
Focused on collaboration, connection, and culture-building, KPMG's Lakehouse in Lake Nona, FL, served as the perfect backdrop for—and host of—Training's 2023 Learning Leaders Summit sponsored by Adobe. This event offered 100 senior Learning and Development (L&D) leaders unique access to the $450 million personalized training facility as it typically is reserved for Training Hall of Famer KPMG's internal training.
The facility boasts an overall sense of airiness with soaring ceilings, wall-to-wall windows, and sun-drenched spaces. It features state-of-the-art conference rooms, comfortably casual meeting areas, and gourmet food choices. But most of all, noted Michael Orth, senior director, KPMG Business School-U.S., "it creates a template for things we want to see replicated every day at KPMG. There's something fundamentally different about looking someone in the eyes in person—providing, receiving, and creating energy together. Lakehouse was envisioned as our cultural home where we make it a habit to collaborate and be curious, where we celebrate our diversity, and where we showcase what KPMG is on its best day."
Added KPMG Chief Learning Officer Michael Ohata, "Some 43 percent of our professionals have been with the firm for less than one year. We looked at how we can ensure they experience the firm and its culture. We sought to build a community and create a sense of belonging, and then coach folks on how to bring that back to their offices."
GAMES AND GURUS
That feeling of community often gets kickstarted with a scavenger hunt and other gamihcation aspects. During the Learning Leaders Summit, attendees participated in a customized scavenger hunt orchestrated by KPMG partner Wildly Different that helped them learn more about the Lakehouse—and each other. Participants banded together in color-coded bandanaed teams to decipher clues dispensed via smartphones as they made short videos in response to challenges, located and chatted with KPMG professionals sprinkled throughout the building to get answers to questions, and solved clever puzzles.
In between the scavenger hunt and networking at lunch, participants heard from a variety of expert speakers from organizations including University of Central Florida Institute for Simulation and Training, Verizon, IBM, Trane Technologies, Transparent BPO, and iCertis covering topics ranging from emerging technologies and developing a digital learning strategy from scratch to talent retention and creating a coaching cadre.
TAKEAWAYS
Some takeaways attendees discovered or rediscovered during the day-long event include:
The value of space, atmosphere, and belonging in learning.
How fun it was to be together with peers—the best ideas come out of play!
That you can build a team quickly by giving them a challenge. People want to win together.
As much as new technology is added to training, the human aspect remains critical.
How important it is to be intentional in creating connection in learning.
How great it can be to walk/move while engaging with colleagues.
Enthusiasm for making classroom learning fun but also creating room for failure, as learning moments.