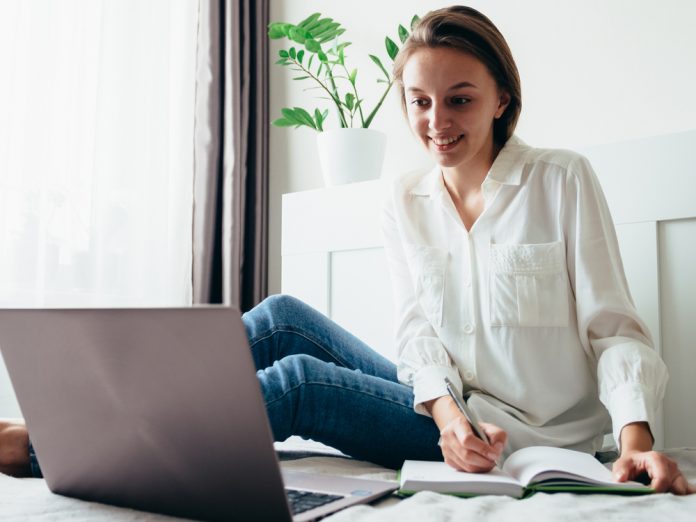 Some 72 percent of employees report some degree of remote working, either entirely or as part of a hybrid model. That means the workplace needs to keep up with hybrid and remote demands.
This includes the onboarding process. The onboarding process is one of the most crucial aspects of staff-business relations as it is the first extended impression staffers receive of their new workplace. It sets the tone for the coming months and affects how quickly new colleagues learn.
What Is Virtual Onboarding?
Virtual onboarding is onboarding new employees digitally, either by virtual training or video call. It differs from traditional onboarding in that there is little to no face-to-face interaction during the onboarding process. New starter training is conducted online, and staff members typically are encouraged to learn about company processes.
There are many benefits to the onboarding process being conducted virtually, including:
Saving time and costs in terms of room hire and staff hours.
New hires can review content if they miss anything.
Virtual processes tend to be more accessible for those with additional needs.
New hires can conduct onboarding tasks alongside other responsibilities if they have moved or are arranging childcare before beginning their new role.
Virtual Onboarding for Remote Employees
Employees are said to be remote if they mostly or entirely work away from the office. Some businesses do not even have an office aside from legal registration. If your team works remotely, then you need to consider how to produce a cohesive onboarding experience.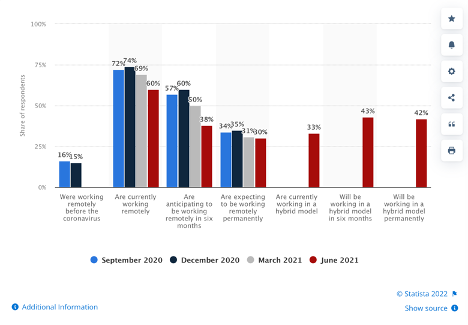 Image sourced from Statista.com
Your remote team has very little, if any, facetime with one another. For this reason, and because this can involve emerging technology, you'll need to consider:
Whether your team is spread over different time zones
Whether your organization implements a bring your own device (BYOD) company policy and, if not, what devices your team has access to
Whether your team needs security codes or clearance to access onboarding content
Whether your colleagues require additional accommodations to complete the training period
How Do I Do Virtual Onboarding Right?
There are a few simple steps you can take to optimize your remote onboarding process and avoid technical hitches and other potential pitfalls of remote working.
Doing virtual onboarding right is crucial to giving your remote employees the best possible start to your business. A poor onboarding experience can give your new staff a poor start at your company and cause further issues in the future.
The good news is that providing a top remote onboarding experience is simple if you understand how to implement it correctly. These are some of the most important things to remember when onboarding remote employees.
1.     Personalize training
Personalizing staff onboarding is critical to making your new staff feel immediately part of the business. It creates an atmosphere of support and learning, which reduces stress and mistakes in the initial joining period. Key things to personalize (or remember to provide) include:
Personalized staff e-mail and log-in before beginning the onboarding process
A welcome letter or e-mail
Guides to the workplace tailored to your staff member's department or duties
You can automate lots of personalization to save your team time while providing an excellent remote onboarding experience. Before you begin, though, it's best to determine which platforms and software best fit your needs.
You could try out an online comparison tool before investing in onboarding technology. PandaDoc compares services like DocuSign here.
2.     Understand the technology
Technology mishaps happen constantly, but the regularity and impact of technological hitches can be reduced.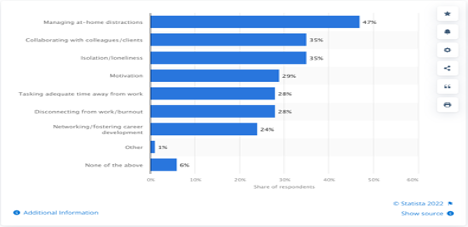 Image sourced from Statista.com
The first step to averting technical disaster is to know what you're up against. Consider some of the most common technical errors for remote working:
Poor Internet connectivity
Different operating systems are unable to format or open files
Passwords failing
Leaks and data loss
Dead links and error messages
You can have a plan established to work around these if you can pre-empt them. Take careful note of issues with internal communications and previous remote onboarding sessions and reflect on how they could be improved as a team.
You also should ensure everyone has the necessary skills to complete the remote onboarding process. Something as simple as knowing how to start a conference call or invite attendees to a virtual meeting is vital to virtual onboarding. However, you should avoid assuming that your team or new colleagues have skills in new technology. Rather, spend time ensuring everyone has the skills required for a smooth onboarding process.
3.     Collect feedback
There's only one way to know whether your onboarding process is working: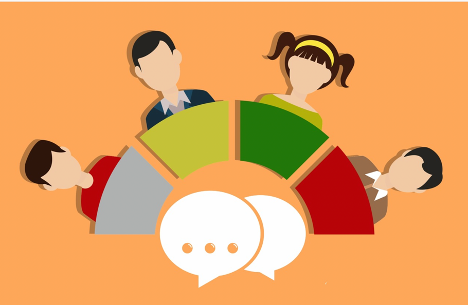 You should be collecting feedback after every onboarding session. If possible, don't wait until the end of the process before asking for feedback, as you may miss issues with individual components.
How do you collect feedback? That depends on what your onboarding process looks like, but you can use and adapt these core techniques:
E-mail feedback and online surveys
Focus groups in-person or via video call
A section at the end of virtual training for comments
An error-reporting system for technical errors
If you choose to collect employee feedback, be sure to act on it before beginning the onboarding process again. It will save you time and avoid repeated issues.
What Else Do I Need to Know?
Hybrid working has been a major cultural shift within the last three years. Employees now have vastly different expectations of their workplace than they may have in previous years, meaning employers must move quickly to keep up.
The effect of hybrid working on HR processes has been profound, affecting not just onboarding but every part of workplace life. While you should focus on optimizing your onboarding process as an initial point of contact between your organization and employees, you should be ready to maximize your HR business processes to reflect the move to remote working and virtual teams.