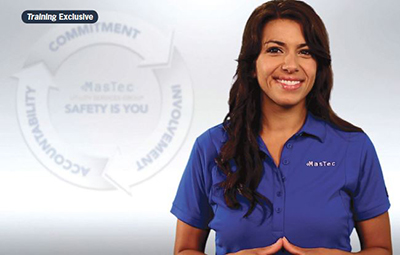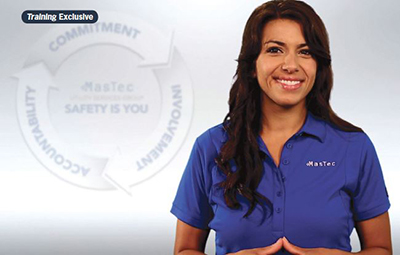 TRAINING EXCLUSIVE
Training magazine has been following MasTec's Utility Services Group's journey to create a culture of learning throughout its organization this year. Although such an ambitious journey is never simple and straightforward, success at the finish line for this utility construction company couldn't be clearer: recruit the best talent in the utility construction industry, develop those individuals, and ultimately retain top talent.
To date, we've learned about the team's blueprint to establish a culture of learning and the launch of a new lineman apprentice training program. Now, we shift our focus to the creation of a new training program designed for employees new to MasTec's Utility Services Group. The scope for the new employee training curriculum was well defined: What do employees need to know before joining a crew to ensure they'll be safe and successful? While there is a strong demand to get new employees out into the field working as soon as possible, MasTec's No. 1 commitment is to ensure that these employees are properly trained and aware of the safety processes and policies before receiving a hard hat.
CONSISTENT APPROACH
Historically, each MasTec Utility Services Group division and office was doing a great job of onboarding its new employees. Each, however, was doing so a little differently. Supervisors and managers had established their own training kits from which they facilitated safety training and an overarching orientation for new employees. The Employee Development Team took on the challenge to create a world-class training curriculum that ensures each new employee receives a consistent, high-quality introduction to key organization and safety concepts.
The first step in creating learning objectives for the new employee training curriculum was to partner with Utility Services Group Director, Safety and Health, Jarrett Quoyle to identify the most important skills and safety requirements each employee needed to master before heading out to the field as part of a crew. The list of topics grew to 16 as the team leveraged existing training topics, addressed perceived gaps, and surveyed MasTec's leadership and line-level employees for feedback around employee challenges and opportunities. The ultimate list of training modules ranged from basic topics such as "How to Use the Employee Safety Handbook" and "How to Report an Incident" to complex topics such as "Electrical Safety" and "Underground Utility Damage Prevention."
ENSURING ACCESSIBILITY
Because of the diversity of the MasTec Utility Services Group employee base, the team set out to make the courses as accessible for all employees as possible. This presented several hurdles. The first hurdle we addressed was overcoming potential language barriers. Our solution was to minimize language challenges, so each module was created in both English and Spanish. A bilingual host narrated the videos, enabling a consistent message coming from the same individual for all employees. The group president delivered his "Welcome to the Team" message in both English and Spanish. Early feedback from Spanish-speaking employees has been positive about the commitment it took for him to deliver messages around the importance of safety in a non-native language.
Another challenge the team addressed was one of dispersed geography and sometimes-limited technology. Because some employees needed access to this training in very remote areas, the team couldn't rely too heavily on e-learning. For this reason, multiple modalities were a necessity. As a result, the training was designed to be delivered via e-learning and through instructor-led modules supported through video.
TRAINING FOR ALL
Lastly, we knew that the effort to provide consistent training to every new hire would only be successful if the safety concepts and skills learned were reinforced consistently after the training. MasTec's Utility Services Group supports many industries (overhead and underground power, gas distribution, telecommunications, etc.) and has employees working across the country. Thus, consistency in execution and practice are vitally important, but challenging. For that reason, the team decided to assign every employee to the new hire curriculum. The rationale was clear: Let's ensure all existing employees can express, model, and reinforce the correct behaviors. When a new employee observes a mentor or long term employee in the field, he or she should be witnessing behaviors and processes that mirror what was covered in the training.
Fortunately, the multi-modality training curriculum made it practical to roll out the 16-module curriculum to thousands of employees. The top-down approach to setting and communicating expectations around the training was helpful, as well. The Utility Services Group's senior leadership team was the first to complete the training. They wanted to set a good example and be sure to practice what they were preaching.
As of press time, the organization's execution plan is well underway. We'll follow up with MasTec's Utility Services Group later this year to learn about the results and evaluate the successes and opportunities associated with the rollout of this training initiative.
John Congemi is director of Employee Development, Utility Services Group, MasTec North America, Inc.