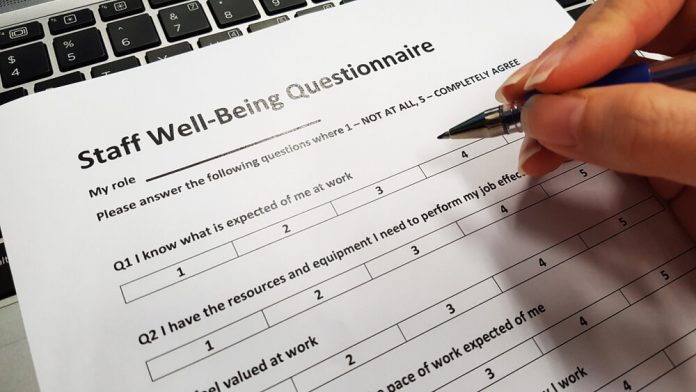 Leading up to the pandemic and during the past couple of years especially, "resilience" and "self-care" have become widely popular topics. And in our current environment of rapid change, disruption, and the push to do more with less, the ability to "bounce back" from adversity is certainly important—as is taking care of ourselves. But those are just part of the picture.
To create an environment where employees can truly thrive—and stave off burnout—we need to shift our focus away from individual self-care practices and toward intentionally leading with well-being for the entire organization.
What Is Well-Being and Why Is It Important?
Well-being is about feeling good and functioning well—both as individuals and as collectives. While the cost of unwell workers is staggering (i.e., $300 billion a year in the United States alone, due to work-related stress including absenteeism, turnover, diminished productivity, and insurance costs), the benefits of well-being can't be ignored.
Workplace well-being is associated with employee attraction, retention, and engagement. According to Gallup, employees who believe their employer cares about their well-being are 69 percent less likely to search for a new job, 71 percent less likely to report burnout, and 36 percent more likely to be thriving in their overall lives. They're also three times more likely to be engaged at work, and five times more likely to trust the leadership and advocate for their company as a place to work. Business metrics also improve, as well-being is associated with better customer engagement, increased profitability, higher productivity, and fewer safety incidents.
Well-Being Is a Workplace Issue, Not Just a Personal One
To reap the benefits of a thriving workforce and reduce the negative impacts of burnout, many organizations have started by focusing on resilience and self-care. Resilience is the ability to bounce back when times are tough, but it's only one part of well-being. Well-being includes practices people can be doing all the time not only to enhance resilience, but to optimize effectiveness in good times.
Likewise, self-care is critical, yet it's only part of the solution. Many organizations now are paying for gym memberships, subsidizing healthy food in company cafeterias, and providing mental health resources. While highly valued by some, many offerings are still unknown and underutilized.
Research shows that only 60 percent of U.S. employees are aware their company offers a wellness program—and only 40 percent of those who are aware of the program say they participate in it. Also, these efforts are entirely based on an approach of individual self-care. This is the "Go fix yourself, here are some resources" mentality that perpetuates the notion that being unwell is an individual's problem.
But it's rare that just one person is burning out. As noted by organizational psychologist Adam Grant, "burnout isn't just in your head, it's in your circumstances." A lack of well-being is a structural or cultural issue within the workplace—not just an individual's problem. In a new book, "The Burnout Challenge," the authors stress the importance of asking what's going on in the workplace—as well as with the individual—rather than pointing the finger at one or the other.
Leadership Matters—and So Does Action
One of the most accessible, cost-effective, and powerful levers for increasing well-being at work is leadership. A recent meta-analysis shows that the biggest impact on employee well-being comes from  eliminating toxic behaviors in managers and increasing transformational leadership behaviors.
In practical terms, the Center for Creative Leadership recommends focusing on six specific areas of well-being because they can be applied at multiple levels (individuals, teams, departments, and the entire organization), they're related to business outcomes, and they're actionable. Leaders can take simple, intentional steps to make headway in each one, as outlined here:
Purpose is the perception that one's life and work is meaningful and serves a greater objective.
Action: Find out what's meaningful for the people around you. Ask, "What energizes you? What part of your work is the most meaningful for you? Why?"
Growth is ongoing development and learning to realize potential.
Action: Ask your direct reports how they want to grow personally and professionally and then connect them with projects or opportunities that foster growth in these areas.
Health is an outcome, a state of being and a resource for living that allows people to function and participate in work and life.
Action: Encourage breaks between meetings, have walking/movement meetings (even better if outside), or end meetings 10 minutes before the hour. Protect everyone's time off by setting and modeling boundaries for responding to e-mails and other messages.
Agency is the perception of control over one's actions and their consequences.
Connection involves forming and maintaining healthy and strong interpersonal relationships.
Action: Ensure time and space for non-work-related relationship building. Get to know your colleagues, and take five minutes at the beginning of a meeting to check in with others.
Resilience is the ability to positively adapt and grow in response to challenges.
Action: Adopt small practices that add up. Set aside time in meetings to recharge (e.g., brain breaks, breath work, movement, stretching, mindfulness). Send gratitude e-mails once a week or start meetings with "shout-outs." Create a learning culture where mistakes are not feared. Conduct after-action reviews to reflect on what went well, what could be improved, and what was learned. Savor positive experiences; relive small and big wins with your team.
Making the Case for Well-Being
Workplace well-being may initially sound idealistic and out of reach, and it's often misunderstood as a nebulous, warm-and-fuzzy "feel good" initiative. But decades of research and practice tell a different story: that well-being is tied closely to real business outcomes, and the reality is that it's not only worth our time and effort—it's achievable.
These actionable practices have an impact on us, the lives of others, and our businesses. Creating environments where humans are well and can thrive is the foundation of great leadership. Leading with well-being is a choice that can differentiate your organization and help you attract, retain, and develop talent in this competitive market.