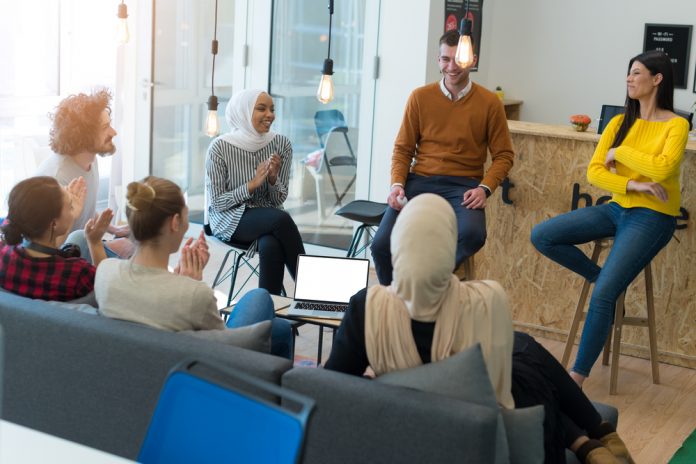 Workplaces are phasing out of the transformation that started during the pandemic. We're all searching for new ways forward so that we can create innovative and engaging workplaces in today's new normal.
A March 2021 Microsoft study revealed that high productivity is masking an exhausted workforce. Over 40 percent of global employees are considering leaving their employer this year, a trend we're seeing called the Great Resignation in the media. Nearly one in five survey respondents say their employer doesn't care about their work-life balance. Furthermore, 45 percent feel overworked, and 39 percent feel exhausted. This means that a thoughtful approach to hybrid work will be critical for attracting and retaining diverse talent.
So, what can leaders and managers do differently in their workplaces to attract talented people? Moreover, not only attract them but also retain them over the long term? The crucial element employees are searching for nowadays in the workplace is finding meaning in their day-to-day job. How can leaders and managers in the corporate world support this?
Creating meaning evolves through connections and creating a sense of community in the workplace. Crucially, meaning can emerge through feelings of partnership that allow people to feel connected to something greater than themselves, offering a sense of self-transcendence through their work.
Mindful leaders are essential in creating a sense of belonging and meaning in the workplace.
How does this happen?
Let people be part of the solution.
An essential part of employees' connection is contributing to the decision-making process and understanding that their voices count. If you want to redesign your work environment, ask employees to be part of the design project. This way, they will put their mark on your space and impact their own working environment. This partnership will enable the employees to feel connected and engaged in the company.
Create spaces for a deeper connection.
Invest time and effort in creating events that enable employees to connect deeper than beyond the work itself. Informal meetings, in which time is dedicated for small talk or when someone brings in treats or shares a personal success, can lead to bonding. Lunches can be scheduled with new employees and the CEO. You can create time for people to share information about their hobbies or pastimes, enabling deeper acquaintance and connection on a personal level.
Dedicate time to the onboarding process.
When an employee joins the organization, there is a specific entry process through which they learn about organizational processes and norms. A few weeks later, have a conversation with your human resources manager to learn about the employee's level of satisfaction in the onboarding process or bring the team together to explore what they learned when someone new was added to the team.
Enable employees to bring their whole selves to work.
Every one of your employees has interests beyond their professional lives: cooking, photography, crafting, and pets, among others. Create a place in the company to support these pastimes. For example, create a photography exhibition where everyone can share photographs from their life experiences, and perhaps allow each employee to choose a photo to hang in their offices, adding both colors and capabilities to the workplace. Invite a speaker to give an inspiring company lecture every month or invite employees to offer a talk about their hobbies or interests that are not connected to their core job. This will enable people to open their minds and learn new things, allowing them to get to know each other from a broader perspective.
Create a culture of trial and error.
Above all is the ability to create a nonjudgmental culture, understanding that every employee is unique but not perfect. The ability to enable ourselves and others not to be perfect creates space for people to dare to show up fully, even when they are wrong or have made a mistake. Embracing a growth mindset, as Carole Dweck defines it, creates a culture where people will feel comfortable enough to own their mistakes. Instead of searching for someone to blame, there will be space for evolving and learning as individuals and as a community.
All of these opportunities can inform a workplace driven by authenticity and vulnerability, enabling the development of a creative and innovative environment that people will want to be a part of. Provide space for employees to celebrate both their successes and their mistakes. As human beings, we can own them and learn from them.
That long-revered quote from Peter Drucker, "culture eats strategy for breakfast," is so true. People want to feel connected. They will want to be part of a company that serves something bigger than themselves. They will want to belong to a company that sees them more profoundly, that gives them a place to be themselves. And from this place is the ability to grow and evolve as individuals and as an organization.