Subscribe to Training Magazine today!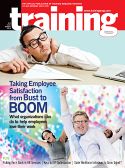 From best practices to case studies and research, Training magazine is the ultimate resource for training, learning, and performance professionals. For 55 years, Training has been the preeminent voice in training.
Published in print and online, you'll receive global learning and development news; trends; research and statistics; best practices; new products, services, and technologies; and how-to information.
A subscription includes the Annual Top 125 issue and the Annual Salary Survey and Industry Report.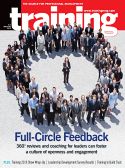 FREE Print & Digital subscriptions are available to qualified professionals residing in the USA
FREE Digital subscriptions are available to non-USA residents
Paid Print Subscriptions are available to libraries, non-USA residents and other professionals.
Subscriber services includes Change of Address, Claims and Cancels.
Single Copies:
To purchase back issues, please contact customer service at 1.877.865.9361 (toll-free) or 847.559.7596.
Subscriber Customer Service:
Email: ntrn@omeda.com
Phone: 1-877.865.9361 (toll-free) or 847.559.7596
Fax: 847.291.4816
Training, PO Box 247, Excelsior, MN 55331
Training magazine is published bimonthly:
Jan/Feb, March/April, May/June, July/Aug, Sept/Oct and Nov/Dec.
---

Training Weekly eNewsletter - The Best Email Resource in the Industry
Training Weekly reaches 52,000+ readers every Wednesday. It features proprietary Training magazine content not found ANYWHERE else, including:
A weekly Training Top 125 Best Practice
Links to the Training Day blog and the latest online articles written by corporate training and learning pros exclusively for Training
Links to upcoming FREE Training Magazine Network Webinars and recordings
Links to FREE timely white papers written by industry experts on critical L&D topics
A calendar of upcoming Certificate Programs, Conferences and Events
 
Click here to Subscribe Today!