Technology has been important in human capital management for many years, but adoption has been uneven. With a more dispersed workforce, that technology is even more important. Unfortunately, beyond payroll, most employers do not have the technologies in place to support a larger dispersed workforce. As a result, many employers will have to make critical investment decisions. (The graphic below can be downloaded at the end of this article).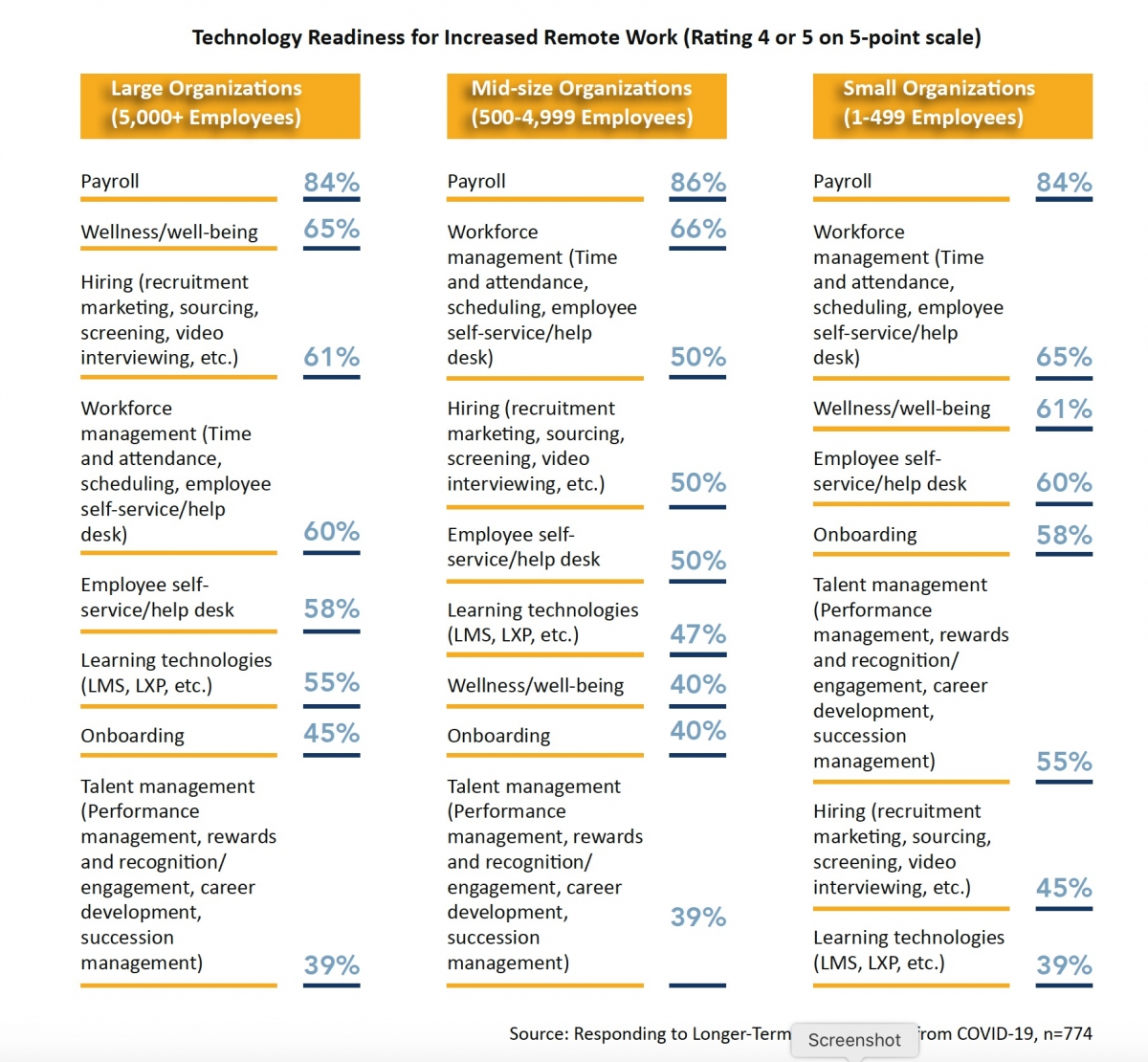 Managing People in a Work-from-Home Environment
Communication tools must go beyond e-mail, across an entire organization and not be isolated to a single "team" or department. Employers are not only building out goals from the top, cascading down to individual employees, but also publishing them and tracking activities to keep everyone on point. Use technology to create teambuilding exercises that would have been done in the office. This keeps remote employees connected and getting to know their colleagues.
Technology can improve productivity and communication whether employees remain in virtual mode or return to a more traditional office. The key to success is managing communication, coordination, and rapid response. Teambuilding is particularly important, especially with a large dispersed workforce. Brandon Hall Group research shows that more than half of work is accomplished through teams in 79 percent of organizations, and half of organizations say work accomplished through teams will increase by a moderate or large amount in the next one to two years.
Creating a single place to learn and interact is also important because all forms of learning—formal, informal, and experiential—are needed to develop agile employees who can acquire new skills and competencies and adapt to change in a fast-evolving work environment. The worst thing to do is throw a bunch of different tools at newly remote employees, confusing them about where to spend their time; it actually can make their lives harder. A small, unified tool set simplifies the work-from-home experience and ensures faster and easier adoption.
So, when determining your technology strategy, remember that the future is more uncertain than ever before. Critical workforce decisions shouldn't be made willfully or on instinct. In addition, data-driven decision-making—a low priority in many organizations—will be critical to adapt to ongoing disruption. Looking at the big picture, having tools in one place to analyze data enables easy adjustment to government legislation and programs and facilitates workforce planning that will continually evolve.
What Values and Behaviors Can You Establish Now that Will Drive Success in the Post-Pandemic Workplace?
When the pandemic hit, leaders responded rapidly with many different actions largely focused on employee well-being, engagement, and business continuity. Those focuses should continue, but now there are longer-term strategies to consider. Here are critical questions organizations are weighing, based on interviews with more than 100 organizations:
Is there a team working on adapting and implementing new processes and workflows that will persist beyond the current situation?

How will we measure and evaluate the success of remote work and how it has been managed?

How will we analyze the cost/benefit of continuing remote work for certain job roles, business units, or locations after social-distancing restrictions are lifted/relaxed?

How should we plan and manage the ongoing transition? Should planning be centralized, decentralized, or hybrid?

How do we ensure planning and administration is inclusive?

Which of our management practices over the last several months have been most successful and how do we keep the momentum going?

Should decisions about remote versus onsite work be made based on business need or safety, or should there also be some flexibility based on job role and employee preference?

Since some HR policies and guidelines (work-at-home policies, flexible work hours, benefits, etc.) have been amended during COVID-19, will those policies and guidelines return to their former state, stay the same for a period, or evolve over time?

What should be the guiding principles for managing the ambiguity of ongoing change?
The New Normal = The Future of Work
The answers to the questions we posed about change management planning will vary greatly by organization. Brandon Hall Group has conducted considerable research on the future of work and how to create great everyday employee experiences to drive employee engagement. This Employee Experience Model offers valuable guidance on how to think about the future. The model has six pillars, each covering several strategies, and all are underscored and supported by technology (the graphic can be downloaded at the end of this article).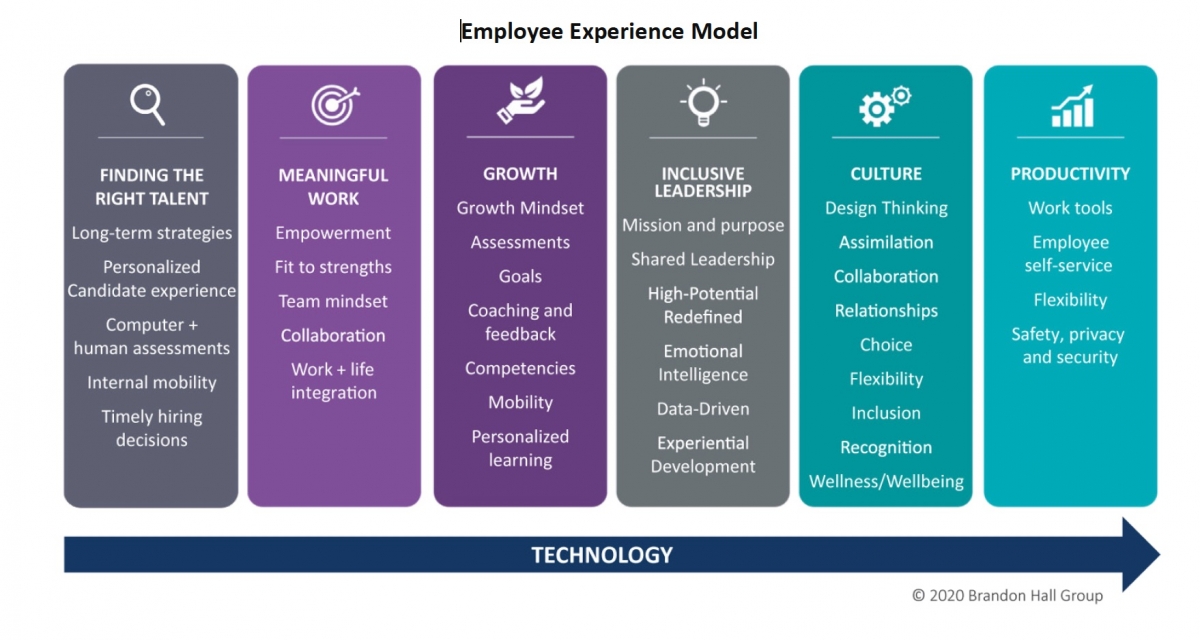 There are basic considerations that bridge across all the elements in the model:
Awareness of goals and objectives

Transparent communication

A focus on growth, progress, and development

Recognition

Accountability
How your organization views and implements each pillar and applies it to technology decisions will play a defining role in its success in the new normal that is our future.
To download a complimentary copy of Brandon Hall Group's Managing Remotely During Disruption Playbook-Research and Guidance for COVID-19 and Beyond, click here.
Claude Werder is senior vice president of Research Operations and principal Human Capital Management (HCM) analyst at Brandon Hall Group. The firm's vision is to inspire a better workplace experience, and its mission is to empower excellence in organizations around the world through its research and tools. Brandon Hall Group has five HCM practices and produces the Brandon Hall Group HCM Excellence Awards and the annual HCM Excellence Conference, in West Palm Beach, FL.