Less than half of organizations can meet talent needs with their current employees over the next one to two years, according to Brandon Hall Group research. The top reason is that learning and development is not sufficiently linked to career growth and critical job roles.
The impact is profound and damaging, according to the 2020 Brandon Hall Group Career Development Study. No more than 25 percent of employers say they do a good job at:
Offering well-defined career paths

Training leaders to help employees grow their careers

Developing employees to grow in their current roles

Preparing employees for new opportunities that meet their career goals and the needs of the business
An overreliance on live, instructor-led, course-based learning has been a big part of the problem. Use of digital learning was increasing before the pandemic and accelerated as the remote workforce exponentially increased during the pandemic.
As stay-at-home orders are eased and lifted, organizations must continue to leverage their learning technology to provide employees with compelling blended learning experiences in the flow of work that link directly to competency and skill development and career growth.
Difficulties
Employers have two main challenges to overcome:
Only about half of organizations (49 percent) have an active career-development program.

Low adoption rates for their learning technology
Employers always struggle to link learning, career development, and competency and skills development. This is because of many interrelated elements:
Career development requires career paths for key job roles that are linked to skills and competencies.

Those career paths and competencies should be clearly communicated.

Managers and their employees must work together to create and follow individual development plans (IDPs) that link business needs and employees' career aspirations to learning that builds the related skills and competencies.

Managers and employees must connect regularly for feedback and coaching to achieve the goals.
Integrated technologies connect the dots on the numerous elements of career and competency development. But many organizations are not using integrated technologies to manage career and competency development, including learning technologies. Approximately 40 percent of organizations say learners have not fully adopted their learning platforms, but that is largely because not enough learning is relevant to the critical skills and competencies employees must develop and apply to grow their careers.
Struggle to Stay Competitive
Organizations that fail to optimize technology to drive competency and skills development linked to career growth will struggle to remain competitive. Retaining top talent is among employers' top concerns, according to Brandon Hall Group research, along with having the right technology in place. Competency and skills development, career development, and technology are all interdependent and together drive the ability of organizations to keep their best performers.
To stay competitive in a volatile business environment, employers must address critical questions about developing the workforce, including:
How can you improve talent mobility to meet future business challenges?

How can you engage an emerging workforce of digital natives motivated by career growth?

How can you upskill or reskill employees at the speed of business in an increasingly dispersed work environment?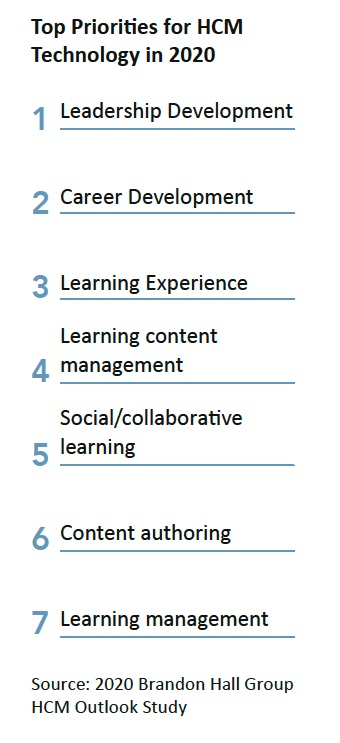 Leverage Technologies to Drive Career and Competency Development
Technology is the driving force behind improving career and competency development. Alignment of learning, career development, and competency and skills development is complex. It involves consensus on priorities, communication, learning strategies, agile goal-setting, development partnerships among managers and employees—and much more.
That is difficult enough, but when you add a continually changing business landscape and an overreliance on in-person, course-based training, learning cannot keep up with the needs of the business.
The mission for employers is clear: In a work environment more reliant on technology, to connect with employees, create learning that employees need to grow and engage them through your learning technology.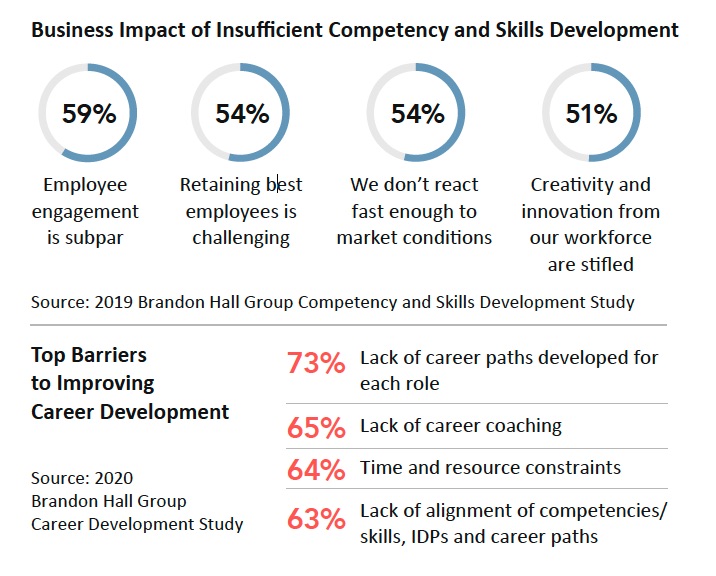 Learning technology levels the playing field; it enables fast and agile development of a variety of learning modalities. It empowers employees to learn in a contextualized, personalized way no matter where they are or how they are working.
Employers that achieve strong business outcomes from learning, which we call "high-impact learning organizations," are three to five times more likely to use learning technology tools than other organizations, referred to as "low-impact learning organizations."
Technology helps these organizations improve employee retention and engagement, shorten time to productivity, and improve higher individual and team performance, according to our research.
Make It Resonate
Until recently, many organizations struggled to engage learners with their learning technology, and the technology itself was often blamed. But a more significant problem has been that learning often did not resonate because it was not aligned with what learners wanted to learn, how they wanted to learn, and what the business needed them to learn.
But we are at an inflection point now where organizations' willingness to leverage learning technology has accelerated by necessity in the wake of the Coronavirus pandemic. At the same time, learners also are willing to increase their use of digital learning.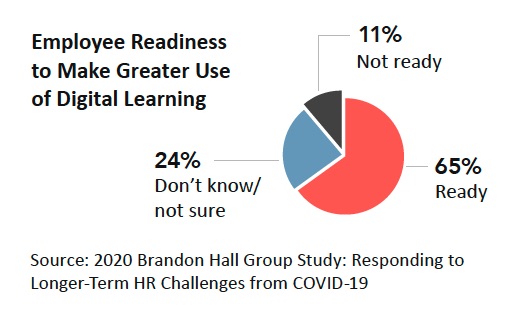 The key is creating a blend that provides employees with choices on how and when to engage in learning new skills and competencies. The right learning technology empowers learners to personalize and contextualize their learning based on their needs.
Meanwhile, other human capital management (HCM) solutions—learning/talent management suites or point solutions related to career development and performance management, for example—enable linkage between learning and IDPs, goal-setting, career pathing, performance coaching and feedback, and other elements.
For the highest impact, technology must support all parts of career and competency/skills development. Now, when all businesses are creating strategies to move forward post-pandemic, is the perfect time to finally align learning, career development, and competency and skills development by leveraging your learning technology and other integrated technologies.
To download a complimentary copy of Brandon Hall Group's Managing Remotely During Disruption Playbook-Research and Guidance for COVID-19 and Beyond, click here.
Claude Werder is senior vice president of Research Operations and principal Human Capital Management (HCM) analyst at Brandon Hall Group. The firm's vision is to inspire a better workplace experience, and its mission is to empower excellence in organizations around the world through its research and tools. Brandon Hall Group has five HCM practices and produces the Brandon Hall Group HCM Excellence Awards and the annual HCM Excellence Conference, in West Palm Beach, FL.