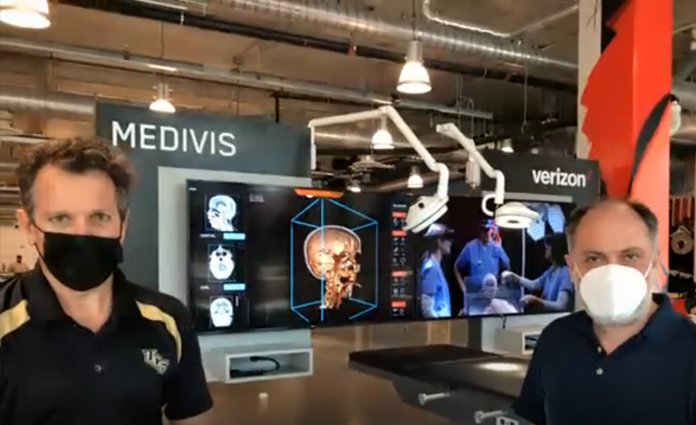 University of Central Florida's David Metcalf and Tavistock Group's Juan
Fernando Santos lead a live tour of the Verizon Business 5G Innovation
Hub in Lake Nona, Florida, featuring emerging technologies during the
Innovations in Training session of the Training 2021 Virtual Conference
in February.
While the 2021 Training Conference did not travel to Orlando this winter due to the COVID-19 pandemic, the interactive event nevertheless took place 100% LIVE February 8-12. This gutsy gamble paid off for the more than 1,000 engaged Learning and Development (L&D) professionals who learned and networked virtually via camera and chat.
"This conference was amazing! I walked away with so much more than I ever thought possible—from the connections made to the resources and books provided, to the lessons shared in the workshops," said Julia Bayona, associate director, Learning & Development, Neo Media World. "I am excited to apply what I learned to my day-to-day and am already excited to watch some of the sessions I missed."
Added Havovy Cama, Purchasing Functional Excellence manager, Cummins Limited, "This conference surpassed my expectations. Although I was in a different time zone, I totally lost track of time until quite late at night. There were many opportunities for two-way interactions. I learned much more than I expected, and it was fun."
Orchestrated by producer extraordinaire John Chen, CEO of Geoteaming (who also curated a rockin' music playlist that ignited participant energy), the event utilized the Pathable platform.
Conference emcees John Sweeney and Margi Simmons of The Brave New Workshop brought their improv chops to the event as they facilitated keynote discussions and Q&As and helped participants connect via chat.
The Virtual Training Conference was jam-packed with content, including:
Five insightful keynotes on topics such as the power of positivity and new mindsets; innovation; digital transformation; and Diversity, Equity, & Inclusion (DE&I)
Learning Leaders Summit facilitated by Microsoft's Chuck Sigmund and Up To Something's Rita Bailey
16 Presentations Skills Lab sessions led by presentation masters focused on presentation design, delivery, tools, and platforms
40 Train-the-Trainer sessions led by industry experts covering the nuts and bolts, insights, real-world tips, and practical solutions of training design, delivery, and engagement
16 Solution Showcase sessions
5 GamiCon Garage sessions, led by Monica Cornetti, Training 2021's Chief Engagement Officer, and CEO of Sententia Gamification
3 Technology Test Kitchen Sessions
An Innovations Tour of Verizon's 5G Lab
3 nights of Dine Arounds
The Training Top 100 Virtual Gala (produced by Brella; sponsored by Adobe, Brainier, and Seiko; and livestreamed on YouTube for the first time)
The Emerging Training Leaders Awards Program
4 post-conference virtual Training Certificate programs
Training 2021 Takeaways
Improv masters John Sweeney and Margi Simmons of The Brave New Workshop kicked off the event with their keynote on "Activating Mindsets to Move from Fear to Discovery. "The mindset you are in dictates the choices you are going to make," they noted. "Sometimes we need to look at things through a new lens. Otherwise, our brain will do it for us. Since our brain's job is to keep us safe, we need to retrain the brain to have a more rational approach to risk and being open."
They emphasized the importance of viewing new things not as a risk but as an opportunity—looking at things with a mindset of openness. Imagine a teeter-totter—discovery/openness on one side and fear on the other. "We need to get comfortable with being uncomfortable," they explained. On the subject of openness and expecting the unexpected, they advised, "accept the next thing that comes to you as a gift. Be grateful for it and express that gratitude. Then figure out how to use it."
Gratitude played a starring role in the keynote by "Prince of Positivity" Shawn Achor, author of "The Happiness Advantage." "Write down three things you are grateful for every day. The brain starts to perceive the pinpricks of positivity. This will change your life," he revealed. He posited that we all need to improve our emotional immune system. "Small things might have huge implications. Look at where the growth is occurring in our lives, instead of looking for the screw-ups."
He also noted that researchers found that if you are looking at a hill by yourself, your brain shows you a hill that is 20 to 30% steeper than it appears if you are standing next to someone who would be climbing it with you. "Happiness can't be self-help," he concluded.
Learning Leaders Summit presenter Mark Crowley, author of "Lead from the Heart: Transformational Leadership for the 21st Century," echoed that sentiment: "Human beings never outgrow the need for human support. I believe in 'compassionomics,' that the heart and brain are connected, and the heart is sending messages to the brain. When people experience positivity, there's a balance between the heart and mind, a 'coherence.' By being caring, compassionate, and 'human,' you can raise the bar on expectations, giving people the opportunity to perform in extraordinary ways."
Such support is vastly different from what keynoter Elizabeth Gilbert, author of "Eat, Pray, Love" calls "purpose anxiety," which she believes hinders us from living lives that are free. "Liberate yourself from the desperate drive that everything you do has to have purpose," she recommended. "That kills spontaneity, joy, and creativity."
She related what she calls the "little brother" story about a young man who was invited to a costume party in Belgium. He spent days crafting an elaborate lobster costume, but when he arrived at the party at the castle, he found out the theme was medieval costumes. His first instinct was to leave, but instead he held his head high and told the Queen of Belgium he was the court lobster. Concluded Gilbert: "My intention is always to make the best lobster costume."
As she expressively read poems throughout the Learning Leaders Summit, Irish poet Anne Reilly of Blue Horse Musings continued that theme. "What is your courageous conversation—with yourself, your organization, your colleagues? What conversation would inspire you to transform? What ignites your soul and creates a fire in your belly?" she posed to participants.
One of the courageous conversations we need to be having more often is around mental health—especially with so many people working from home and potentially isolated during the pandemic, noted Learning Leaders Summit presenter Amy Avalos from Google. "We need to destigmatize the conversation around mental health. Active listening is an active muscle we need to develop and flex. We need to listen to understand, not to reply. We need to make time for 'human' moments. We need to ask people how they are—really! Share what and when you feel comfortable. Give your full attention. Be kind to yourself. You can't fill up the cup of others if you own cup isn't full."
For Learning Leaders Summit presenter JoAnna Mendl Shaw of The Equus Projects, this concept is reflected in "blink time," a concept she draws from her work with horses. "Blink time allows time for the brain to grasp and process information neurologically," she explained. "It's important to build blink time into how we present."
She noted that expressiveness via the hands and body also is important now that most of us are working and learning remotely. "Gestures are a part of how we communicate as human beings," she said. "Think about embodied learning. Engage the left and right sides of your brain. Reach across your body—your midline—to pick up a cup of coffee or your phone, for example."
Changing things up—especially when it comes to learning—is key, agreed Learning Leaders Summit presenter Rebecca Bettencourt, E. & J. Gallo Winery. "Is it OK to delivery training one way and then deliver it differently the next? Yes! It is crucial to be agile, to turn on a dime—especially during these pandemic days. And it's also important to realize that it is OK not to feel OK."
She noted that her company had to recalibrate during the pandemic and "ask ourselves what is the value L&D can bring to our organization? We realized that we now are bringing people together to connect and network, not just to provide or share information. In some respects, L&D has become the 'virtual water cooler.' We achieved a tremendous amount in 2020—we just don't realize it."
Bettencourt also wondered what will be acceptable in the future when it comes to business post-pandemic. "Will four kids chasing the dog around in the background on a Zoom business call still be OK (and even welcomed) two years from now?" she asked.
Such scenarios are taking place all around the world, regardless of race, gender, ethnicity, religion, age, etc. Focusing on those common experiences can help when it comes to Diversity training, noted keynote panelist Grace Chang, associate director, Learning Research and Development, EY. "Diversity training that spends a lot of time emphasizing differences won't work. We need to focus more on the similarities and find a common goal. People don't want to be told how to behave or feel. DE&I training should be voluntary. Keep in mind that awareness doesn't necessarily lead to behavior change. You need practice and reinforcement. You need organization change. And you have to make it easier for people to make change happen."
Keynote panelist Antionette Carroll, CEO of Creative Reaction Lab, stressed that "we need to redesign the systems—both individually and collectively. We need to build on our own humility, to build our empathy. We need to put a mirror up to ourselves."
She explained that there are power dynamics in every space; "the key is figuring out when should I wield power and yield power. Getting to the space of equity is messy and complex. We need braves spaces…accountable spaces."
Keynote panelist Philomena Morrissey Satre, director of Diversity & Inclusion at Land O'Lakes, said her organization looked at three things:
How do we prepare recruiters? "We created an Intercultural Development Inventory (IDI) and utilized one-on-one coaching."
Workplace culture. "We provided opportunities for headquarters and plant employees to have Diversity & Inclusion learning experiences. A 'Day in the Life' programs are so powerful."
Marketplace and community. "We looked at what organizations we can support from a racial justice standpoint."
Where Do We Go from Here?
As the pandemic took hold, keynote panelist Anant Agarwal, CEO of edX, said 5 million people came to edX to learn in March 2020—the same as in all of 2019. "Hinduism and Christianity courses from Harvard University were the two most popular courses in 2020. And three of the top 15 most popular courses in 2020 were on soft skills—that was the first time we've seen that."
Keynote panelist Kristen DiCerbo, CLO of Khan Academy, wasn't surprised to hear that. "When I was at Pearson, they did a 2030 report that looked at demographic change, climate change, political change, etc., and identified the skills that will be needed in the next 10 years. They found that in addition to technology skills, the skills that make us human are the ones that will be needed more than ever: collaboration, teambuilding, communication."
In looking ahead to the future of learning—which both panelists believe will be a blend of in-person and virtual—DiCerbo emphasized that learners need to go beyond memorization. "Active learning has a practice component. In mastering skills, we need to move from familiarity to proficiency to mastery, where learners have to demonstrate the skill in mixed situations in conjunction with other skills," she said. "It's also important to revisit things already learned via skill challenges."
One of the biggest impacts on learning is having a relationship with the facilitator/instructor, DiCerbo believes. "As we think about digital learning, we have to ensure those relationships are fostered with mentors, facilitators, and instructors."
The same can be said about conferences—whether in-person or digital. As one Virtual Conference attendee noted, "The 2021 Virtual Training Conference pushed boundaries, offering sustainable solutions that will allow us to remain connected as friends, neighbors, and colleagues as we navigate this post-pandemic world. When the rest of the world shuts down, Training magazine finds a way to ensure our leadership training and professional development doesn't stop."
On that note, we hope to see you either in person or digitally (depending on COVID-19 protocols) at our 2021 TechLearn Conference in September and our Training 2022 Conference & Expo next February. Until then, as Training 2021 presenter Bob Pike always says: Add value and make a difference!
Get our newsletter and digital magazine
Stay current on learning and development trends, best practices, research, new products and technologies, case studies and much more.