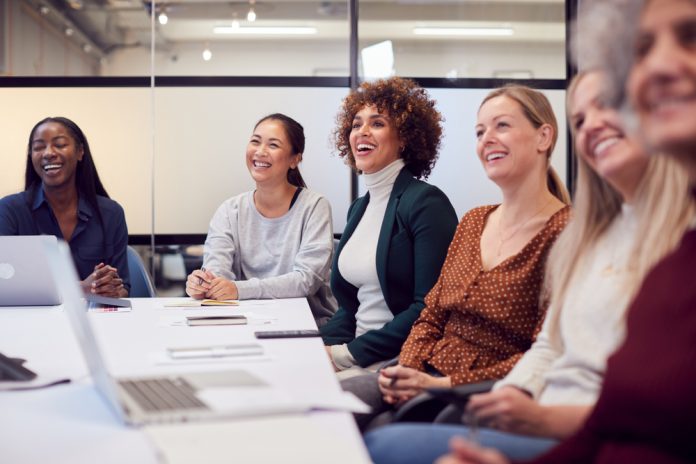 Diversity and inclusion (D&I) have been widely discussed in organizations over the last few years. Those who have already made great strides within their organizations are now shifting toward exploring a focus on 'belonging.'
Unfortunately, teams and workplaces failing to move from the fundamentals of D&I towards the more powerful, performance-driven idea of 'belonging' are potentially missing out on huge rewards.
So, how do leaders bring 'belonging' into their organization?
Leading Edge has identified and defined the constituent parts of 'belonging.' 'Belonging' is not defined by a traditional step-by-step process – from point A to point B – but as a continuous need to focus and juggle the eight components.
The 8 aspects of belonging leaders can start doing today
Clearly articulate the value of D&I and 'belonging' and your strategy so everyone knows how they should take this to life in the organization.
Make your environment a psychologically safe place for people to feel comfortable bringing themselves and being allies for others.
Lead by role modeling. Leaders must be curious to listen, learn, and do their research to feel confident leading and partaking in conversations around this topic.
Make time and space for the sharing of every individual's own story and journey.
Craft a standard narrative that enables and encourages everyone to find 'belonging.'
Belonging as a focus should be shared by all, not just the leadership team and not just by the minority groups. Consider how to be intentional in your focus on 'belonging' in all areas of your organization.
Bring an objective eye to your everyday practices, routines, and traditions. Question: is this intentionally inclusive?
Focus not just on finding similarities – but creatively embrace the differences that each individual brings to your organization.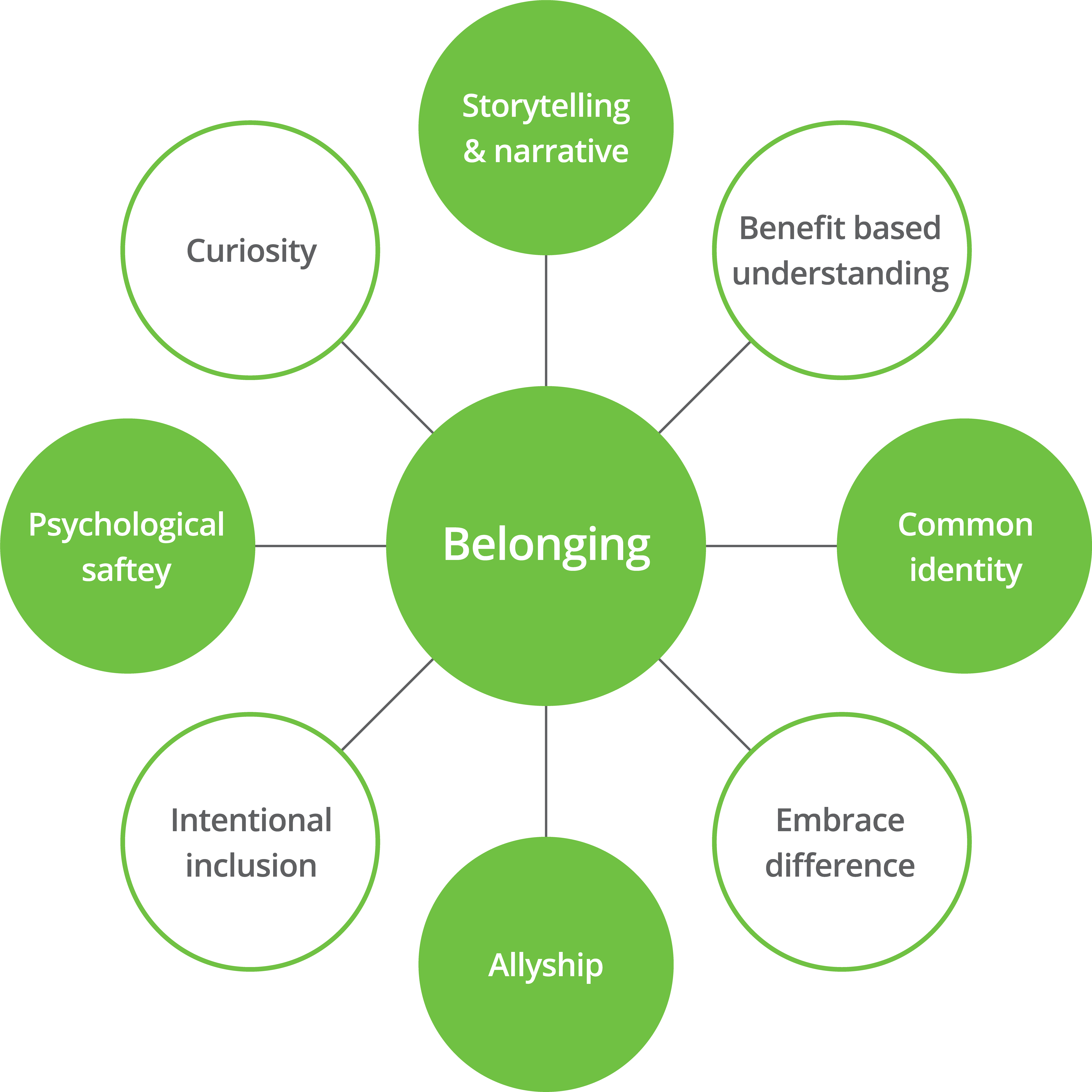 The future of belonging: What should leaders do?
Undertake systemic review. Leaders must commit to action that ensures inclusion is considered in every decision, plan, and aspect of your cultural intent. A big part of this is assigning adequate resources and responsibility internally. Many leaders pass this role on to HR, but leaders need to take greater responsibility.
Share ownership of the identity story. Leaders must enable the whole organization to play their part in crafting and building the team and organization's identity story. This takes confidence and skill for leaders – and for every individual – to embrace a learning journey together, feel safe, and be able to lean into a sometimes challenging conversation. Acknowledging that it's uncomfortable and that we will undoubtedly make mistakes takes vulnerability and is an area in which we have to 'fail fast, learn quickly.'
Building 'belonging' through our similarities. While championing diversity and celebrating each unique contribution is crucial, we must also forge meaningful connections around similarities to help stimulate successful environments. We all have a part to play in creating psychologically safe environments, but a part of this is acknowledging where we're different and where our commonalities can be found.
Sarah Kelleher, Director of Client Strategy at Leading Edge says:
"The key is to move beyond tokenism and D&I training, which is not delivering on the hoped-for impact, and towards a commitment to hard wiring belonging into the organization. This is where the idea of intentional inclusion comes from: going above and beyond to ensure all team members at all levels feel as they truly belong and can be themselves."
Case Study: How Wickes built belonging into the DNA of D&I
The beginnings of 'belonging.'
In 2016, a group of four solid female managers developed the 'Making Wickes Inclusive' group to begin having conversations around D&I within the company. These conversations quickly progressed into a grassroots initiative, bringing together diverse groups across the business, each committed to improving diversity and inclusion at Wickes.
Grassroots to board sponsorship
Today, Wickes has five highly active, dynamic networks – covering BAME, Ability, Wellbeing, LGBTQI+, and Gender Diversity. Working across the business, a board sponsor for each network supports these conversations at each stage, ensuring that topics remain front of mind amongst decision-makers to drive change.
The shift from D&I to 'belonging.'
To meet their ambitious growth plan, Wickes decided to supercharge their internal development process by putting 'belonging' at the heart of their D&I strategy. They did this by developing an internal positioning – 'Feel at Home' – building stronger teams and better working environments by encouraging and empowering everyone to be their true selves.
The story so far…
Trained over 130 LGBT+ allies
360+ completed Disability Smart Training
Trained over 233+ Mental Health First Aiders
383+ took part in the Race, Ethnicity, and Identity Cultural Allyship Programme
Top 10 UK retailers for D&I – FT Global Diversity Leaders 2021
Louise Tait, Head of HR, OD, and Talent at Wickes, said: "At Wickes, we have been making the shift from Diversity & Inclusion to 'belonging' for some time but have only recently started to position the emotional outcome of 'belonging' at the center of our D&I strategy and use this to orientate and re-focus our language, activities, and interventions in this way.
"To break down these barriers, you have to start with accepting the concept of privilege and the simple but essential fact that you can not judge the world, on behalf of your team, based on how you see and experience it. This means you have to listen to everyone in the team, really listen, accept what they share as true (even if you haven't seen it or witnessed it) and then work together to develop actions to improve."  
For more information about Leading Edge, or to read the report in full, visit: https://www.leading-edge.co.uk/high-performance-report/