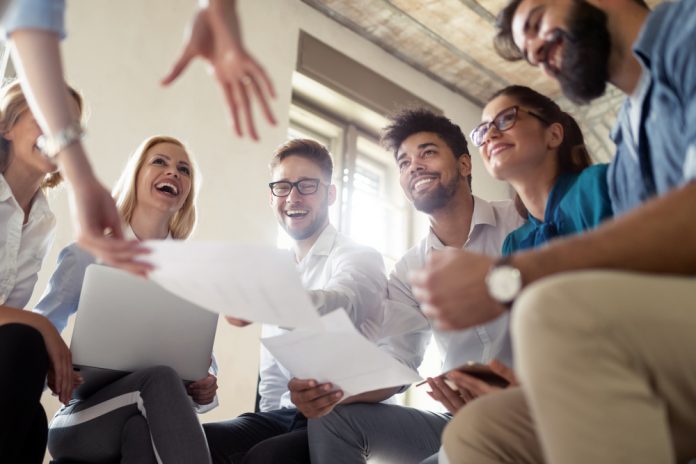 Innovation is, without a doubt, a vital ingredient in an organization's success. An innovative approach can help teams respond more flexibly to potential changes, allowing them to pivot and seize opportunities where and when they may arise. It can also see companies gain a competitive advantage by enabling the development of better products and services.
Many companies struggle to connect workplace innovation with business strategy, leaving them with a weak corporate ecosystem that is vulnerable to disruptions. This can often lead to falling behind in competitive markets or failing to make use of newly available technologies. According to one global survey, while 84 percent of executives believe in the importance of innovation, only 6 percent say they are satisfied with their teams' innovation performance.
However, a dynamic workplace strategy ensures employees explore and propose strategies to foster innovation among individuals and support employees' growth goals. Once companies provide the proper context and the right people, innovation will naturally come from the teams themselves. This type of specialized educational development ultimately enables a workplace dynamism that can then become a long-term part of a company's culture.
Measure innovativeness with context
Measuring and reporting an organization's innovation performance is not limited to monitoring its output. Performance should be measured at both individual and team levels within the organizational context of a company's investment of resources over time. By continually re-evaluating your company's commitment to innovation, you'll be able to assess its impact and success, as well as decide if it's potentially time to switch strategies.
Individual internal employees are without a doubt the innovation engines of an organization. By valuing employees' career development, it's possible to boost the company's innovativeness as a whole. Management should analyze an employee's career progression in relation to their skillset and involvement ratio with other units in the company to see how they fit into the larger ecosystem. Team metrics likewise indicate project successes. Inputs such as cost savings or avoidance, amount of experiments per week, project churn, cost per experiment, new revenues, and efficiency measure the project's achievements and cost of experimentation.
Here is an example of how different elements in an organization could be measured:
| | | |
| --- | --- | --- |
| Element | Measured by | Outcome |
| Innovation department | Pilot/MVP | New products/services |
| R&D | Patents | New products Licensing |
| Corporate Venture Capital | Deal flow | Exits |
| L&D | Hours Person | Retention |
Companies should measure innovativeness to evaluate if they are following the right strategy. Organizations are living entities, and sometimes it takes prototyping and testing to find the correct innovation path. Measuring actionable metrics such as cost-per-learning and experiment results can improve the accountability of the investment made.
Innovation is a concept hard to measure, so it's vital to find the right Key Performance Indicators (KPIs) to assess the actual overall performance of your company, project, or individual. Purely financial metrics for KPIs should be avoided as they are reductive and limited in what they can tell us. Instead, impact metrics measure the tangible results from activities. That way, organizations can learn what happened and what to do next, making more informed long-term projections and better decisions as a result.
How to foster an innovative workplace culture
The best way to promote an innovative workplace culture is upskilling teams to improve cooperation across functions and geographies. A top-down approach to transformation is helpful, but it only goes halfway. Fostering entry- to mid-level talent is essential to building an entrepreneurial mindset across your company and tackling ineffective cross-department collaboration. Three basic steps to improve collaborative innovation are:
Identifying the right people for the right job
Empowering teams with the right tools and skills
Connecting like-minded people in cohorts
Every organization has a group of people who are very motivated and driven to innovate. On the other hand, some people of the other extreme may not see the benefits of change. The key in transformation is identifying the people who are naturally more open to embracing change and finding new opportunities.
Empowering these motivated innovators with effective education and an applied learning program will help get others on board. After all, the best way to drive transformation forward is to use the people in the organization who are familiar with the company and understand the culture. Having internal innovators spark this change gets the early adopters and the remaining majority excited about the change, too.
The impact of innovation learning
Innovation learning turns companies into data-driven and customer-centric organizations. By basing their decisions on data rather than assumptions, it's possible to save resources and costs in order to gain revenue. One example of successful employee education investment is a Fast Moving Consumer Goods (FMCG) industry company that implemented an innovation learning plan in 2017. By the end of 2020, they had gained more than 5 million dollars in revenues from new business, saved more than 8 million through cost-cutting, and obtained 300 days of efficiency.
The effectiveness of a strategic learning plan sees benefits for both the company and the learner. More than 200,000 people were additionally trained during this time and began working in over 500 projects across markets. The plan also saw 140 employees get certified as catalysts with new roles for innovation. This type of investment was recognized and appreciated by learners, 81 percent of whom said they felt like they work in a more customer-centric way, and 89 percent agreed the program impacted their responses to business challenges.
Education for employees is key to innovation. Employees must learn how to apply agile experimentation to customer-centric practices to keep ahead in their industries and competitive in their markets. Measuring the impact of innovativeness is crucial to know if the strategy is correct and to pivot if it needs to change.
Individuals may make up the team, but they also need help from the top to foster an innovative culture. Innovation efforts need to lead by example, with top management supporting employee-powered results to ensure long-lasting and influential change within an organization. Developing a workplace culture that values new ideas is essential for creating a competitive and resilient corporate ecosystem.