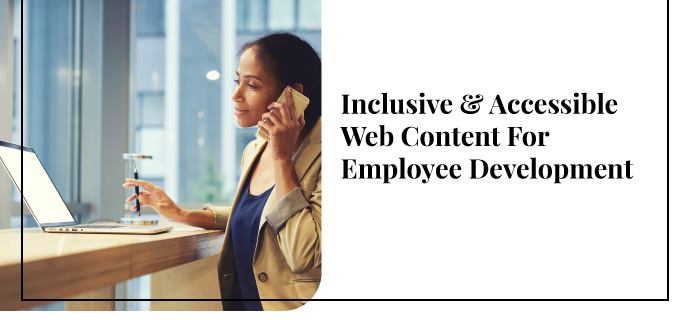 When it came to managing employees, 2020 threw us all in for a loop.
Employers and business leaders across the board had to pivot to remote work, Zoom meetings, and other digital employee engagement tactics. In particular, business leaders had to rethink their web content and other digital assets that support their employee management, recruitment, and development.
This also meant many organizations needed to reevaluate their approach to creating inclusive and accessible digital assets.
Inclusivity and accessibility have been hot-button topics for a while. Over this past year, it has been greatly exacerbated by the pivot to virtual work and pushes for higher diversity practices in the workplace. Understanding what web accessibility is and how your business can take steps with your own digital assets toward this standard is essential.
As we finish up 2021 and head into the next year, it's critical for employers to take a more focused approach to the role of inclusive and accessible digital assets in their employee management. Ready to learn more? Let's dive in.
What Is Web Accessibility?
Web accessibility is the idea that everyone can access, use, and engage with internet content. This access should be regardless of location, device, language, or ability.
 Web accessibility is an easy enough concept to understand, but there are many granular regulations and acronyms that can get confusing. That's why accessibility is sometimes left by the wayside by busy organizations and businesses.
Taking insight from Kanopi's guide to demystifying accessibility compliance, here are the common terms you need to know:
WCAG – Short for "Web Content Accessibility Guidelines," these are the internationally recognized standards that deem a site accessible. These guidelines are based on the P.O.U.R. principles.
O.U.R Principals – Perceivable: How easy is it to engage (see, hear, touch, etc) with the content? Operable: Can anyone operate the digital asset? Even those using assistive technologies? Understandable: Can users discern the meaning of the digital content? Robust: Are the digital assets vigorous enough to allow everyone an equal experience, no matter the technology that the user is using to interact?
A, AA, AAA – There are multiple levels of accessibility, with A being the minimum accessibility a site can have. AA is the widely accepted industry standard, with AAA being the strictest set of accessibility criteria.
ADA – The Americans with Disabilities Act (ADA) is a 1990 law aimed to protect individuals with disabilities and ensure that they have the same opportunities as persons without disabilities.
Section 508 Compliance – Section 508 is an important amendment to The Rehabilitation Act that protects the right of people with disabilities to have equal access to electronic and information technology. The covers computer hardware, software, networks, operating systems, multimedia, websites, printers, and downloadable apps.
To be fully accessible, all of your digital assets need to have regulatory compliance with the WCAG and the ADA. You can do this by following the P.O.U.R principles and ensuring that your content meets the AA level of compliance.
Why Are Accessible Digital Assets Important for Employee Engagement?
Accessibility is important for modern businesses and organizations who are pivoting their training and other development opportunities to be purely digital. This includes your website, employee portals, team meetings on Zoom, various apps for insurance and benefits, and more.
Without full accessibility, your businesses' digital assets will exclude certain employees. For instance, if your website or learning management system uses many graphics, not including alternative text can make it difficult for those with visual impairments to engage with your content.
By ensuring your digital assets are accessible, your business will:
Foster a more inclusive culture.
Provide a user-friendly, pleasant experience for employees, prospects, and customers.
Minimize loss of digital visitors and users.
Increase mobile usability and flexibility for remote workers.
Provide career advancement and development opportunities for all employees.
Maintaining full digital accessibility can benefit your business by increasing your pool of talent, knowledge, and perspectives.
How to Ensure Your Digital Assets Are Accessible
You can increase inclusivity and accessibility in your digital assets today by following these practices:
Require that all non-text content, like image, video, or audio, also has a text alternative. This helps those with screen readers experience your online content, as well as those who might have poor or slow internet connections that cannot load graphics.
Stay away from purely sensory characteristics, like sound and images, to convey important information. This is especially important for employee management, as you want everyone to have the same information.
Avoid flashy elements and bright lights to protect those who are seizure-prone, as well as those who might live with ADHD or VIMS.
Optimize your content for mobile use. For instance, you can use this free Google tool to test your own website.
If you're unsure if these small tweaks will get your digital assets to the access level you'd like, it can help to partner with a professional support service. They can walk you through the process and optimize your content with these standards in mind.
Don't let your employee development be hindered with inaccessible online content and digital assets. Take the steps to maintain regulatory compliance and get your content up to standards. Good luck!