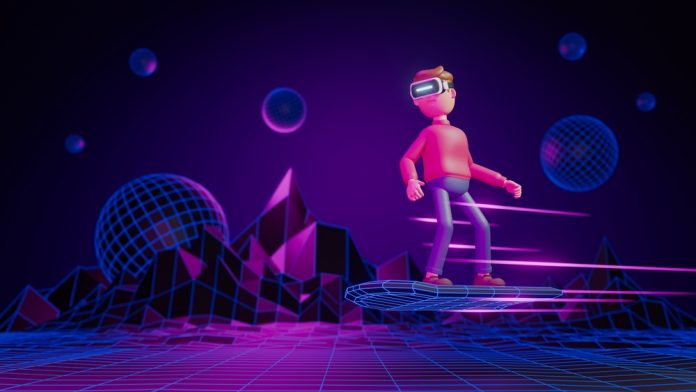 Talk of the Metaverse reshaping the world of work has many already reimagining the future workplace. Everything from onboarding, training/skills development, collaboration, artificial intelligence (AI) emergence and new work roles is on the horizon. HR.com recently polled 530 HR professionals, and a full 64 percent predict that a portion of their employees will be doing work in the Metaverse by 2025.
While we hear all about the fantastic ways the Metaverse will transform the way we work, it comes down to the people who will be working there who have to feel comfortable and motivated. The work-in-the-Metaverse future requires a vast culture shift and an attitudinal one as organizations adapt to the end of training, learning, and collaborating.
As learning leaders, when it comes to Virtual/Augmented/Mixed Reality and preparing to engage in the Metaverse, we are feeling pressure from several angles:
"Get your L&D team prepared! "Upskill them," we say to ourselves. 
"Identify the business needs where VR appears to offer the optimal learning experience.
"Prepare your business culture to embrace learning in VR. 
"Design a learning product/course that is an A+ learning experience. 
Note that there are more unknowns for exactly how to scale those demands than there are concrete steps most effectively. But there are some clues: The Metaverse promises advantages that the real world doesn't, such as more active immersive learning experiences, the opportunity for immediate feedback, the sense of psychological safety behind an avatar, and the use of AI to intimately capture our behaviors and help us improve the way we work, learn, and collaborate.
Here are some factors for learning leaders to consider: 
Activate learning to optimize engagement and outcomes
Virtual reality presents life-like environments where the big pay-off is that people can learn by doing, which is where the magic happens. Referring to Edgar Dale's Cone of Learning (a.k.a. Cone of Experience), learning engagement and retention levels are significantly higher with active or experiential learning. Instead of utilizing traditional learning methods, which tend to be passive (think: reading, listening to speakers, watching videos or a demonstration, or self-paced online training), VR allows us to create scenarios, simulations, and exercises that put learners at the center of the experience and give them the agency of the outcomes. When we can gather, think, collaborate, and learn together in a medium that creates a true sense of presence, we can accomplish things on a different level than in a Zoom room, even though we don't have to be in one location. (Think of the cost savings there!)
Gain richer insights for better-integrated teams, teamwork, and elevated culture
Countless reports and articles suggest that employees feel disconnected from their teams and culture when not engaging in-person with co-workers at the office. How do we bridge that gap when people are dispersed around the globe? One way is via immersive technologies such as VR. Regardless of one's physical location, VR enables people to meet and collaborate in an entirely new dimension. There is a sense of presence and engagement that affords real connection. True VR is experienced when you wear a headset and can leverage six degrees of freedom (6DoF), capturing both head and body movements for the most life-like sensation.
In addition, meeting on Zoom has made reading the room challenging since we typically only see people from the waist up if they turn their cameras on. With avatars, body language cues are evident even though the technology does not yet capture facial expressions and full-body motion. This provides greater insight and understanding of workers' personalities and comfort levels. For onboarding, new hires may get a more personalized experience with deeper and meaningful conversations and exposure to the company culture.
Enhance sensitivity and DE&I training
As we remain focused on diversity, equity, inclusion, and belonging, inviting people into spaces in VR level the playing field, providing a voice and physical cues to each person. Location does not hinder anyone from being in the "physical space" (of a VR work room, for example) together. And the VR environment allows well-designed activities to build empathy for others. We can more easily "walk a mile in their shoes" as we take a complete sense of what someone else's experiences may be – and how that impacts their thinking, approach to situations, and responses in various settings.
Our VR avatars give us equal access to all things in virtual environments. VR will not miraculously fix issues your organization may have when it comes to DE&I. But the medium of engagement (VR) can be utilized for customized and purposeful learning simulations that enable people to understand better others' experiences, perspectives, attitudes, and more. By experiencing this firsthand, there is a greater likelihood that you will finally see the change you've been looking for. Think about it – to move DE&I initiatives forward, people need to change their behaviors and mindsets.
Here are seven ways to get started:
Make time for your L&D team (and yourself) to learn more about the Metaverse and immersive technologies. Perhaps start with articles, videos, webcasts, etc.
Put together an Immersive Learning Governance Board of some sort to guide your direction, company vision, and approved next steps.
Look for structured ways to provide VR experiences for your L&D team. Is there a course or learning experience you can offer them to dip their toes in the water?
Invest in VR headsets for a small VR team within your organization.
Create a VR learning repository where your L&D team can contribute articles, new VR tools they find, companies to explore, VR groups to join, etc.
Adopt a pioneering mindset. You are a front-runner if you are reading this and beginning to explore VR. Be curious. Be a part of shaping learning in the Metaverse.
Look for a VR rockstar to emerge from your L&D team. Most likely, this learning opportunity you provide will spark joy in one of your team members. So let them lead. Let them help the rest of the team navigate the sometimes choppy waters of sailing in uncharted waters like the sea of VR.
Investigate and determine the right content to be designed in an immersive VR experience. Determine where it makes the most sense to integrate VR because not every subject warrants VR simulations. Think of topics or scenarios that are most challenging, uncomfortable, or complex for employees. Float these ideas by a variety of stakeholders to not only get buy-in and support and determine the best first steps to develop training in VR for it.
Put yourself in your employees' shoes. They are uber busy and work long hours. They are tired of passive, dull, obligatory training. They are begging to be treated as valued human beings. They want to gain new, relevant skills that make them more valuable to your organization. Think of training and upskilling in a new way that puts more power and onus in the hands of your employees. Enable them to learn what is most relevant to them when it's most convenient for them. Enable them to play and escape reality. Enable them to learn by doing and experiencing consequences in safe, immersive environments. And then…watch employee engagement and retention soar.