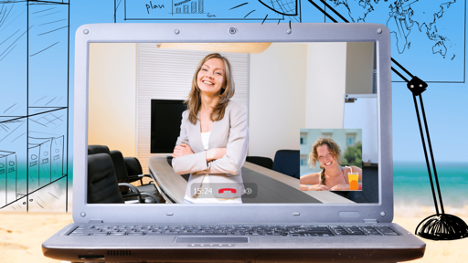 People have started to work remotely, especially after the pandemic, due to job dissatisfaction with the help of a remote work tool. A study by Flexjobs and Global Workforce Analytics says the number of people working remotely in the US went to 4.7 million by 2020.
How practical is it to work remotely?
This is something commonly asked by both individuals and organizations, with an apprehension of whether remote working is practical enough or not. To start with, a remote work tool eliminates daily commuting and time invested in going to the workplace.
However, another thing to note here is, discipline can suffer big time when working at a remote place. Working remotely does have its share of pros and cons that can't be ignored.
Before making a transition from an in-house working environment to a remote working environment, both positive and negative sides should be considered. So, let us look into the pros and cons associated with working remotely.
Pros and Cons of Remote Working
There is an upside and downside to almost everything. Remote work arrangement is no different using a remote work tool.
Whether new to telecommuting or have been doing it for a while now, every individual should be well aware of what to anticipate. The points we would discuss will give a clear picture of things to accompany remote work.
Pros
1. Saving commuting costs and time
The headache of going to and fro between home and office daily is non-existent. This means saving a great deal of time and cost in telecommuting with a remote work tool.
With no going to an office, the same amount of commuting time goes into work. Additionally, when a workplace is located far-off, the commuting costs also go down to zero with remote working.
Also Read : 7 Skills That Should Be Part of Every Manager's Training
2. No more piled up stress
Going to the office builds up commuting stress, followed by stress at work working for non-stop eight hours, to say the least. There is no more stress due to office politics and ego clashes, instead, you can take a break anytime by having a nap, munching upon something, taking a walk around, or spending time with family or on the phone.
Working in parts helps a remote employee to feel refreshed. This makes work more of a fun-filled job using a remote work tool rather than a stressful job.
3. Increased flexibility with work schedule
Another key benefit of working remotely is, personal stuff can be taken care of simultaneously. The appointments, commitments, events, or functions to attend, can be all tackled with the work schedule in parallel on a remote work tool.
Whether seeing a doctor, attending a social function, or going to the bank, one can handle them without compromising on the work hours. The flexibility also lies in the fact that an individual can take breaks at any given time.
4. Productivity does see a rise
It comes as no surprise that people who work remotely turn out to be more productive. The reason being there is no direct one-to-one distractions, work stress, peer pressure, etc. making it easier for people to concentrate on work.
Working on your own remotely with a remote work tool gives a feeling of solace that lacks at work. There is a high level of concentration as there are no constant chit chats, breaks, or people coming to a desk at one or another time for some work.
Cons
1. Communication sees too many gaps
At times, miscommunication takes place quite often, when working from a remote place, as there are gaps in things being conveyed and the ones being grasped. In an office setting, it is much easier to approach someone in person, than to ping them for availability.
One has to rely heavily on technology such as video calling or instant messaging tools to get in touch with a virtual subordinate. Of course, there are a lot of other remote work tools available but nothing like speaking in person.
2. Hard to remain focused throughout
When no one watches over your work, you might tend to take things easy which could result in delays or lack of quality deliverables. Without supervision, it is easy to get carried off, and hence diverting from the focus is something that can occur at any time.
Without supervision and colleagues, it is tough to stick to your targets while staying inspired with a remote work tool. Motivation takes a back seat, while laid back attitude takes a front seat.
Also Read : How to Conduct an Interactive Remote Employee Training Session
3. Direct social interaction vanishes away
 It is so evident that you are not going to have a one-on-one personal interaction with people since you have nobody around. If you are an extrovert by nature, this is something that will bother you even with a remote work tool.
Feeling loneliness is going to take over your mind if you are a social butterfly. Moreover, you will have to be constantly involved in interactions taking place online, so that your professional relationships do not hamper in the long run.
4. Coordination is a major hurdle
Everything seems to be nice when working on your own. When having a team to manage, or a part of one or more teams, it can be hard to coordinate with colleagues or be a bridge of communication between teammates.
It is quite a hurdle to keep things organized and coordinated. This is even harder when dealing with people across hierarchies with a busy work schedule available on a remote work tool.
Conclusion
Remote work surely comes with a lot of advantages not to be ignored. However, you cannot ignore the disadvantages accompanied by the same.
It can be a subjective thing from individual to individual as one advantage could be a disadvantage for another and vice versa. Hence, it is important to scrutinize each point, keeping in account the activities and tasks you are going to perform daily on a remote work tool.
Irrespective of how you take the above points in the discussion, both working from the office and working from home can be considered equal with their share of positives and negatives. It is an individual and an entity's call to provide remote work to an individual depending on the work responsibilities.