You've likely participated in a survey at some point that asked you to select one of the following replies in response to a descriptive statement, such as "I am extremely productive":
1. Not at all like me
2. Not much like me
3. Somewhat like me
4. Mostly like me
5. Very much like me 
The last two options are similar, right? 
In reality, they're very different. 
In RAIN Group's most recent research study, The Extreme Productivity Benchmark Report, we analyzed responses from 2,377 business professionals to better understand what drives productivity.
Respondents were broken into productivity groups based on their answers to the following statement:
"I am extremely productive."
The Extremely Productive (The XP) rated themselves a 5 out of 5 on this question ("very much like me"). The XP represent 14 percent of respondents. 
The (merely) Productive rated themselves a 4 out of 5 ("mostly like me"). The Productive include 48 percent of respondents. 
One of the most surprising findings from the research was just how different people in these two groups work and the results they're able to achieve. While you may not think there's a big difference between a "5-rating" and a "4-rating", we found surprising and significant gaps between these two groups. 
4s and 5s vs. "All 5s"
In the early 1990s, Xerox surveyed its 480,000 customers on their feelings about Xerox. Until this time, the company sought satisfaction scores of 4s (satisfied) and 5s (very satisfied). If that's what they got, they were happy.
That is, until they did an analysis of the difference between 4s and 5s. 
It turns out that a 5 was six times more likely to repurchase from Xerox than a 4. Six times! 
In 1994, these results were published in the article, "Putting the Service Profit Chain to Work." As you might imagine, they concluded with unassailable belief that 4s were no longer good enough. Not by a long shot.
Why care?
When comparing the 5s and 4s in the Extreme Productivity research, the same finding was revealed. You might think, "Well, if I'm a 4, I might be productive though not yet extremely productive."
Not so much. 
For example, if you examine the key drivers of productivity, The XP are up to 3.5 times more likely to exhibit these behaviors compared to The Productive.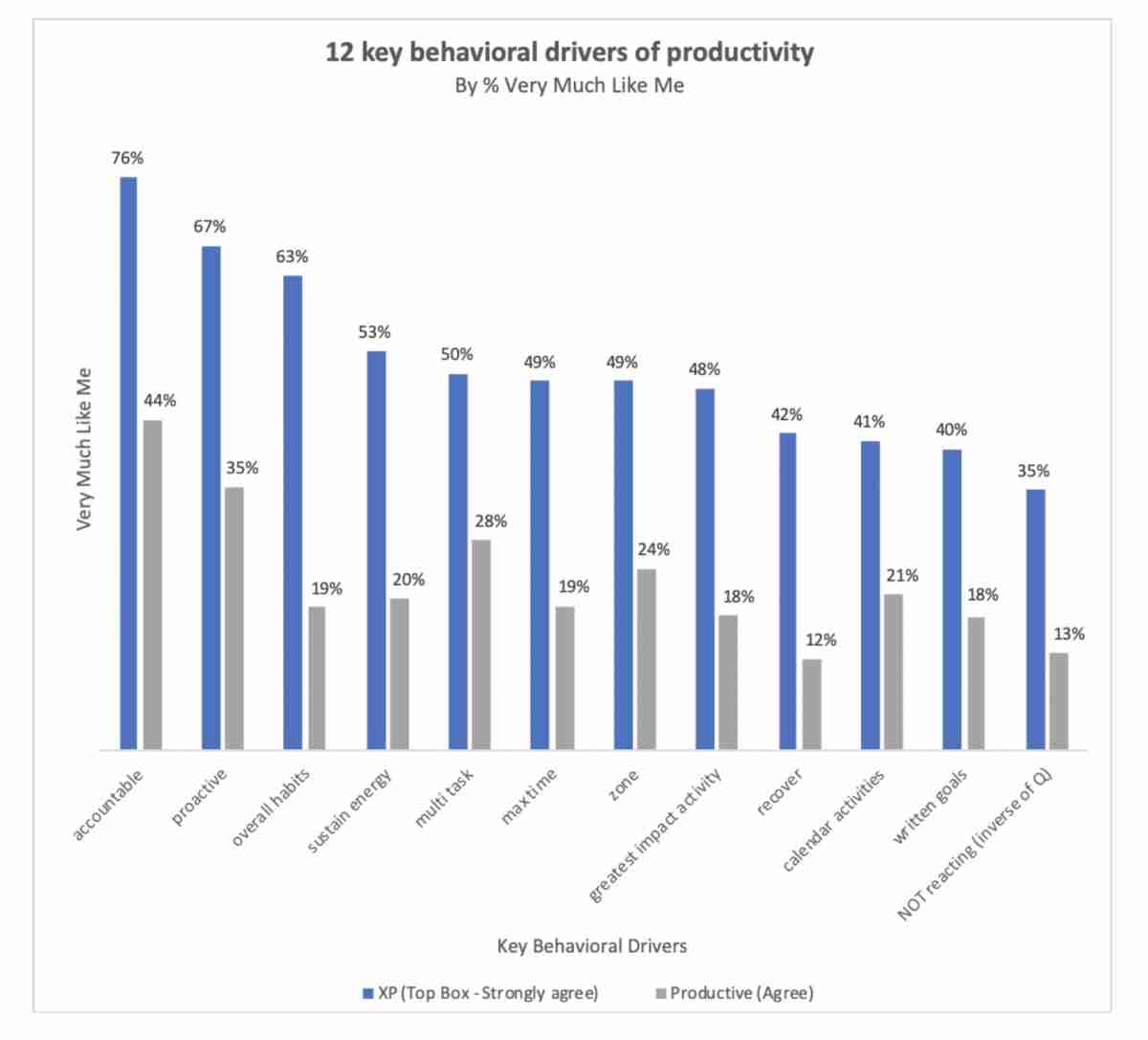 (NOTE: The graphic can be downloaded at the end of the article)
Across the board the gaps are significant, with the largest gaps being:
The XP are 3.5 times more likely to recover quickly when derailed from being productive.
The XP are 3.3 times more likely to have productive habits overall.
The XP are 2.7 times more likely to regularly sustain energy for long periods of time.
The XP are 2.7 times more likely to start their day with their Greatest Impact Activity.
The XP are 2.7 times more likely to not react to other people's agendas and drive their own.
This is just comparing The XP (5s) to people who mostly agree (4s) that they're extremely productive. When you compare The XP to everyone else (The Rest), the gaps are even more dramatic. 
The fact is The XP employ wildly different behaviors and habits that contribute to their productivity and success. Our conclusions are similar to those of Xerox. If you want real results, set your sights on becoming one of The XP. Anything less than this, will put you in with The Rest. 
Mike Schultz is a bestselling author of "Rainmaking Conversations and Insight Selling"; director of the RAIN Group Center for Sales Research; and president of RAIN Group, a global sales training and performance improvement company. He and RAIN Group have helped hundreds of thousands of salespeople, managers, and professionals in more than 73 countries transform their sales results and unleash their sales potential. Follow him on Twitter or connect with him on LinkedIn.