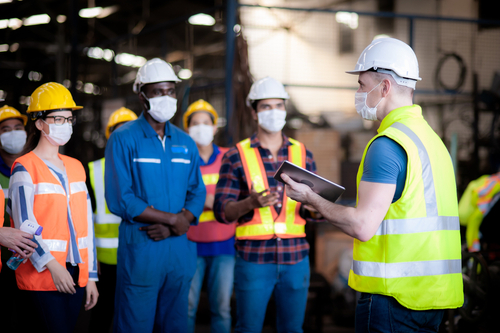 No matter what business you are in, on-the-job training (OJT) is an essential part of any employee's onboarding and development. But "sink or swim" onboarding is old school and puts your organization at risk in our technical society. While the primary benefit of using OJT is to use existing resources to train employees to do their jobs, it also has other organizational value. For example, studies have shown that on-the-job training is strongly related to greater creativity and innovation, the achievement of organizational objectives, and improvement in overall work quality. Other types of training methods, such as simulations, classroom training, and online training are all useful for some types of training (i.e., safety training, product knowledge, etc.), but research suggests some 80 to 90 percent of an employee's work skills are learned through OJT.
Advantages of OJT
For most business owners and managers, OJT programs are attractive because they can be implemented quickly and easily. Compared to other training methods OJT is also more cost-effective, costing almost a third of what outside training programs cost. While cost is one of the most important benefits of OJT, there are numerous other advantages, including:
OJT allows employees to experience the actual work activities of the job. Because OJT takes place in the work environment, it also includes aspects of the company's cultural, climate, and normative behavior. These are organizational aspects other methods of training are unable to replicate.
OJT provides individualized attention and mentoring. When a new employee begins work, more time and attention is required to coach and guide the employee's development of skills with each task. As competency improves, the intensity of supervision declines as the trainee masters the task and can perform it with limited guidance. Other training methods lack the durational and context flexibility necessary for comprehensive skill development.
OJT allows for different learning styles. Some employees learn by doing, some learn through listening, while still others learn visually, and each at a different rate. On-the-job training offers individualized instruction that accommodates different learning styles and learning rates.
OJT offers flexibility in conducting training. Outside training, simulations, and even online training often depend on specific training schedules. But considerations such as third shifts, employee absences, and other workforce concerns are not affected by on-the-job programs.
OJT can readily adapt to change. Manufacturers regularly make improvements and upgrades and may even decide not to support older versions of the equipment. Likewise, production processes change depending on many operational factors. With OJT, training can be readily redesigned to reflect an employer's specific equipment, as well as changes and activities unique to a company's operational processes.
OJT provides a safe environment to make mistakes. One of the necessary features of any training is that it allows employees to practice in a climate of safety. New hires initially can be trained with equipment, operations, and environments not engaged in the actual production or delivery of services. Once a level of competency is achieved with various job tasks, they gradually can be introduced to functions associated with the company's actual operation.
On-the-job training does require an investment by your organization. For example, trainers must be removed from critical business functions to instruct and mentor new employees, and equipment dedicated to business operations may need to be re-tasked for training activities. In addition, investment costs such as trainers' and trainees' wages may be lost if the trainee resigns or is terminated. Trainees who progress slower than other employees also may result in added investment. These disadvantages likewise can be ascribed to other methods of training, but comparatively the investment that OJT offers is more cost-effective than other training techniques.
Success Factors
Selecting a trainer is an important step in the success of any OJT program. Traditionally, training falls under the supervisor's responsibilities, but unless the supervisor possesses the necessary skills and qualities, your OJT program may be destined to fail. In fact, some people simply do not have the patience, competence, or desire to train others. Consequently, selecting someone who possesses the character and communications skills to train is crucial.
Trainers should exemplify the company's values and be perceived as a role model or someone who can be trusted. They should possess a thorough knowledge of the company's systems and processes, but they also should be familiar with the company's goals, culture, and organizational climate. It is important, therefore, that trainers exhibit behavior and conduct you expect from your workforce. For example, grumbling, gossiping, and political games introduce dysfunction into your business and can proliferate through the actions of the trainer and other employees. Consequently, they should demonstrate the strength of conviction to determine the suitability of the trainee for employment. Wasting time and money on the wrong employee jeopardizes their safety and affects company moral and the productivity of the business operation.
Regardless of whether your trainer is a supervisor or another employee, they should be trained on how to instruct others. Some trainers have a natural ability to train, but it is still beneficial to enroll them in some form of "train-the-trainer" program. There are psychological processes associated with adult learning that facilitate the acquisition of information and skills development. Things such as reinforcement, cognition, and other learning principles need to be understood to maximize your OJT investment.
Key Considerations
The comprehensive nature of OJT enables even the smallest company to maximize the benefits of training. It can be rapidly designed using the company's resources and is flexible and cost-effective. Key considerations, however, are the quality of the training and the effectiveness of the trainer(s). Designing a structured OJT program with specific goals, along with the careful selection of trainers, are essential steps in ensuring a successful in-house OJT program.
Want more?
Click for additional on-the-job training articles and resources.
Thomas Montgomery, president and CEO, Inland Rivers HR, is a veteran Human Resources professional with more than 35 years of experience helping businesses achieve success through innovative Human Resources solutions. His broad range of experience across a variety of industries includes 18 years with the largest inland marine operator in the country, as well as working in state government, education, agriculture, banking, and telecommunications. He also has been a small business consultant and trainer and has owned several small businesses. Montgomery holds a doctorate in Business Administration and a Master's degree in Organizational Communication.