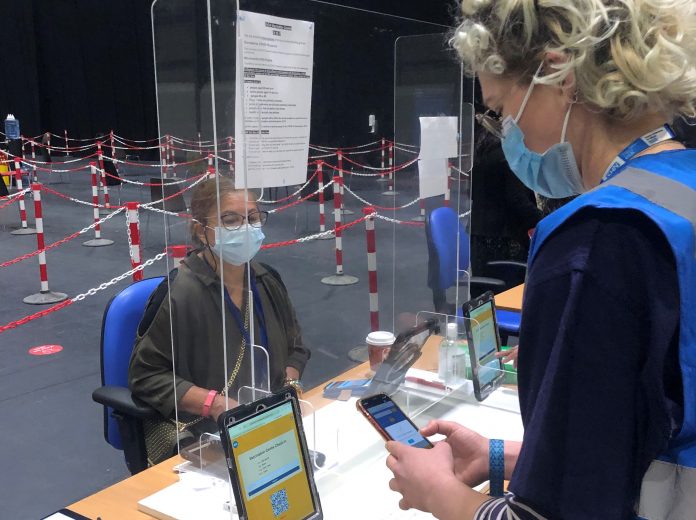 The NHS COVID-19 vaccination program began in earnest in December 2020 with an ambitious goal—to vaccinate the entire population of the UK, and start to bring the country back to a sense of normality.
To achieve this, vaccination centers have been rolling out across the country. But the logistics involved in rolling out such a program at such a scale is an enormous challenge.
Part of this challenge is how to continuously educate and train the vast numbers of people involved, in a very short period of time, to achieve this. The skills and knowledge needed to vaccinate citizens requires a lot of practical training, not just online learning. And with patient safety at stake, the ability to track compliance in a robust way is an absolute must.
Based at the ExCeL Centre, London, the site of Nightingale Hospital London, the Newham NHS COVID-19 Vaccination Centre is one of seven nationwide vaccination centers in England. Tracking the education and training of its people in the current situation was simply not going to be achievable by using paper registers or other manual processes.
Solution
A new mobile solution to track training attendance, Class Attendance Tracker (CAT) QR, developed by Barts Health, is being used to track all induction and training attendance, including the completion of competency assessments required by vaccinators and other related roles.
Staff and volunteers register their attendance using only mobile phones and QR codes—removing all the complications and delays caused by manual processes involving paper registers. Stakeholders can have confidence the data is accurate, and most importantly, is available in real time.
The success of the solution encouraged the team at the ExCeL Centre to adopt CAT QR for other needs, including the daily check-in of staff and the collection of lateral flow testing kits.
Results
In the first 10 weeks of operation, the Newham COVID-19 Vaccination Centre delivered 50,758 vaccinations. During this time, CAT QR was used to scan and register more than 7,000 attendances across 1,000 of the staff and volunteers at the vaccination center, allowing people to be deployed quickly and efficiently. Each attendance scan represents one signature that otherwise would have had to be signed, collected, and registered manually on a system.
"No more spreadsheets or e-mails and no delays in reporting compliance for both our training and competency assessments," says Graham Blackwell, project manager, Vaccination Project at ExCeL. "As a result of all the positive feedback from attendees, our operations team also have adopted CATQR for Vaccination center check-in and for when people collect their COVID-19 Lateral Flow Testing kits."
With approximately 35 percent of the population inoculated so far, the vaccination program will continue through 2021, and the Newham COVID-19 Vaccination Centre will continue to track attendance with CAT QR.
Get our newsletter and digital magazine
Stay current on learning and development trends, best practices, research, new products and technologies, case studies and much more.