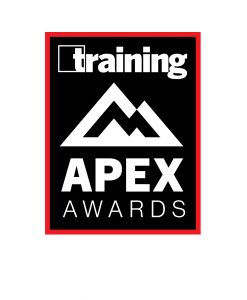 FOR IMMEDIATE RELEASE                                        
Contact:
Lorri Freifeld, Editor/Publisher, Training magazine
lorri@trainingmag.com
Minneapolis, MN (November 28, 2022)—Training magazine, the leading business publication for Learning and Development (L&D) professionals, today announced the winners of the newly rebranded Training APEX Awards, which ranks companies' excellence in employer-sponsored training and development programs. The rankings for the leading organizations will be unveiled during a black-tie Gala to be held February 13, 2023, during the 2023 Training Conference & Expo in Orlando, FL. In addition, Birmingham Water Works Board will be inducted into the Training Hall of Fame after earning rankings in the top 10 for four consecutive years.
"The passion for learning and development burns brightly in the 2023 Training APEX Awards organizations," notes Training Editor/Publisher Lorri Freifeld. "We salute these best-in-class organizations for their ability to consistently and agilely deliver stellar training in an ever-changing world while providing a culture that allows their people to grow and thrive at work."
The APEX Awards ranking is based on myriad benchmarking statistics and a range of qualitative and quantitative factors, including:
Total training budget
Percentage of payroll
Scope of training programs provided
Detailed formal and informal training programs
Training linked to business/business unit goals
Kirkpatrick Level 3 and 4 evaluation
Business outcomes resulting from training
All applications are scored by the Training Hall of Fame members and Editor/Publisher Lorri Freifeld.
In-depth profiles of each of the top five companies will appear in the March 2023 issue of Training, and more information about the training efforts of all the winners will appear in the issue and online at www.trainingmag.com.
The 2023 Training APEX Awards Winners (in alphabetical order) are:
AAA Northeast
Allianz Life Insurance Company of North America
Allied Universal
Apple Federal Credit Union
Applied Materials, Inc.
Aptive Environmental
ArcBest
Argo Group
Arizona Public Service
Ascend Federal Credit Union
Azalea Health
BankWest, Inc.
Bass & Associates, P.C.
Bell and Howell
BlueSprig Pediatrics
Bronson Healthcare
Brookdale Senior Living Inc.
Cardinal Health
CarMax
CBE Companies, Inc.
CCA Global Partners
CNO Financial Group
Coast Professional, Inc.
Collaborative Solutions, LLC
Collective Health
Compass One Healthcare
ConServe
Core & Main
CVS Health
Edward Jones
England Logistics
ESL Federal Credit Union
Ferguson Enterprises
Fisher Investments
FORVIS, LLP
Fractal Analytics Pvt. Ltd
Gilbane Building Company
Greystar
Guardian Life Insurance
Hackensack Meridian Health
Hayes Locums
HD Supply
HGS Inc., USA
HMTX Industries
Huntington Bank
Infosys Ltd
Intact Financial Corporation
JLL
Johns Hopkins Medicine
Kimball Midwest
Kin + Carta
Kraft Heinz
LaSalle Network
Limbach Holdings, Inc.
Long & Foster Real Estate
Marine Corps Community Services-Miramar
Mariner Finance LLC
Maryland Department of Transportation State Highway Administration
Medical Solutions
Michigan State University Federal Credit Union
Microchip Technology Inc
Mike's Carwash
Mohawk Industries, Inc.
Navient
Navy Army Community Credit Union
One Nevada Credit Union
O'Shea Builders
Pacific Gas & Electric
Panda Restaurant Group
Paychex, Inc.
Penn Station East Coast Subs
Persistent Systems Ltd.
Pilot Company
PPD, Part of Thermo Fisher Scientific
PPL Electric Utilities
PPS Insurance Company Ltd
Premise Health
Prime Power Services, Inc.
Rollins
Rosendin
Shaw Industries Group, Inc.
Signature Consultants, a DISYS company
Southern New Hampshire University
Sovos
Spectrum Enterprise
Spreetail
State Compensation Insurance Fund
Sundt Construction
The Haskell Company
The University of Texas MD Anderson
Thermo Fisher Scientific – Research, Safety, and Emerging Markets North America
Trane Technologies
Transworld Systems Incorporated
Two Men and a Truck
Uber Freight
Union Pacific Railroad
Unite Us
University of New Mexico Hospital
Veeam
VyStar Credit Union
Walden Security
WellSpan Health
Western and Southern Financial Group
Williams & Fudge, Inc.
Zensar Technologies Ltd
About Training
Training magazine is the leading business publication for learning and development and HR professionals. It has been the ultimate resource for innovative learning and development—in print, in person, and online—over the last 55-plus years. Training magazine and Training magazine Events are produced by Lakewood Media Group. For more information about the 2023 Training Conference & Expo, please visit: www.trainingconference.com.