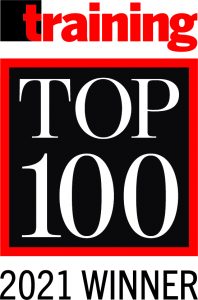 CONTACT:
Lorri Freifeld
Editor-in-Chief
Training magazine
Excelsior, MN (February 8, 2021)—2021 marks the 21st year Training magazine has recognized organizations that provide best-in-class employee training and development. This year, financial services company United Wholesale Mortgage earned its first #1 win, followed by MasTec Utility Services (#2); Haskell (#3); C&A Industries, a Medical Solutions Company (#4); and Rosendin (#5).
Some 16 new companies broke into the Training Top 100 (newly rebranded from the Training Top 125 as part of Training's overall editorial refresh) this year. The majority of the companies are in the finance/banking, health/medical services, business services, and construction industries.
Training magazine recognized the 2021 Training Top 100 winners and revealed their rankings during the first-ever Training Top 100 Virtual Gala held tonight during the Training 2021 Virtual Conference. The gala was sponsored by Adobe, Brainier, and Seiko, along with partners Brella, Brave New Workshop, and the Training Top 100 Hall of Fame. Adobe gave away an iPad. Brainier did a gift card giveaway. Brella spearheaded the event production. And Seiko served as the official timekeeper of the event and provided keepsake watches and a commemorative wall clock for the No. 1 winner.
BNSF Railway, Dollar General Corporation, Nationwide, and Sonic Automotive were inducted into the Training Top 10 Hall of Fame after earning a Top 10 ranking for four consecutive years. The Hall of Fame now numbers 18 companies.
During the Virtual Gala, Training also recognized innovative and successful learning and development programs and practices utilized by some of the Training Top 100 winners. The 2021 Best Practice and Outstanding Training Initiative winners are (in alphabetical order):
BEST PRACTICE AWARD WINNERS
AAA Northeast
Hackensack Meridian Health
Haskell
Paychex, Inc.
Visa Inc
OUTSTANDING TRAINING INITIATIVE AWARD WINNERS
Rollins, LLC
MasTec Utility Services
State Compensation Insurance Fund
United Wholesale Mortgage
Walden Security
The Training Top 100 is the only awards program that ranks companies unsurpassed in harnessing human capital. Some overall statistics from the quantitative analysis of the winning 2021 Training Top 100 applications include:
The mean revenue for Training Top 100 applicants was $6.4 billion U.S. and $8.2 billion worldwide.
Representing 5.24 percent of payroll, the mean training budget was $16.2 million.
The mean number of employees trained was (including independent contractors and franchisees) 18,702, with 11,925 trained in the classroom and 36,107 trained online. A mean of 946 courses were offered as instructor-led sessions; 24,520 were offered as online self-paced modules; and 343 were offered as virtual instructor-led classrooms. All but three of the 2021 Training Top 100ers have a technology infrastructure.
The mean number of full-time and part-time trainers was 444 and 147, respectively.
Some 93 percent of Top 100 winners have a tuition reimbursement program. A mean of 9 percent of eligible employees made use of tuition reimbursement programs in the last year. Median spend on tuition reimbursement programs was $192,365.
All of the winners use employee satisfaction surveys, while 97 percent use competency maps. Some 73 percent tie managers' compensation directly to the development of their direct reports.
On the evaluation side, 86 percent of applicants utilize Return on Value; 92 percent utilize Return on Investment; 80 percent utilize Balanced Scorecard; and 69 percent use Six Sigma. The Kirkpatrick Levels of Evaluation are more widely used to measure training effectiveness: 99 percent use Levels 1-3; and 97 percent utilize Level 4.
"We salute the 2021 Training Top 100 winners for the lives they've saved and the lives they've changed," said Lorri Freifeld, editor-in-chief of Training magazine. "We applaud their agility, adaptability, and ardent dedication to learning and to their people. We hope they continue to choose the road less traveled as they demonstrate how very much Training Matters today and every day."
The Top 100 ranking is determined by assessing a range of qualitative and quantitative factors, including financial investment in employee development, the scope of development programs, how closely such development efforts are linked to business goals and objectives, and their effectiveness in terms of business impact.
Companies that wish to be considered for Top 100 ranking complete a detailed application, which is scored both quantitatively (73 points) by an outside research and statistical data company and qualitatively (52 points) by Trainingmagazine editors and Training Top 100 Hall of Fame representatives.
For a profile of each of the Top 5 companies on the Training Top 100, additional information about the training efforts of all 100 companies, and details on the programs receiving Best Practice and Outstanding Training Initiative awards, see the March 2021 issue. The digital edition will be available online at www.trainingmag.com.
Click here to order a copy of the issue or Training Top 100 merchandise.
2021 Training Top 100 Winners
United Wholesale Mortgage
MasTec Utility Services
Haskell
C&A Industries, a Medical Solutions Company
Rosendin
State Compensation Insurance Fund
Paychex, Inc.
Birmingham Water Works Board
Transworld Systems Incorporated
Midcontinent Independent System Operator
WellSpan Health
Valvoline Instant Oil Change
StorageMart
Applied Materials
Visa Inc
ArcBest
ESL Federal Credit Union
AstraZeneca China
Edward Jones
Gables Residential
Ascend Federal Credit Union
MTM, Inc.
FORUM Credit Union
BKD CPAs & Advisors
Allianz Life Insurance Company of North America
AAA Northeast
Rollins, LLC
Intermedia.net Inc.
Bell and Howell, LLC.
Gilbane Building Company
HD Supply Facilities Maintenance
Concentrix Corporation
Paycor
LifeNet Health
Walden Security
Bass & Associates, P.C.
Sovos
Signature Consultants
PPD
The Guardian Life Insurance Company of America
CVS Health
DaVita
CarMax, Inc.
Dish Network
Coast Professional, Inc.
Core & Main
VyStar Credit Union
Navient
ConServe
Mohawk Industries, Inc
England Logistics
Huntington Learning Center
Fisher Investments
Colorado Springs Utilities
CNO Financial Group
Shaw Industries Group, Inc
Two Men and a Truck International
Union Pacific Railroad
Williams & Fudge, Inc.
Mariner Finance
One Nevada Credit Union
Huntington National Bank
Sundt Construction
Mastercard
EPB
Pilot Company
Western Southern Financial Group
G4S Secure Solutions (USA) Inc
JLL
Argo Group
Penn Station East Coast Subs
Nebraska Medicine
Michigan State University Federal Credit Union
Microchip Technology Inc.
International SOS
Hackensack Meridian Health
University of New Mexico Hospitals
Tata Consultancy Services
Johns Hopkins Medicine
New York Life
Persistent Systems Ltd.
Cardinal Health
Hayes Locums
Kimball Midwest
SAC Wireless
Valley Bank
Uber Freight
HGS Inc., USA
CBE Companies, Inc.
NIGP: The Institute for Public Procurement
LaSalle Network
People's Trust Insurance
BankWest, Inc.
Compass One Healthcare
Brookdale Senior Living, Inc
CCA Global Partners
Panda Restaurant Group
Kin + Carta
Maryland Department of Transportation State Highway Administration
Arizona Public Service (APS)
About Training magazine
Training magazine is a 57-year-old professional development magazine written for training, Human Resources, and business management professionals in all industries that advocate training and workforce development as a business tool. Training also produces world-class conferences, expositions, and digital products that focus on job-related, employer-sponsored training and education in the working world. Training is published by Lakewood Media Group.