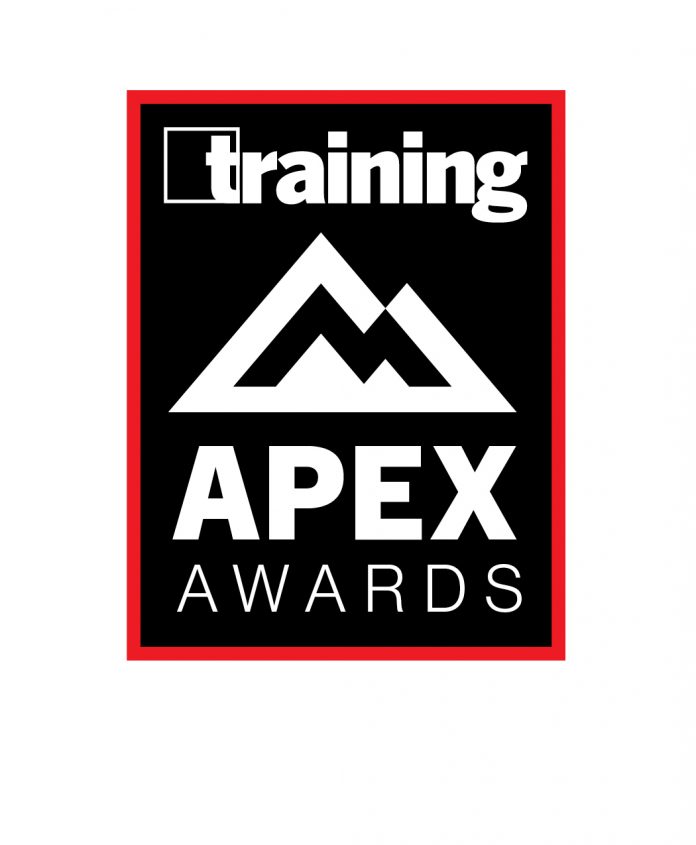 CONTACT:
Lorri Freifeld
Editor/Publisher
Training magazine
Excelsior, MN (February 14, 2023)—2023 marks the 23rd year Training magazine has recognized organizations that provide best-in-class employee training and development. At the top of the 2023 Training APEX Awards rankings is The Haskell Company (#1), followed by Transworld Systems Incorporated (#2); Rosendin (#3); State Compensation Insurance Fund (#4); and Paychex, Inc. (#5).
Training magazine recognized the 2023 Training APEX Awards winners with crystal awards and revealed their rankings during the Training APEX Awards I Heart Training Gala held last night during the Training 2023 Conference & Expo at Disney's Coronado Springs Resort in Orlando, FL. The black-tie gala was sponsored by Adobe, Awarding You, Brainier, Brella, Seiko, Training Orchestra, and the Training Hall of Fame. Adobe, Awarding You, Brainier, Brella, and Training Orchestra provided special giveaways, including a Meta VR headset, gift cards, and a donation to the winner's charity of choice. Brella managed the entire event production. And Seiko served as the official timekeeper of the event and provided keepsake watches and a commemorative clock for the #1 winner.
Birmingham Water Works Board (BWW) was inducted into the Training Hall of Fame after earning a Top 10 ranking for four consecutive years. The Training Hall of Fame now numbers 18 companies.
During the Gala, Training also recognized innovative and successful learning and development programs and practices utilized by some of the Training APEX Awards winners. Best Practice and Outstanding Training Initiative award winners received crystal trophies. They are (in alphabetical order):
Best Practice Award Winners
AAA Northeast for the GROW Coaching Program
Edward Jones for JonesSpark
The Haskell Company for Haskell Field Focused Safety-Based Training
HD Supply for GREAT Customer Experience Training
Long & Foster Real Estate for LAUNCH Sales Training
Outstanding Training Initiative Award Winners
Ascend Federal Credit Union for the Financial Counseling Certification Program
ESL Federal Credit Union for Zelle Overview
Transworld Systems Incorporated for Brilliant in the Basics
Veeam for Product Launch Enablement
WellSpan Health for the Inclusion Champion Program
The Training APEX Awards is the only awards program that ranks companies unsurpassed in harnessing human capital. The Training APEX Awards ranking is determined by assessing a range of qualitative and quantitative factors, including financial investment in employee development, the scope of development programs, how closely such development efforts are linked to business goals and objectives, and their effectiveness in terms of behavior change and business impact.
Companies that wish to be considered for Training APEX Awards ranking complete a detailed application, which is scored both quantitatively (73 points) by an outside research and statistical data company and qualitatively (53 points) by Training magazine's editor/publisher and Training Hall of Fame representatives.
"The 2023 Training APEX Awards winners elevated their ability to consistently and agilely deliver stellar employee training and development in an ever-changing world," said Lorri Freifeld, editor/publisher of Trainingmagazine. "We salute their continuing training inspiration, perspiration, and dedication."
Some overall statistics from the quantitative analysis of the winning 2023 Training APEX Awards applications include:
Some 29 new companies broke into the Training APEX Awards ranking this year.
The majority of the winners are in the finance/banking and health/medical services industries.
The mean revenue for winners was $7.7 billion U.S. and $5 billion worldwide. Representing 5.8 percent of payroll, the mean training budget was $20 million.
The mean number of employees trained was 21,041. Winners had a mean of 80 full-time trainers and 71 part-time trainers. Organizations had a mean ratio of 160 employees per trainer. Technology infrastructure included: a learning management system (99 percent), talent management system (90 percent), and workforce management system and employee support system (both at 91 percent).
Nearly 84 percent offered a tuition reimbursement program. A mean of 5 percent of eligible employees made use of tuition reimbursement programs in the last year. Median spend on tuition reimbursement programs was $153,846.
All of the winners used employee satisfaction surveys, while 98 percent used competency maps. Some 71 percent tied managers' compensation directly to the development of their direct reports.
In terms of measuring training effectiveness, 89 percent of applicants utilized Return on Value; 86 percent used Return on Investment; 71 percent utilized Balanced Scorecard; and 66 percent used Six Sigma. Usage of the Kirkpatrick model was as follows: Level 1—100 percent; Level 2—98 percent; Level 3—96 percent; and Level 4—94 percent.
For a profile of each of the companies ranking in the Top 5 of the 2023 Training APEX Awards, additional information about the training efforts of all 105 companies, and details on the programs receiving Best Practice and Outstanding Training Initiative awards, see the March 2023 issue. The digital edition can be found online later this week at http://www.trainingmag.com.
Click here to order a copy of the issue or Training APEX Awards merchandise.
2023 Training APEX Awards Winners
The Haskell Company
Transworld Systems Incorporated
Rosendin
State Compensation Insurance Fund
Paychex, Inc.
Medical Solutions
ESL Federal Credit Union
Applied Materials, Inc.
AAA Northeast
Ascend Federal Credit Union
HD Supply
Long & Foster Real Estate
Michigan State University Federal Credit Union (MSUFCU)
Edward Jones
Allianz Life Insurance Company of North America
WellSpan Health
ArcBest
PPD, Part of Thermo Fisher Scientific
Southern New Hampshire University
Bass & Associates, P.C.
Shaw Industries Group, Inc.
CBE Companies, Inc.
Core & Main
FORVIS, LLP
One Nevada Credit Union
Signature Consultants, a DISYS company
Pilot Company
Bell and Howell
VyStar Credit Union
Union Pacific Railroad
Two Men and a Truck
Mariner Finance LLC
Veeam
Huntington Bank
Sovos
Navient
Guardian Life Insurance
Ferguson Enterprises
Walden Security
Rollins
Pacific Gas & Electric
BankWest, Inc.
Gilbane Building Company
CarMax
CVS Health
Cardinal Health
Apple Federal Credit Union
England Logistics
ConServe
CNO Financial Group
Arizona Public Service
HMTX Industries
Navy Army Community Credit Union
Western and Southern Financial Group
Sundt Construction
Allied Universal
PPL Electric Utilities
Zensar Technologies Ltd
Spectrum Enterprise
Penn Station East Coast Subs
Williams & Fudge, Inc.
JLL
Fisher Investments
Mohawk Industries, Inc.
Microchip Technology Inc
Uber Freight
Coast Professional, Inc.
HGS Inc., USA
University of New Mexico Hospital
Premise Health
Spreetail
Trane Technologies
Panda Restaurant Group
Compass One Healthcare
The University of Texas MD Anderson
Collaborative Solutions, LLC
Bronson Healthcare
Hackensack Meridian Health
Johns Hopkins Medicine
Limbach Holdings, Inc.
Hayes Locums
Infosys Ltd
Brookdale Senior Living Inc.
Azalea Health
Persistent Systems Ltd.
Argo Group
O'Shea Builders
Collective Health
Kimball Midwest
LaSalle Network
CCA Global Partners
Mike's Carwash
PPS Insurance Company Ltd
BlueSprig Pediatrics
Maryland Department of Transportation State Highway Administration
Fractal Analytics Pvt. Ltd
Thermo Fisher Scientific – Research, Safety, and Emerging Markets North America Sales
Kraft Heinz
Prime Power Services, Inc.
Marine Corps Community Services – Miramar
Aptive Environmental
Unite Us
Greystar
Kin + Carta
Intact Financial Corporation
About Training magazine
Training magazine is the leading business publication for learning and development and HR professionals. It has been the ultimate resource for innovative learning and development—in print, in person, and online—over the last 55-plus years. Training magazine and Training magazine Events are produced by Lakewood Media Group. For more information about the 2023 Training Conference & Expo, please visit: www.trainingconference.com.