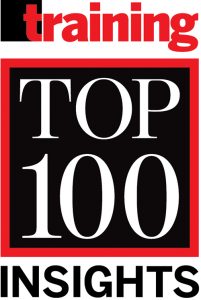 Produced in partnership with Brella
Training magazine's complimentary "Training Top 100 Insights" live virtual series focuses on exclusive strategies, plus tools, and technologies, for learning and development (L&D) success. Produced in partnership with Brella, the series includes:
Virtual discussion panels featuring Training Top 100 and Hall of Fame organizations (these are companies Training magazine has recognized for their excellence in employee training and development)
Participant Q&As with the panelists
The opportunity to converse and share challenges, best practices, and lessons learned with your L&D peers via Chat
Training Technology Test Kitchen led by learning design expert Phylise Banner and featuring a variety of "chefs" who demonstrate tools and technologies that can help take training to the next level
THE FIRST EVENT: Post-Pandemic Training
The first event in the series took place on May 7, 2021. The panel discussion focused on "Post-Pandemic Training" with representatives from Training Top 100 Hall of Fame companies Deloitte, IBM, Keller Williams Realty, Nationwide, and Sonic Automotive. Training Technology Test Kitchen chefs included David Metcalf, director of the University of Central Florida's Mixed Emerging Technology Integration Lab; Enzo Silva, learning strategist, SAP; and Destery Hildenbrand, senior learning experience producer, Motive.io.
MAY 7, 2021, RECORDING
Click here to listen to the recording.
TRAINING TOP 100 HALL OF FAME WHITE PAPER
Click here to download the Training Top 100 Hall of Fame's latest white paper, Training Beyond the "New Normal."
UPCOMING TRAINING TOP 100 INSIGHTS EVENTS
July 16, 2021
September 10, 2021
ADDITIONAL RESOURCES
For more information on the Training Top 100 awards program and the 2022 application, click here.
TRAINING TOP 100 INSIGHTS OPPORTUNITIES/CONTACTS:
If you are part of a Training Top 100 or Hall of Fame organization and would like to be considered as a panelist or are interested in serving as a Training Technology Test Kitchen chef for an upcoming event, please contact:
Julie Groshens, VP, Conferences (julie@trainingmag.com)
Steve Dahlberg, Creative Engagement Director (steve@trainingmag.com)
Lorri Freifeld, Editor/Publisher (lorri@trainingmag.com)