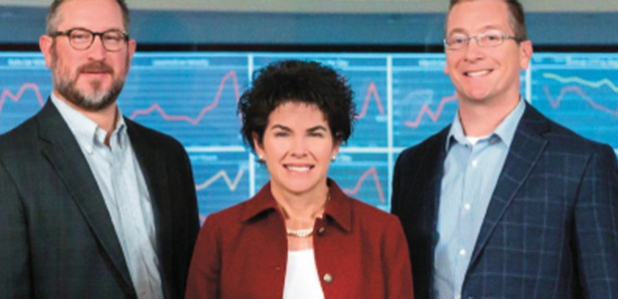 BNSF Railway Co.: Engineering Training Excellence
New technology that bolsters employee scheduling and safety, ramped-up recruitment, and a new LMS are just a few of the recent accomplishments keeping BNSF Railway Co. on track for success.
Posted: February 27, 2019
Safety is a top priority at BNSF Railway Co., and ensuring it has well-trained employees in the right roles and in the right location is one of the ways the company works to keep its employees safe. Knowing nothing can be left to chance, the Human Resources team at BNSF renewed its focus on recruitment, ensuring that even in the most remote areas, a sufficient, well-matched workforce can be found. The addition of a new learning management system (LMS) also ensures that those new employees will be given world-class training to succeed. The development of a new scheduling software and delivering the training to complement that new technology helped heighten safety and efficiency—that project alone has saved the company millions of dollars.
Scheduled to Keep Moving—Safely
"Our objective is to serve our customers while safely and efficiently moving their freight," says Jennifer Martin, director of Workforce Management at BNSF. "To safely operate more than 1,400 trains per day, it is imperative we have the right number of employees positioned strategically throughout the network. Efficient manpower planning is a critical component to running our business effectively."
Doing that, Martin explains, has become more challenging: Customer demand increased 5 percent from 2016 to 2017. Positioning employees across rail districts when and where they are needed is the one of the largest operational costs within the industry.
Scheduling processes used to be manual, making it difficult to consistently train new supervisors. As a result, operational effectiveness was hindered.
"Our challenge was to develop a single software solution robust enough to meet the requirements of 13 unique labor agreements, applicable to multiple functional crafts, while upholding federal regulations," says Martin. "Our challenge was compounded by the need to train multiple user groups from more than 100 different physical locations, each with different employee scheduling configurations."
To support BNSF's goal of making scheduling more efficient and cost effective, a multi-year investment of $3.3 million was made to develop software and training. The goal was to give ownership to those who directly manage employee scheduling.
In 2017, the new software system—Crew Decision Assist— was implemented to manage the schedules of nearly 20,000 railroad employees, impacting 1.6 million train starts. Applying this new software tool required training for leaders on how to more effectively leverage the technology. The company's Workforce Support Systems team conducted an interactive, hands-on training program for 2,400 managers over a period of nine months.
The training program structure was organized by supervisor group and consisted of numerous activities over three months, facilitated by leaders and project champions. Training included live, online virtual sessions, classroom sessions, and a learning fair booth at annual supervisor training, as well as targeted one-on-one coaching opportunities. Project champions completed peer-to-peer reviews to certify other supervisors on their knowledge and use of the tool.
Additional components of the training program included:
Virtual training in an offline "sandbox" environment, so users could practice using the tool before scheduling live crews
Online training and performance support documentation easily accessible to users
Ongoing training supported by peer-to-peer sessions on-site at field locations
Real-time measurement of safety and cost efficiencies
To date, BNSF has reduced scheduling costs by $7.8 million as a result of the new system and training. The company's return on investment estimate for this project is 191 percent, based on an overall cost of approximately $3.8 million.
BNSF has seen 90 percent growth in software tool utilization, providing consistent railroad employee scheduling. "BNSF continues to develop this software for use on other rail district configurations, which will continue to yield results for employee safety, cost reduction, and supervisor training for years to come," Martin adds.
Keeping the Talent Pipeline Chugging Along
It can be challenging to find skilled electricians and mechanics/ machinists in the railroad industry. As a result, BNSF's Human Resources and Learning and Development teams were tasked with creating strategies for candidate selection and hiring, including training and incentives to ensure its talent pipeline keeps flowing. New locomotive electricians and mechanics/machinists would need to be trained in the most efficient and timely manner.
In the past "time-based" program, apprentices invested an average of eight weeks in classroom training and an additional 976 days on the job to become fully proficient in their roles. Basic-to-advanced classes were required of all apprentices, regardless of skill level and prior experience.
"BNSF recognized a need to shift to a learner-driven, more time-effective means of integrating an employee's past training, work experience, and competency level to target individual training needs," says Scott Schafer, general director of Railroad Training Services at BNSF. "With increased customer demand, we needed our electricians and mechanics/machinists to be in their new roles as soon as they could demonstrate full proficiency."
To complete this transition, the BNSF Learning team worked with Operations leadership, unions, supervisors, Labor Relations, and the company's Technical Training Center to ensure all processes, procedures, and resources were available and aligned. Program objectives included creating a highly skilled workforce while increasing time to proficiency, offering just-in-time training to close employees' knowledge gaps, decreasing training costs and employee time by reducing the number of classroom hours, and creating a more engaged workforce by training employees based on their individual skill or knowledge gaps.
To meet this need, BNSF created a proficiency-based training solution for electrician apprenticeship and machinist apprenticeship programs that includes onsite trainers who are exemplar performers in their craft, a proctored Qualifying Knowledge Exam that requires an 80 percent pass rate before the apprentice can move on to the actual demonstration of required skills, and a Proficiency Task List that assesses actual skill proficiency. Apprentices are paired with journeymen who sign off on the proficiency level to ensure apprentices have mastered the knowledge and skill needed to perform each task. Upon training completion and verification by an electrician or machinist technical trainer, the apprentice becomes a journeyman.
The new program helped new hires gain time on the job and was more efficient versus the previously used time-based training. Electricians completed the program in less than two years, with 462 working days spent and four classes per student. This compares with four years, or 976 working days, and eight courses under the time-based program. This 53 percent gain in on-the-job time equates to a savings of more than $1.7 million since the program's start.
Machinists completed the program in just over two years, with 542 working days spent and six courses per student. This compares to three years and 732 working days and eight courses under the time-based program. This 26 percent gain in on-the-job time equates to a savings of nearly $135,000.
BNSF now can move new employees from apprentice to journeyman in half the time, allowing a more skilled workforce to become journeymen. "This is significant as we (and all railroads) are experiencing a shortage of skilled labor," notes Schafer.
New LMS Means New Options
In September 2017, BNSF went live with a new SuccessFactors learning management system called myLearning. The Web-based tool provides users with a greater ability to manage their training and compliance requirements, and facilitates the identification and completion of required training for employees and supervisors alike.
"Our Operations front-line employees select their jobs based on employee seniority, which creates significant movement between highly regulated jobs," explains Schafer. "It is not uncommon for an employee to work five or six unique jobs within one year, so the new myLearning system helps our team ensure employees receive 'just-in-time' learning and have the ability to effectively apply safety practices."
The just-in-time training capabilities are so important because they allow the flexibility to position required training closer to when the job will be performed, Schafer adds. "Instead of training an employee for all possible jobs he or she could perform, the company now can provide training when it is needed for a particular job, improving employee attainment of key performance and safety requirements."
He continues, "Our requirement of 'no training/no work' positions qualified employees to be assigned work they are qualified to perform. In the past, it could be difficult for some departments to ensure every employee was qualified, certified, or compliant for every job he or she performs. myLearning allows us to link qualifications with job requirements—ensuring employees only bid on jobs they are qualified to work."
The cross-function implementation team, including Learning and Development, received BNSF Achievement Awards for delivering a near-flawless implementation of myLearning, both on time and under budget.
On Board for the Long Haul
"One of the top BNSF business strategies is to develop, transition, and maximize talent such that we can promote from within in an effort to maintain business continuity and accelerate the business forward," says Debra Ross, assistant vice president of Learning and Organizational Development at BNSF.
While the company's overall turnover numbers are typically low at 4.1 percent regrettable turnover, BNSF has experienced an increased number of retirements over the last six years. "Given the technical nature of our business, it is crucial that we bolster the strength of our talent pipeline to meet the needs of the increased demand due to retirements. To accomplish this, we take a holistic approach to grow talent from within with strong onboarding programs, ongoing leadership development, and mentoring programs," Ross explains.
All new exempt employees attend a three-day orientation program to align them with the company's strategic objectives. In addition, all new field operations employees are oriented at their work location and at the company's Technical Training Center. After the eight-week program, employees are enrolled in an extensive onboarding training program, led by onsite safety coordinators who are dispersed across the organization to ensure on-the-job training is completed.
"We are proud of our onboarding programs—and are pleased with a low 4.1 percent regrettable attrition in 2017—a 5 percent improvement over 2016," says Ross.
New, Exciting Destinations
In 2019, BNSF's leadership training focus will be challenging the status quo.
"We need to ensure all on our team are fully engaged and take a critical eye to everything we do and ensure we're making the right choices to best operate our network and serve our customers," Ross shares.
More than 5,100 BNSF leaders will be asked to challenge themselves, and the company, further this year. "Our leaders will learn the mindset to appropriately challenge the status quo," Ross says, "as well as create an environment that allows others to raise questions and seek new solutions that will position BNSF for success for the next 170 years."