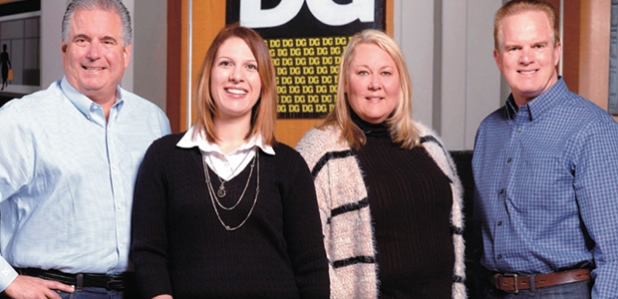 Dollar General Registers Growth And Development
An influx of new employees at Dollar General was matched by an impressive roster of training programs. Robust growth was supported by topnotch learning.
Posted: February 15, 2018
Dollar General isn't taking any chances on training its ever-growing number of employees. During fiscal 2017 alone, Dollar General planned to open two new distribution centers coupled with nearly 1,300 new stores, which equates to approximately three new stores each day, and marked the largest one-year employee increase through organic store and distribution growth in the company's history. Given the business opportunities that growth created, it was no surprise Dollar General's Training & Development team rose to the challenge to ensure new and seasoned employees alike were afforded valuable development and training opportunities.
From a new onboarding program to new learning technology solutions, the company made strategic employee investments to ensure it is well equipped to manage and succeed within the challenges of a growing business. Indeed, enabling the company to capture growth opportunities and to invest in its people as a competitive advantage is at the heart of the Learning team's success.
Growing, Growing, Grown
To fuel Dollar General's recent growth, training the right people at the right time was critically important, says Dollar General Executive Vice President and Chief People Officer Bob Ravener. "Our ongoing commitment is to provide our employees with opportunities to gain new skills, develop their talents, and advance with the company," Ravener explains. "Our results are reflected in our strong internal promotion and placement rates. At Dollar General, our ongoing investment in talent development is essential to fulfill the leadership needs of our rapidly growing business."
Meeting Business Needs
In partnership with Executive Vice President of Store Operations Jeff Owen, the Training & Development team worked to improve onboarding and support the company's continued successful growth. As a former Dollar General store manager, Owen worked in partnership with Ravener and Training & Development Senior Director Lori Bremer to review and audit processes.
The result was a redesigned onboarding program that included an initiative to evaluate, select, and certify approximately 1,100 top-performing store managers to become Certified Store Training Managers (CSTMs). These leaders completed a series of train-the-trainer modules on numerous programs and initiatives to better prepare them for their evaluated roles. At its completion, the new program yielded 53 percent more leader-led training hours than the previous version and helped improve employee engagement and retention.
Keys to Success
During the first eight weeks of the new store manager training program, the new store manager completes computer-based modules that allow practice in a simulated virtual store environment. The complementary learning activities in a top-performing store with a CSTM help guide the new store manager to put learning into action within his or her own store. The CSTM and new store manager also have weekly check-ins supported by regular training visits to build a strong working relationship and promote greater engagement.
Three months into the program, store managers attend Retail Excellence Every Day (REED), a three-day classroom session to expand leadership skills and discuss on-the-job experiences to further create a coaching mindset to optimize store performance. The program also includes additional skill-building computer-based learnings at an average of two modules per month on topics such as succession planning, building customer relationships, and seasonality and holiday planning.
Action planning occurs at two key milestones: after the second week and during REED classroom training. Action plans are built around goals each store manager creates based on individual store metrics and are executed in partnership with the district manager.
"Store manager retention in the first year of the program has significantly improved from the same time period last year, which equates to cost savings to the company based on reduced hiring costs and gained productivity," says Bremer.
Complementary Efforts
To complement training updates, Bremer and her team examined where they could improve the company's recruitment processes to support both current and future planned growth for stores, distribution centers, and the company's corporate functions. Uncovering opportunities for improvement in the Recruiting Management System, which ultimately supported the massive recruiting and training efforts the company's 2017 growth would entail, led to a project team working to identify a new system.
The previous system's shortcomings included a lack of flexibility and the inability for the company's store managers to view applicants beyond their own store, which left a gap between candidate supply and hiring demand. Adding to the challenge, the system was not mobile-enabled or optimized for meeting the requirements of today's job seeker.
"Dollar General's talent acquisition strategy is unique in that the store workforce is hired through more than 14,000 retail hiring managers across the country," says Bremer. "Therefore, it was crucial that these professionals be trained and prepared to transition to a new recruiting management system."
Supporting the transition, the Training & Development team created a customized computer-based learning course and four specific, quick-reference guides for each user group of the system, which included the Human Resources department; more than 14,000 store managers; approximately 800 district managers; and all of the candidates who visit Dollar General's career site every year. In addition, the team developed and delivered training to specialized super users and subject matter experts who host weekly best practice calls and field questions from end-users to provide the foundation for overall system implementation and continued support. A recorded version of this training was sent to all store managers to accompany the computer-based learning and user guides.
Within the first day of the system's launch, Dollar General experienced a record-setting number of candidates hired, directly attributed to the system training conducted. "We did not experience a lapse in process or increase of support calls," says Bremer. "The system now allows all of our store managers to see applicants who have applied within a close radius of their store to allow recruiting abilities beyond their direct applicant pool. The system also has helped deliver approximately double the number of candidate applications, and the mobile system has helped reduce a candidate's application time by approximately 60 percent."
New Training
Engaging new training opportunities was also part of Dollar General's 2017 training and development strategy. Aimed at supporting the company's district manager and regional director population, the company created a realistic learning environment with its new Simulation Championship game.
"This innovative, high-energy, and engaging learning experience placed participants in a virtual 16-store district and tasked them with rapidly changing environments, challenges, and opportunities," says Bremer. "It further allowed them to create the highest-performing district possible by maximizing sales, reducing loss, and developing people."
Over the course of four hours, district managers and regional directors solved a variety of challenges, while being confronted with multiple situations delivered through a table-sized game board and game pieces.
As an added layer of complexity, the game was timed, and throughout the activity, additional in-the-moment situations were delivered via playing cards that teams needed to confront to be successful.
"The Simulation Championship was not only a lesson in time management and prioritization, but also one in empowering and developing employees to eliminate and delegate tasks by focusing on strategy versus task, and results in one team winning a Championship title," Bremer explains.
The National Championship earning levels were captured in the final game scoring, which grew each round as the game was played.
"With the overall positive satisfaction and learning captured, we implemented this gamification training into our District Manager Training as it is an innovative and costeffective way to put a leader in a safe environment to solve problems and deal with realistic situations," Bremer says.
Training Culture
Creating effective training programs has been enhanced by a culture in which top executives stand behind learning initiatives. Dollar General executives routinely kick off training programs throughout the year, helping to foster the company's strategic goal of driving profitable sales growth. Executive leaders also regularly facilitate training and development programs on a variety of subjects to a wide range of audiences.
"One of our operating priorities is to invest in our people as we believe they are a competitive advantage," says Dollar General CEO Todd Vasos. "Our organization's capacity to focus on talent selection and employee development through great onboarding, training, and open communication is critical to long-term success. In 2018, we expect to invest more than 1.5 million training hours for employees to promote education and development as we look to use our best-in-class training programs to support company growth."
For example, Distribution Leadership Development is the flagship training program for distribution center mid-level management at Dollar General. The program incorporates operational information and leadership development topics in a one-week, instructor-led training experience held six times a year.
"From the CEO and his direct reports to all levels of leadership, there is personal energy and commitment to the growth and development of our people," Ravener says. "Further, our leadership values the importance of the training programs by sharing their own subject matter expertise with new employees. It really helps make a difference."
Looking Ahead
As Dollar General moves into fiscal 2018, its eye is on continuing its positive momentum for its customers and employees. The company recently launched the Customer First Sustainment Campaign, which includes three "Customer First Engagement" activities scheduled to be conducted with all retail employees during the next three business quarters. In addition, an online site was created to recognize employees living out Dollar General's mission of Serving Others by highlighting real-life stores.
The company's continued financial success and growth shows it is doing something right. It has seen 27 years of consecutive same-store sales growth, including more than $22 billion in sales during fiscal 2016, increased employee engagement, charitable donations in excess of $18 million in 2017 alone, and an overall increase in customer satisfaction.
"Investing in the learning of our employees is a cornerstone of Dollar General's success," says Ravener. "By capturing our talent and focusing efforts, Dollar General makes putting customers first a point of differentiation."
There's no doubt training and development have been a cornerstone in the rapid growth Dollar General has experienced over the last several years and a big reason it landed in the Top 5 on the 2018 Training Top 125.