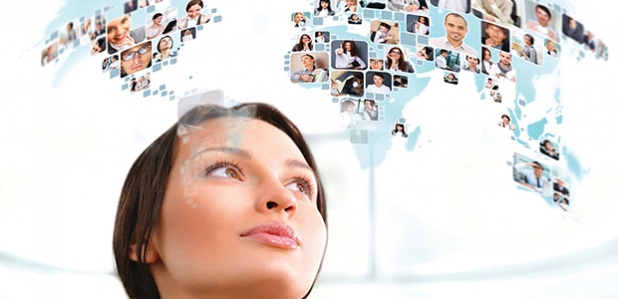 The Leader & Social Media
Social media is more than a collaboration and marketing tool; it also can be a tool to develop leaders.
Most of your employees are familiar with at least one social media site, whether that's Facebook, Instagram, Twitter, Snapchat, LinkedIn, or another. Understanding how to use these platforms to build relationships with new and prospective customers—and even colleagues—is essential these days. But social media also can be used as a tool to develop leaders (a judicious use of Twitter is recommended).
Indeed, so-called "social leaders" have followers because of their ability to bring people together, facilitate agreements, and drive efforts in the same direction. Participating on social media platforms can help leaders hone communication, collaboration, motivation, agility, and community-building skills, among others.
Build Relationships
When you manage a group of people, you can make it more likely that they will respond to your requests and pitch in to reach goals if you keep in touch frequently. That could mean stopping by their workstation to chat, ask for updates, and offer help, or it could mean reaching out electronically. With social media tools such as Slack that cater to workplace conversation or "team messaging," leaders have more options than ever to communicate with employees. Fortunately, the skills managers must use to reach out to customers digitally on social media are the same ones they can harness to become better communicators with their own workforce.
Training Top 125er Leading Real Estate Companies of the World (LeadingRE), an invitation-only membership-based real estate company, knows social media is critical to its continued ability to build relationships with its members. "We use Facebook to connect to members all over the world. We share our own news and insights, but also celebrate our members' successes and milestones. It's yet another way we strengthen the connections between members of our global community," says Vice President of Performance Excellence Dan Nelson. "Social media also allows us to engage with members on a personal level when we are not able to be face-to-face, giving us a better understanding of their values, challenges, and achievements."
With so much at stake in how effectively employees optimize social media, LeadingRE offers formal learning courses on the subject. The company has more than 30 training courses covering various social networks and how to get the most out of them, with topics ranging from the essentials of social platforms to how to build your personal brand and increase your sphere of influence. In addition to making marketing and customer service better, the courses teach skills that can be applied to enhancing relationships with co-workers. Nelson says one of the things you must master to optimize social media is succinctness. "You won't have a lot of success on social media with long, rambling posts. That's a skill that will help you in every form of communication," he says. "If you are as effective at getting your point across in person as you have to be online, you will have more success connecting to people."
LeadingRE has its own social media tools built into its intranet communication system for its corporate staff. "Our intranet has a social media element that allows leaders to communicate with their teams about what is coming and to set expectations," says Nelson. "Our staff also can use it to share news across the organization to champion great work and alert co-workers about upcoming project deadlines."
Create and Promote a Personal Brand
Every time you reach out to "friends" or "followers" on social media, you have an opportunity to reinforce, or change, how they perceive you. There's an expression in social media marketing that a post is "on brand," meaning the message that was posted is in line with the individual's or company's promoted image. That means, for instance, that if your company has social corporate responsibility as a core value, posts that highlight giving back to the community would be on brand. Or if, as an individual, you promote yourself as an innovator, posts that showcase avant-garde projects would be in line with who you promote yourself to be.
Every time you communicate with peers, whether in person or digitally, you likewise have a chance to reinforce, or change, how they perceive you. Employees who have mastered social media may have a leadership leg over those who have not because they more fully understand how to make every interaction count. Training Top 125er Buckman, a chemical manufacturing company, is well aware of social media's power to brand, says Learning Effectiveness Analyst Lauren Warren. The company, which has a presence on Facebook, LinkedIn, YouTube, and Twitter, uses social media first to build its brand among customers and the public, but knows that use of these platforms can teach leaders lessons about interacting with others. "Social media is an extension of a leader—people are watching, in more ways now than ever," she says. "Understanding corporate branding on social media helps leaders know how to present themselves in their personal branding."
Communicating via social media shows leaders the value of making themselves accessible, and how to get their point across in pleasant and powerful ways. "Social media drives leaders to adjust their presentation style to meet the masses; social media doesn't work the other way around (the masses won't adjust based on one leader's approach)," says Warren. "Some important skills social media implicitly 'teaches' (or 'forces!') is brevity in message, consistency in posting, and giving immediate feedback (interaction, likes) and thoughtful consideration to further tune their craft."
You can train employees to post on social media, but a lot comes down to personal judgment, since messages that seem rote are unlikely to be effective. Training Top 125er La Quinta Inns & Suites trains employees to use social media, but doesn't provide word-by-word scripts, says Senior Director of Learning and Development Jade DeBusk. "We train a specific framework for online reviews, but it doesn't replace the script," she says.+
Mentoring From Millennials
Understanding how to send the intended message on social media is especially useful in helping leaders more effectively communicate with Millennials and Generation Zers, who will have come of age in a world where social media has always existed. Leaders learn how to get their point across fast enough to capture attention. Executives could learn lessons on effectively communicating with speed by working with the Millennial employees they manage.
"Someone knows in one to two seconds if they are going to continue watching a video/commercial or reading an article/ post, or if they're going to continue scrolling," Buckman's Warren points out. "It's those one to two seconds that Millennials have gotten creative with, and developed new approaches to gaining attention in today's communication-heavy world. If a message isn't brief and to the point, Millennials often won't even read it. It's important to meet this generation where they are and support their creativity, so as to advance the technological landscape, versus forcing them to align to older generations' ways of doing things. It's in these situations that the youth become the teacher."
Indeed, use of social media is an area in which more seasoned executives may need to show humility, and get mentoring from those new to the company's ranks. The difference between a Generation Xer or Baby Boomer and a Millennial is that, for the latter, social media is akin to a first language. Lee Caraher, author of "The Boomerang Principle" and founder of national public relations and digital media agency Double Forte, says older executives can learn from what amounts to a "native" social media speaker. "I think Millennials are better at 'going native' in the different social channels and understanding the unwritten rules of communities. And their older colleagues could benefit from understanding the nuances," she says.
Social Media Proving Ground
Sometimes an employee can springboard to leadership through effective use of social media. Piyush Patel, founder of Digital-Tutors, and author of "Lead Your Tribe, Love Your Work," found that employees could prove their value through use of social media. Digital marketing via social media platforms requires giving greater responsibility to employees, which, in turn, gives them a chance to prove themselves.
"As we grew, so did the responsibility of our social accounts. At any given time, different people handled our social networks. Because of our strong culture, knowledge sharing and constant communication was normal. We were all on the same team working toward the same goal," says Patel. "When we started our YouTube channel, it was largely abandoned for a while because we didn't have anyone we'd hired to be a dedicated 'YouTube expert.' Then a couple of people on our marketing team took it under their wing as a passion project, growing it to more than 100,000 subscribers. They shared their knowledge across the company, helping improve our impact on other platforms."
The employees who showed excellence in optimizing social media then could be counted on to excel in other areas of the company. In addition to effectively communicating, employees who were social media wizards tended to also be more accountable for their actions. When you post to social media, there is an electronic record of who posted, and once made public, the post is out there permanently. Even if deleted, it still has the chance of being seen by millions, and even captured by screenshot.
That means the level of trust a company gives to an employee it has asked to post on its behalf must be high. "When people interact with your company on social media, what you say will have a direct impact on how people perceive your brand. You're not speaking from your own perspective. You're speaking for everyone in your company," says Patel. "The ability to clearly communicate with your team, and be held accountable for the things you say, are both skills every leader needs to master."
Along with the messages you send comes a need to master the skill of listening, says Caraher. Her company, Double Forte—which is on all the major social media platforms— offers training to develop both communication skills on social media, and the ability to take in information on these platforms to then craft messages that will be meaningful.
"Our staff at all levels are part of the content team for part of the year, and take skills training sessions on how to conduct themselves on different platforms, voice and communication styles, best practices for engagement, deescalation, and amplification. And then as the different channels change over time, as they always do, we update the whole thing for everyone," she says. "I think the biggest skill social media can help teach is how to listen. And how powerful listening is in any conversation, along with the power of language and tone. They are crucial in social media, and they are crucial in leadership."
QUICK TIPS
Provide a basic social media communication framework for employees, but allow them to personalize messages to customers. This will teach them not only how to interact online with the public, but how to build an effective offline brand, too
Make the bridge for employees between how the skills they learn and practice promoting your company on social media can be used to better communicate with and lead co-workers.
Ask Millennials, who excel at communicating via social media, to mentor older employees for whom it may not come as naturally.
Teach brevity in communication, showing leaders how the necessity of being succinct on social media platforms can be used offline, too, for more powerful communication.
Use social media as a proving ground for employees. You must place great trust in employees to post on behalf of your company. Those who do well at this task often are primed for other important tasks.