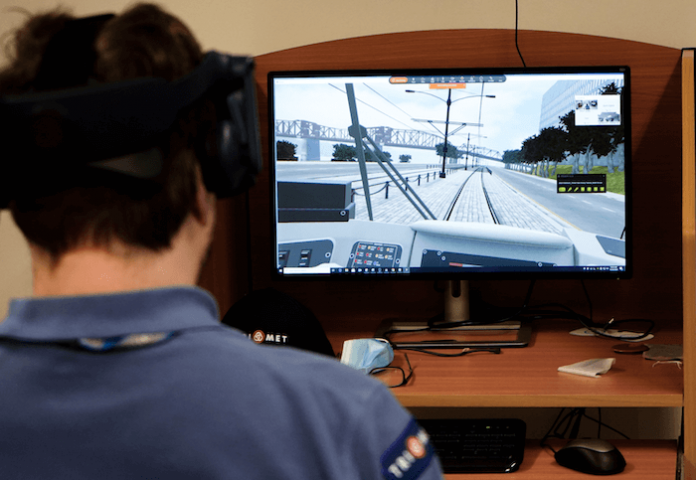 If you're providing nearly 100 million trips for commuters each year, you want to make sure they're smooth, safe and problem-free—which means operator training is critical. That's why TriMet, which provides transit services in the Portland, OR, metro area, developed virtual reality (VR) operator training that offers the advantages of real-world experience with increased flexibility and added safety.
Challenge
The MAX (Metropolitan Area Express) Light Rail connects Portland City Center with the outlying town and neighborhoods of Beaverton, Clackamas, Gresham, Hillsboro, Milwaukie, North/Northeast Portland, and Portland International Airport. To teach new light rail vehicle (LRV) operators about its trains and routes, TriMet provides them with classroom plus hands-on training in its rail yard and on its main lines. However, that training traditionally has offered two significant challenges:
To avoid equipment downtime and limit safety risks, training on the routes themselves needs to be done when MAX is shut down at night, which is a relatively short window. Those few hours limit hands-on training time.
With safety paramount, simulating problems during hands-on training is difficult or impossible. Obstacles such as people, cars, and emergency vehicles are typical for operators to encounter, but for obvious reasons aren't going to be included in a live training exercise. Simulating problems in the real world also can cause equipment damage, which is expensive to repair and contributes to downtime.
Solution
After evaluating options, TriMet determined that virtual reality (VR) would offer convenient, effective training that expands the timing and type of learning it provides operators. The transit authority partnered with Foundry 45, an Atlanta-based provider of immersive VR training experiences, to develop five training modules that cover segments of the real-life routes.
For those segments, Foundry 45 created simulated environments that include LRV train models, stations, tracks, pedestrians, bicyclists, and other road traffic along those routes. Landmarks and equipment are faithfully recreated in 3-D to a level of detail that will help operators quickly recognize them as the objects they'll see in the real world.
For example, cab controls are modeled with a high degree of detail and accuracy, along with other areas on the LRVs directly related to training objectives, such as control panels. The track is accurately depicted near stations, as are landmarks that operators need to recognize stations and navigate correctly. For areas where that level of detail isn't necessary for effective training, repeated environments or less detailed models suffice.
Training is conducted via computer and headset and includes simulated activities and situations that operators can encounter. It also incorporates realistic train and environmental noise, as sound is a key element in creating a convincing immersive environment. A sixth training scenario covers troubleshooting such items as equipment faults and external system failures.
The training allows learners to work at their own pace and make mistakes in a safe, simulated environment. Trainees learn a segment with step-by-step guidance, practice from memory with no guidance, and then take a test, which generates performance data for analysis and tracking by TriMet. They receive coaching to correct errors.
The global pandemic may have reduced but didn't eliminate the need for transportation and the need to train operators. Like many organizations, TriMet modified its training room and procedures in response. Training workstations are spaced appropriately for social distancing. Some students train on VR equipment, while others complete classroom training—which continues as a part of the curriculum—in a separate room. VR headsets and handsets are sanitized for the next person's use. The use of hand sanitizer and hand washing is highly encouraged, and masks are required. Classrooms also are arranged for social distancing and regularly disinfected (as are all of TriMet's LRVs and other facilities).
Results
TriMet piloted the VR training in late October 2020, and feedback from the students who tested it has been positive. It officially became part TriMet's rail training educational program at the start of 2021. The transit authority plans to continue adding virtual reality scenarios to the training based on operators' actual encounters.