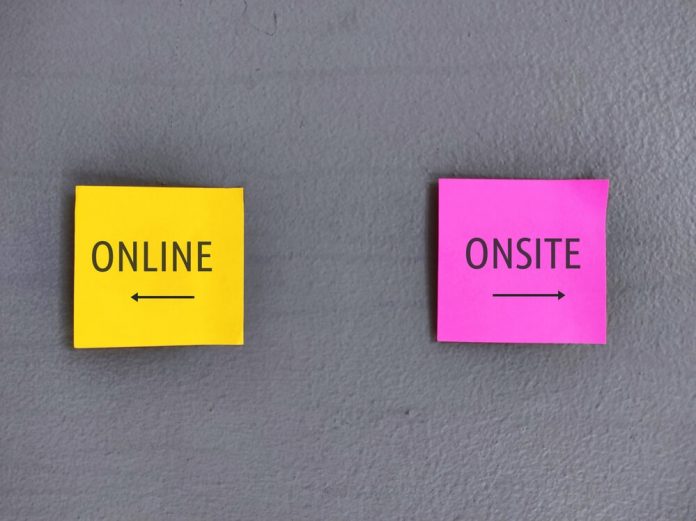 As technology has evolved and driven both the creation of new business sectors and how both existing and new business sectors operate, there has been debate on what shape the future of corporate training, upskilling, and onboarding will take. Especially in the last few years, productivity and collaboration that was taken for granted with live, in-person training has been challenged by the flexibility and efficiency both hybrid learning and development (L&D) and remote work offer employers and employees alike. The outcome, according to a recent PwC survey, is that 83 percent of employers say the shift to remote work has been successful at their company, putting greater pressure on online training and onboarding environments to match and support the desire for a new corporate L&D culture.
Where do things go from here?
The Hybrid Work Model Is Here to Stay
Based on the successes of the hybrid work model, and the current expectation by employees for more remote capabilities, hybrid work is here to stay. That means companies are doubling down on transforming the way their L&D takes place with more and higher-quality remote learning.
While some companies were already dabbling in online L&D prior to the pandemic, their commitment to remote learning grew significantly in the last few years to support the growth of hybrid work. Axios recently reported that the number of people primarily working from home increased threefold between 2019 and 2021. The shift to a hybrid or remote workforce was accelerated by the pandemic, but even now as in-person work returns, the demand for a hybrid work culture has persisted, and employees continue to seize work-from-home opportunities.
A McKinsey survey reported that 58 percent of Americans have the opportunity to work from home at least one day a week, while 35 percent have the option to work from home five days a week. The data also highlighted that when people do have the chance to work remotely, 87 percent of them take it. With a changing work culture and increased demands for flexibility, employee onboarding and training programs that can engage both large and small groups of hybrid employees will become more valuable.
New approaches and technological solutions can support varied team sizes and make the hybrid work model and L&D sustainable by ensuring that while productivity and collaboration are maximized, company culture is not compromised.
The Future Is Flexible, Regardless of Industry
While hybrid or fully remote is here to stay, it's no longer something only offered in select industries. Instead, employees in a variety of jobs across all sectors of the economy now have increased opportunities for remote work. As the McKinsey report shows, even people working jobs traditionally considered "blue collar" and assumed to require some or all labor to be performed in-person or on-site have more opportunity to periodically work from home.
More people working in "white-collar" professions also can work in hybrid environments, with some professions even requiring remote work. Almost all employees working in mathematical or computer-related fields have some hybrid-work opportunities, and 77 percent of them express that they are willing to work entirely remotely.
As online education and telemedicine also grow, approximately 50 percent of employees in educational instruction and library occupations and 45 percent of healthcare practitioners and workers in technical occupations report doing some remote work.
But as technology disrupts existing sectors and companies undergo digital transformations, those working technology-related jobs in other sectors that typically have a lower work-from-home culture are seeing more work-from-home opportunities. Manufacturing companies such as 3M have announced "trust-based" approaches, and even apartment brokers now can pre-record walkthroughs or conduct tours remotely.
As work environments across sectors become more flexible, online L&D will need to grow and adapt to support and train employees for a wider variety of roles than ever before.
Companies Are Hiring Across Regional Barriers
A flexible work model affords firms the opportunity to hire the best and brightest no matter where they are located, based not only on their skills, but how they fit in with the company's culture. A true remote work model also allows real flexibility and fosters a steady and productive work environment even in the face of potential economic headwinds, challenges, or talent shortages in any one geography.
The number of firms hiring internationally continues to grow. According to Motion Law research report from 2021, 59 percent of HR professionals believe the number of foreign workers will increase in their companies, a 6 percent increase from 2020. Employment-based green card sponsorships for permanent residency in the United States also increased by 71 percent in 2021 in comparison to 2020.
In a survey by Pew Research Center, 17 percent of respondents also say that a major reason they choose to work remotely is because they are able to relocate and work from a different location.
This trend of global or regional hiring, and employees working from any location does not appear to be slowing down and a flexible, global workforce is key in restructuring the way corporate L&D historically has taken place.
Effective Remote Onboarding is More Important Than Ever
Given the growth of hybrid or fully remote offices, companies must find ways to provide rich onboarding experiences that are as effective remotely as they would be in person.
A survey conducted by Software Advice found that 49 percent of HR leaders plan to continue remote onboarding, while a Gartner report highlighted how 58 percent of companies have already provided employees with hardware to support their remote work and onboarding. Companies increasingly are relying on purpose-built platforms to support these onboarding experiences and moving away from impersonal business meeting software. They are turning to platforms designed for engaged learning that can replicate the feelings of camaraderie and community employees historically have gotten in-person. When done well, effective L&D can not only train employees on their specific roles but give them a taste of company culture and what is expected of them, especially around communication and collaboration in a remote setting.
Forming Strong Bonds
Far from simply an emergency adaptation, hybrid work is proving itself to be both increasingly desired and increasingly utilized across a wide swath of industries, especially tech-related fields. As firms look to 2023, these trends will continue and allow companies to tap into a global talent pool to support their development and growth. But as hybrid work becomes the new normal, companies need to recognize the critical importance of effective onboarding and learning and development to foster culture, community, and effective working relationships. Most challenging in this task is providing the small group collaborative environment that allows employees to form strong bonds with each other and, by proxy, the organization. Implementing technological solutions has allowed organizations to cross geographic barriers to connecting employees. Innovative technology will need to be adapted to support them in connecting most effectively moving forward.