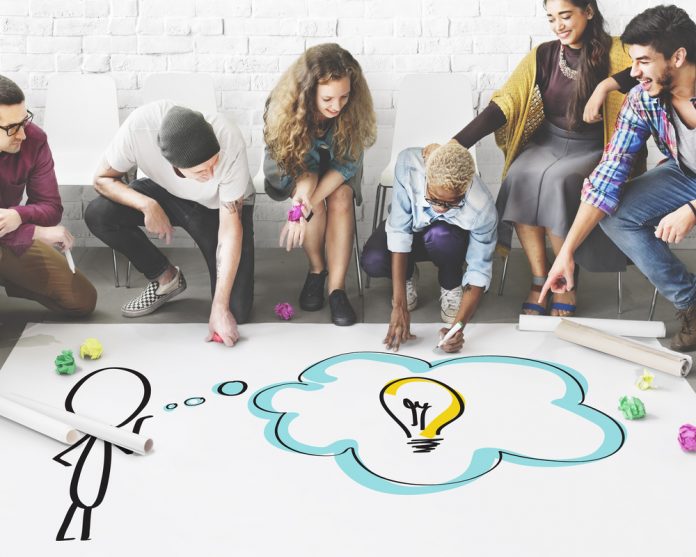 I sometimes struggle with the one element of my work I love the most: teaching improvisation to business leaders, scientists, and engineers.
The invite goes like this: "Come to my class on improvisation. Have some fun! Learn communication tools! Be better at communicating with others! Learn how to make others on your team look good."
The invite is followed by a look of horror on the person's face.
As Alan Alda of the Alda Center for Communicating Science at Stony Brook University says, "We are not trying to turn people into comedians, but we are trying to teach them how to connect."
And that is the key.
The power of improvisation
Prior to the pandemic, I did a one-hour session on communication with a group of project managers who work for a major pharmaceutical company. They, like many others, weren't sure what they were getting themselves into. They left, saying: "In one hour, I learned communication tools that I could take back to my team and apply the next day."
BAM!!
As a long-time instructional designer, e-learning professional, and facilitator, I have been conducting some form of adult learning for more years than I care to mention. I have designed in-person and online training for three Fortune 500 companies for graduate students at a major university and Fortune 50 companies for my personal clients. The tool of improvisation cuts to the core and trains people how to focus, listen, think on their feet, and respond quicker than any other tool I have ever seen!
And that is NOT an overstatement.
While anyone will learn from one session, it is truly a case of "If one is good, more is better." The more you practice improvisation techniques, the better you focus, listen, and respond. Moreover, leaders who spent time in their MBA programs or those in technology who embrace the concept of 'Agile' learn the value of being flexible, nimble, of "going with the flow." Improvisation by another name.
This doesn't even begin to discuss all that is possible when we use the skill to build inclusivity and to learn how to build others up instead of tearing them down. Let me give you an example:
A few months ago, I facilitated a workshop with 55 tech leaders.  I asked one of them to work with me, and I said, "It was odd, I walked outside yesterday, and the sky was green!"  He replied, very dubiously:  "Really?"
The entire room erupted in laughter because they understood the missed opportunity.
Applied improvisation
In Applied Improvisation – the improv tool we use in training – this is called "making an offer" and having the offer denied.  Another way to say it within the language of improvisation is "making an offer, and the other person answers with 'no because' instead of 'yes, and.'
When the participant said, "Really?"  The conversation had nowhere to go. He denied my offer.
So, let's translate this into simple terms.  How often have you been sitting in a meeting; you offer an idea, and someone says the equivalent of a doubtful "Really?"  How did that make you feel?  Like never offering an idea again, I'll bet.
Or, how many times have you done that to other people?  What would have happened if you'd said, "That's interesting, tell me more…"  Or some other equivalent of "Yes, and…."
While your idea, or the one offered to you, may not turn into the thing that revolutionizes your product or your business, you have downgraded your ability to build on the relationship with the person who made the offer.  And that is important if you are their leader.  But don't feel bad – we have all done this at once or another.
Recently at a networking event, a woman approached and said, "That training session in communications you did for us earlier this year was so much fun! And can I tell you something?" she said with a smile on her face, "I used that whole 'Yes and' thing in my office the next day.  I will never forget that exercise.  It changed the way that I deal with a colleague who I often find to be challenging.  Our relationship is so much better."
BAM!!
How often have you seen instant adoption in the learning you have created?
And speaking of fun, researcher Donald Sull of MIT Sloan School of Management and his co-researchers, Charles Sull and Ben Zweig, talk about the need for fun social events to strengthen employees' team connections and prevent and heal toxic team culture in their article "Toxic Culture is Driving the Great Resignation," (Sull, Donald, Sull, Charles, Zweig, Ben.  MIT Sloan Management Review, 11 Jan. 2002)
Conclusion
So, let's review. Immediate tools.  Better focus. Better listening.  More relationship building – at a time when attracting and keeping talent is a challenge.  This being the case, what would be possible if you – just you, the person who is reading this right now – got out of your comfort zone enough so that the next time you are invited to an improvisation session – whether online or in person – you say, "Yes" and you go have fun?
Skills created with improvisation training for teams and leaders:
Interpersonal Communication
Inclusion
Setting boundaries
Making other team members look good
Listening
Focus
Speaking extemporaneously
Understanding the value of mistakes
Confidence