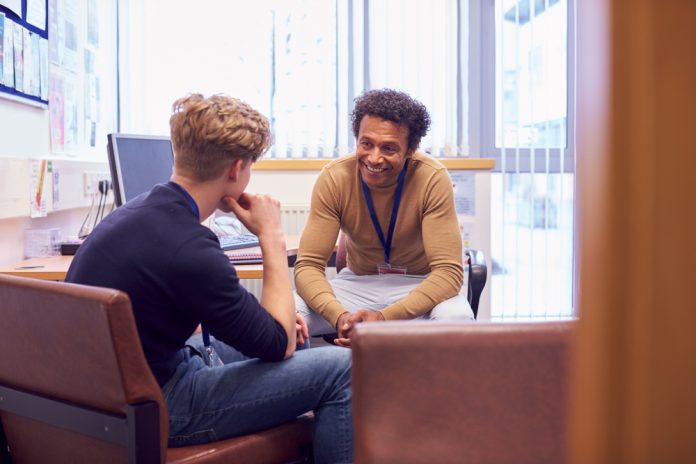 The share of Americans with clinical anxiety shot up from about 7 percent in 2019 to 40 percent in 2021, according to the Centers for Disease Control and Prevention. That's a nearly 600 percent increase. And nearly half of young Americans aged 18 to 29 suffer from anxiety and depression. Unsurprisingly, the American Psychological Association's 2021 provider survey found that 65 percent of mental healthcare professionals had no capacity for new patients.
More than one-third of Americans live in areas suffering acute shortages of mental healthcare professionals. The Kaiser Family Foundation estimates that it would take thousands of new therapists just to get these areas to the bare minimum standard of one provider for every 30,000 residents. If that sounds far too low, it is. Even in areas with some of the highest provider-to-resident ratios in the country, people spend weeks and months trying to find a provider, if they can find one.
Telehealth is frequently offered as a solution to this crisis. Telehealth especially helps people in remote areas, as long as they have a phone or video connection, individuals who are less mobile or lack transportation, and those who don't have time to commute to an appointment. However, telehealth does not increase the total number of therapists available in the United States. Thus, we still have unmet demand.
So, what's to be done? We can bring in evidence-based digital platforms to help serve people suffering from depression and anxiety. This aids in solving our access issues while providing quality outcomes. Here's what we propose based on our micro and macro outlook from both the healthcare payer and the provider perspectives.
Empower patients with digital tools when they feel anxious, depressed, stressed, or overwhelmed.
The next wave of mental healthcare solutions comprises digitally native approaches that fundamentally rethink care. At a very basic level, some of these tools use artificial intelligence and machine learning to free providers from their administrative burdens and help diagnose and route patients to appropriate care. The best among them are also evidence-based and clinically validated—a figure that, as of 2019, stood at less than 4 percent, according to the Frontiers in Psychiatry.
Other digital-first approaches look to reduce significantly or even remove the reliance on care providers. Patients with a higher symptom severity will usually need support from a licensed professional. But app-based interventions with self-guided lessons can be especially helpful for subclinical patients. This also reduces the strain on the overall system, so more therapists can treat those most in need.
Harness a wider variety of healthcare professionals to share the care load and meet the care level needs more accurately.
This approach can be scaled even further by layering in behavioral health coaches, who have a much shorter path to certification but are still equipped to support a variety of subclinical needs. It's similar to using physical therapists to supplement physician care. Some behavioral health coaching services are now covered by insurance. Many health plans also reimburse for peer support workers, people who have been successful in the recovery process and who can assist individuals in their treatment and recovery process. Peers are a very helpful addition to the care team.
With a collaborative care model, behavioral health care managers and psychiatrists team up with primary care providers to share the care management support for patients receiving behavioral health treatment. This allows psychiatrists to practice at the top of their licenses and treat a larger number of patients.
Allow patients to get help when needed, rather than scheduling a set appointment in the future.
Another rapidly rising method to scaling care is continuous remote care, where patients can message their provider asynchronously when they need support rather than attending standing weekly appointments. This allows therapists to attend to the needs of their patients with precision and efficiency, as patient needs vary over time. The ability to attend to a problem when it arises is mutually beneficial for both therapist and patient — continuous remote care has improved both treatment outcomes and scale.
Leveraging therapists in supportive and guiding roles alongside a self-guided therapeutic program can empower therapists to see eight times the number of patients compared to standard care in a face-to-face or teletherapy setting. This scalable model has been shown to work without compromising clinical outcomes.
As we know, these innovative solutions can only solve the growing access problem if they're adopted by providers, health plans, employers, and individuals in need of care. To meet the rising demand for behavioral health care, we need to innovate care delivery and utilization radically. With more great minds, funding, and innovation than ever before, the digital health space is poised to put forth digital solutions that are scalable and clinically effective and that transform mental healthcare as we know it.