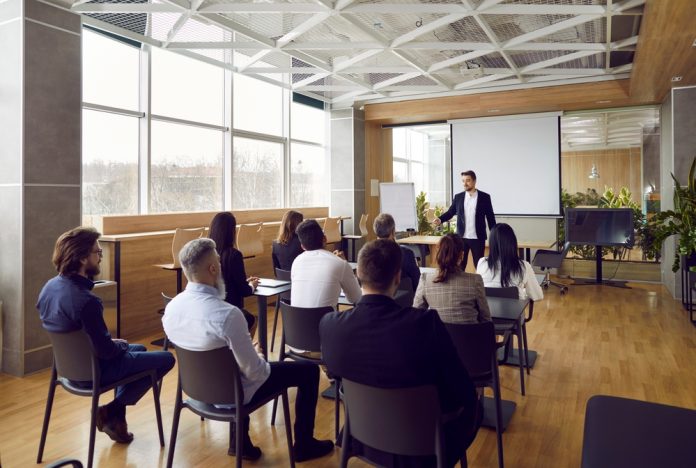 We're entering a new era of how organizations think about talent. The COVID-19 pandemic is no longer the driving force behind how employers attract, retain, and develop their people, but there is still an urgent need to evaluate and adjust their approach to a robust talent strategy. Whether you're leading a growing organization that's looking to bring in new talent or, like many in the technology industry, you're focused on retaining your highest performers after significant layoffs, investing in your employees is a crucial strategy to ensure you are prepared to navigate today's nuanced labor market.
Formal learning opportunities are a critical piece of this puzzle, albeit not one that leaders should approach from a traditional lens. Employees are looking for more than check-the-box development opportunities. Furthermore, an emphasis on technical skills will only get you so far. In today's context, individuals—and the organizations they work within—need to increase their capability to lead through change. This skill set is likely to be the single most important contributor to successfully adapting to today's uncertain world and evolving market needs.
Training program guiding principles
When designing and implementing training programs focused on building change capabilities, keeping a few guiding principles in mind is critical.
Go beyond solely teaching change management "tools."
While traditional change management tools such as communication templates and stakeholder maps are useful, they are not enough on their own. People also need to understand, and be able to navigate, the people side of change. This requires a broader curriculum around human behavior, organizational design and dynamics, and principles and processes for how to successfully drive change.
Provide space for real-world application.
Frameworks and theories may provide some "aha" moments in the classroom, but employees need to connect what they are learning in formal training spaces to the work they are doing back at their desks. Carve out significant time in corporate training programs for participants to draw parallels between the content and real-life examples—then use that exercise as a jumping off point for planning how they will apply these lessons to a change they are currently (or will soon be) working on.
Use it as an opportunity to break down silos.
Organizations don't have the luxury of allowing teams to work in silos anymore. The speed at which the world is moving requires employees to collaborate across levels and functions to quickly identify and act on emerging needs (and therefore, opportunities) in the market. Intentionally curating training cohorts that don't work together daily can begin to cultivate informal networks across the business.
Don't assume more senior employees are already adept at change.
Too often, formal professional development opportunities become more and more scarce as people move up the hierarchy. There is an assumption that if someone is rising in the ranks, they must have key skills. However, employees at all levels—from individual contributors through C-Suite—need to build and continue to foster their change leadership capabilities. While the specific design and implementation approach of training may vary by level, don't make the mistake of ignoring entire bands of leaders.
These tactics and the importance of investing in building change capabilities were underscored during a recent two-day training program with a U.S.-based utility company. The room was filled with a group of employees ranging in levels and functions. This program's agenda included formal education on the science of change and a variety of interactive activities designed to increase awareness of individual and organizational patterns while helping participants translate what they were learning to specific changes within the business.
A number of participants had been working on a large-scale, complex system implementation for the past few years—one that, notoriously, had not gone as smoothly as anyone had hoped. While there had been some notable successes, the team was feeling burnt out, overwhelmed, and isolated. Throughout the training, they were able to interact in meaningful ways with others across the business (many of whom were end users of the system they were implementing), get real-time practice and feedback on how to apply change leadership to their work and identify gaps where they had missed the mark with their initial change management strategy.
Coming out of the training, these leaders had a noticeably renewed sense of energy and a much broader perspective on how they needed to lead the change. They also had a group of advocates in various parts of the business who were empathetic to the challenges they were facing and were now ready to more actively lean in to support the implementation team.
Formal training opportunities like this one have the potential to accelerate the development of new change capabilities and increase employee engagement. When reinforced and applied on the job, employees feel more connected to their organization as they build their change muscle and become stronger leaders. This, in turn, can equip organizations to successfully adapt to whatever disruptions come at them next.