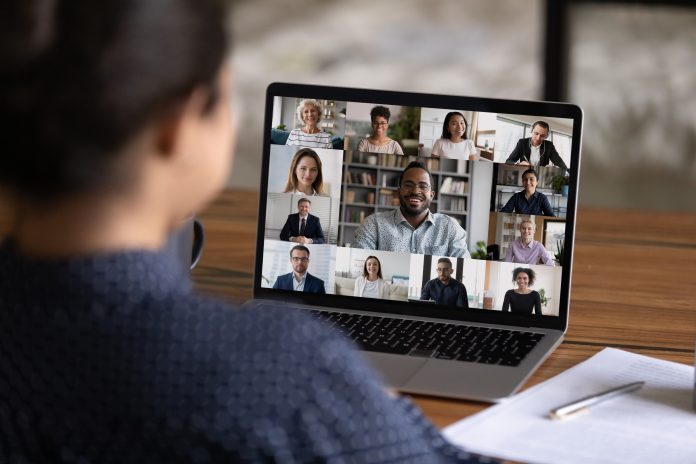 At first, Zoom was fun, kind of like a party. You could see how people lived, and it was cute when the dog wandered into the meeting with a ball in its mouth or the toddler said, "Hi."
But it didn't take long for those interruptions to become distractions, and instead of laughing, people on both sides of the screen started getting anxious. What will people think if I can't control the background noise? How can we get the job done with all these disruptions?
Other issues started to arise. Bosses were sending e-mails at 9 p.m.; workers were responding at midnight. No one seemed to know when to stop, and workdays became endless.
Additional confusion resulted when goalposts were moved numerous times over the pandemic as returns to the office were announced, then delayed; when masks were required, then not; when social distancing mattered, then it didn't; when some businesses were open, and others were not; and then came the vaccine issues. People with school-age children or caregiving responsibilities struggled with figuring out what to do and when.
The "Great Resignation"
Along with anxiety, employees increasingly felt stressed, worried, frustrated, and angry—all harbingers of our current burnout and the "Great Resignation." And Zoom? It will be with us for a long time as we make the massive transition to a future of remote and hybrid work. Business leaders have the power to figure it out and are obligated to do it now.
Over the last nearly two years of the pandemic, we've learned that employers need to see their people holistically and recognize that experiences outside of work affect the work itself. For businesses to thrive, employees must thrive, which requires leaders to focus on employee well-being during and outside of it. Leaders can do many things, large and small, to foster well-being.
Broadly, leaders need to dare to care about their employees, making well-being a cultural priority. That's the only way employees will know they are trusted. Leaders need to give up the authoritative and hierarchical styles of the past and lead with empathy. This means being transparent, fair, authentic, and respectful—becoming less of a boss and more of a coach.
Another significant leadership change is to model the behavior you want to see, which requires you are thriving and prioritizing your well-being so employees can follow your example. Make sure managers are the first to follow your lead. Your culture is only as broad as each manager's style and influence.
Tips to Reduce Employee Burnout
There are also many specific things leaders can do to nurture well-being and eliminate, or at least reduce, burnout as we increase our commitment to remote and hybrid work modes:
Delay delivery of those late-night and weekend e-mails and texts, a great model of how to not work 24/7.
Be generous with time off and be flexible in terms of where, when, and how people get the work done. Each one of us is struggling and adapting in our own way.
Consider offering paid time off (PTO) and flexible benefits targeted to individual need.
Communicate often and clearly to reduce confusion about changes in your policies and expectations and let people know what's coming next, at least as far as you know.
Ask employees frequently how they're thinking and feeling, what they need, and how they'd like to work. Don't ignore the input; act on it.
Provide all the necessary support and technology employees need to work productively from remote locations with ease and confidence.
Make sure everyone feels included in hybrid situations when some people work in the office and some from home. This could mean leveling the playing field by asking everyone to attend meetings on Zoom, even if some are sitting next to each other in the conference room.
People want to be together in person. Be creative about how you can safely organize periodic events.
Insert fun: Send cards, celebrate small things, have contests…use your imagination.
Sometimes people get tired of endless Zoom. Try a phone call here and there instead so they can dress in comfort clothes or walk in the park while they talk.
People are choosing where they want to work in the days to come based on the decisions leadership makes today. Decide to create a culture centered on overall well-being and you'll be the organization that attracts and retains top talent. It's clear that remote and hybrid must both be part of the equation in this moment and into the foreseeable future. And so must Zoom. Change is hard, but there is much you can do to reduce the anxiety it causes.