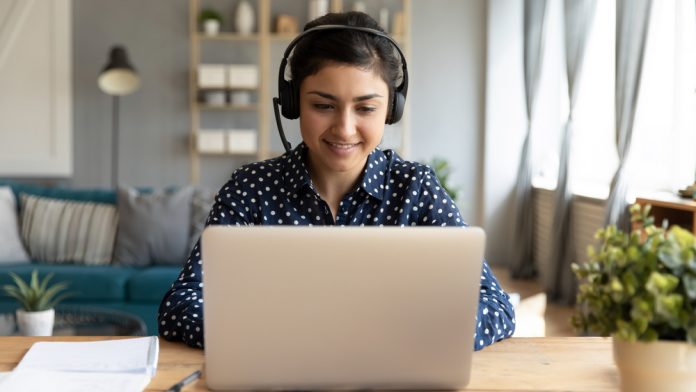 The move to work from home for contact center employees has introduced new challenges for service organizations, as agents are more isolated and managers are no longer physically present to respond to their needs in real time. To address these challenges, organizations need to adopt three core capabilities:
Workforce Visibility: New ways to better understand agent interactions with customers and ensure that the right behaviors and soft skills are being used.
Employee Automation: Providing remote agents with relevant real-time guidance and replacing mundane repeating tasks.
Efficient Planning and Engagement: Forecasting and scheduling accurately for a multi-skilled workforce that can be located both at home and in the office, while ensuring agents remain engaged and motivated.
Artificial intelligence (AI) is driving innovative new solutions for addressing all of these capabilities.
Gain Visibility to Remote Agent Soft Skills and Actions
Managers and supervisors need visibility into agent soft skills and actions to ensure they are providing customer service that is aligned with organizational goals.
By using advanced AI-driven interaction analytics, organizations can better understand each interaction by automatically identifying and measuring elusive metrics such as active listening, empathy, and building rapport. AI-driven analytics also canuncover root causes of customer requests and sentiment scores. This can help guide managers to address specific areas where employees might be needing extra coaching or training, which is critical especially when employees are working from home.
In addition, new capabilities around desktop analytics provide managers with visibility into employee desktop actions and activities, to better understand the methods and approaches that agents take to handle customer requests. This allows managers to uncover areas for improvement, uncover tasks that could be automated, identify specific knowledge gaps, drive efficient use of internal applications, and proper adherence to process execution.
Empowering Remote Agents with Automation
A recent NICE survey found that 50 percent of employees spend well over half their day on repetitive and mundane tasks. Furthermore, the survey found that at-home agents are more ready to embrace automation technologies such as automated virtual assistants. Automated virtual assistants that reside on the agent desktop help reduce errors and improve efficiencies by automating mundane tasks, allowing agents to focus on the more engaging and valuable elements of customer interaction. Automating repetitive tasks increases employee motivation while capitalizing on the natural human skills of empathy and judgment.
Automated virtual assistants provide next-best-action desktop guidance and ensure compliance. They act as personal guides, supporting agent desktops as they work from home, presenting data at the right time, and advising on the optimal action to perform next.  This helps keep at-home employees productive, engaged, and less anxious, as they navigate through processes in remote environments. It also leads to exceptional experiences for customers, since agents are faster, less error-prone, more effective, and have more time to build a lasting relationship during the interaction.
Enhancing Workforce Management to Drive Engagement
One of today's most substantial challenges for managing a remote workforce is maintaining an accurate staffing forecast while fostering a satisfactory work-life balance for employees. This is an especially difficult task, given that agent skill sets, service level needs, and intra-day schedules are changing more dynamically than ever before.
The next generation of AI-driven Workforce Management (WFM) solutions help managers ensure they have the right number of agents with the right skills at the right times while providing agents the flexibility they need to address their personal needs. AI-driven forecasting uses several algorithms to calculate the most applicable multi-skilled, multi-located staffing possible for each situation.
When it comes to intra-day schedule changes, AI-driven WFM provides at-home agents with easy access to newly available shifts during the day and a simple way to request shift trades with other agents based on the service level needs of the organization. Providing shift schedule flexibility increases employee engagement and motivation. Employees gain more autonomy, which results in a better work/life balance, increased job satisfaction, and improved agent retention.
AI-driven visibility, automation, and planning should be a fundamental part of a customer service organization in a reality of at-home agents. When these capabilities work in tandem, integrated as part of a single platform, service organizations are better positioned to respond to the needs of remote agents and deliver exceptional customer service. They have the power to motivate and retain agents and successfully enable them to respond to increasingly complex customer requests. Most importantly, it creates an agile Customer Service organization, that is always ready to adapt to whatever comes next.
Get our newsletter and digital magazine
Stay current on learning and development trends, best practices, research, new products and technologies, case studies and much more.