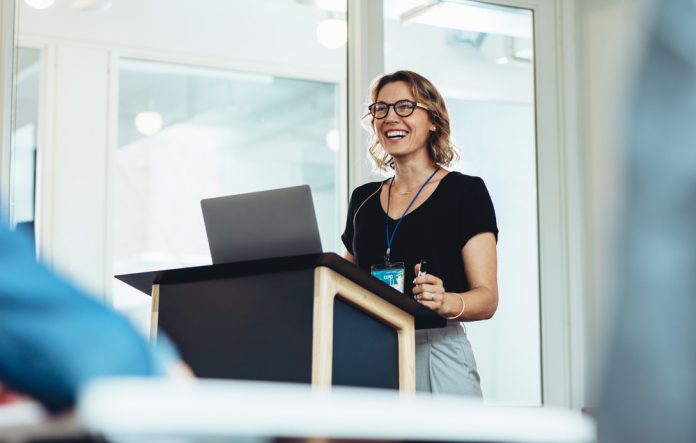 Whether your employees stumble over their words, ramble, or need assistance learning to adapt to technology and virtual presentations, a speaker coach can be a worthwhile investment for your employees and your organization.
Depending on your organization's needs, a speaker coach can help by offering robust conference speaker training or simply helping your employees give more focused presentations to your board. The best part is that the skills your employees learn from a speaker coach will carry over into all areas of their work, raising your organization's standards for internal and external presentations.
If you've never worked with a speaker coach before and are unsure if it's worth the investment for your organization, this guide will cover five ways that all organizations can benefit from conference speaker training:
It helps your employees better represent your organization
It boosts employee confidence
It can increase employee satisfaction
It more effectively spreads your mission or work
It improves internal communication
In the big picture, investing in improving your employees' speaking skills will benefit you not only at your next conference or major presentation but for years to come. Let's dive right into the first benefit to help you understand all the benefits of speaker coaching.
1. It helps your employees better represent your organization
Suppose your employee gets up on stage at a conference, stumbles over their words, is visibly nervous, and presents ineffectively. In that case, it not only becomes a terrible experience for your employee but also looks bad for your organization.
Instead of waiting to see if your employees will sink or swim when presenting, you should help them get in front of an audience with confidence that they can convey information clearly and engage the audience throughout their presentation. Hiring a speaking coach will give your employees the resources they need to make their presentations stand out and impress the competition. Remember, your employees do well and reflect positively on your organization.
2. It boosts employee confidence
According to Be Brilliant's guide to building practical presentation skills, 70% of employed Americans believe that presentation skills are crucial for career success, but 75% of adults are estimated to be affected by a fear of public speaking. These high percentages mean that it's very likely that some of your employees struggle with a fear of speaking, whether it's at a conference or even when presenting to their team.
Training through a speaking coach can help your employees overcome these fears and become more comfortable with public speaking. Additionally, for employees who may still be uncomfortable with creating presentations, a speaking coach can help them avoid boring presentations by assisting in presentation creation. By providing these resources for your employees, you'll give them the tools to grow their skills and confidence.
3. It can increase employee satisfaction
By providing coaching before sending your employees to a conference or event, you're making them feel more confident on a personal level and giving them a valuable opportunity to grow their skills and engage in career development.
Helping your employees develop their skills as part of their job is an excellent way to keep them engaged in the workplace. And according to Double the Donation's guide to employee engagement, companies with engaged employees are 22% more profitable. So, not only is it advantageous for you to improve employee satisfaction, but it will also help you better retain your employees because they will feel that you care about their development and success.
4. It more effectively spreads your mission or work
Sometimes, a charismatic speaker can woo the crowd, but after walking away, they realize that they didn't take away anything from the presentation. A speaker coach will ensure that your speakers are not only confident on stage but that they're communicating effectively. This way, the audience is sure to walk away with additional valuable information about your organization that resonates and lasts long after the presentation is over.
Using presentation and speaking strategies like storytelling ensures that your audience will walk away thinking about your mission, product, service, or thought leadership, in addition to being impressed with the confidence and skill of your employee. A speaker coach will show your employees how to structure their physical presentations, like their slide deck and what they say to retain their audience's attention and help them remember the critical information you want to communicate. They will assist with the power of word choice and ensure that what your audience is seeing and hearing are in sync, avoiding confusion and cognitive overload.
5. It improves internal communication
More than likely, your only objective when hiring a speaking coach is to ensure your employees give impactful presentations at conferences, events, or to significant stakeholders.
The skills your employees learn from speaker coaches are helpful in more situations than public speaking scenarios. The information they gather from communication training will bleed into the other work at your organization.
This means that you're investing in improving an employee's skills and improving your workplace communication standards and methods in the long term. Here are a few different ways that the skills your employees learn during speaker training could be used:
Going "live" on Facebook, Instagram, Twitter, or TikTok. Employees will keep viewers engaged, so they want to tune in each time you go live!
Training new employees. Training can be a draining and overwhelming process. An excellent presenter will help make the process better for your new employees.
Managing a team. While your manager may not present to their team, they can use their practical communication skills to connect with their direct reports, reducing the need for multiple meetings or emails, and clearing up miscommunication.
Running internal team meetings. While less formal than a conference presentation, many of the same skills can apply to make your meetings more productive.
When you invest in speaker coaching, the skills your employees gain don't have to be saved for your next big conference or stakeholder meeting. You can start reaping the benefits of that training in your organization's day-to-day work immediately when you give your employees the resources to build effective presentation and leadership skills.
Speaker coaching may sound like something that's only meant for sales teams or organizations that frequent mega conferences, but the reality is that strong public speaking skills can benefit any and all employees. Especially if you have employees who have great potential and believe in, giving them an extra push by investing in their skills can help them reach their potential while increasing their workplace engagement.
No matter what kind of organization you run, the benefits of speaker coaching for your organization, internally and externally, are well worth the investment.