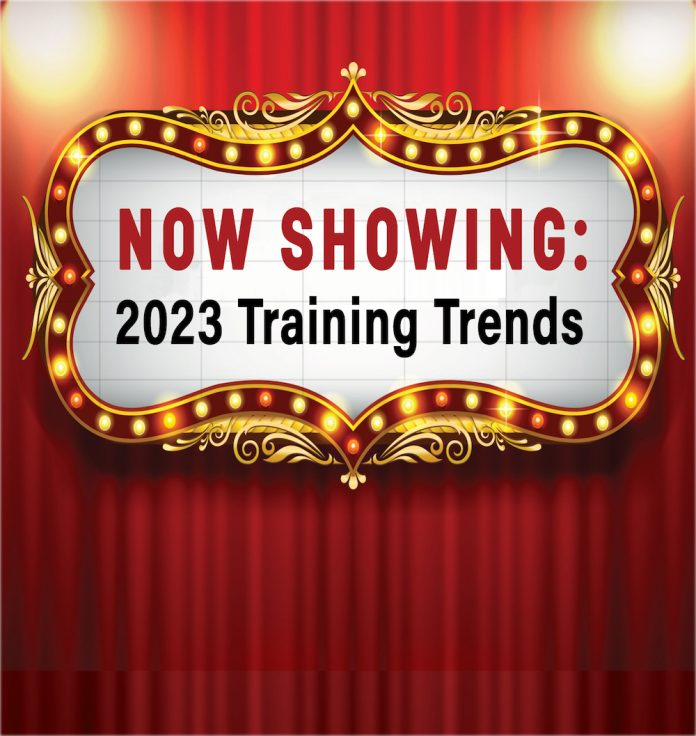 Now that the credits have rolled on 2022, the first act of 2023 has already begun. Previews of the new season reflect ongoing themes focused on employee well-being (mental health, as well as physical health); empathy building; and diversity, equity, and inclusion. "Quiet quitting" seems to have replaced the "Great Resignation" as the buzzword of today, originating from a Gen Z Tik Tok movement. Experts note that this newest generation of workers has the power to change businesses and catalyze a cultural shift in the coming year, so companies need to identify what drives them. Hybrid working will continue—whether employers like it or not. And data analytics will play a starring role in driving important HR decisions.
Here are some potential HR and L&D trends to keep an eye on in 2023:
FORRESTER:
After nearly three years of pandemic-induced change, organizations are trying to find their footing in a new normal of anywhere work, skills shortages, and talent constraints. Here are three predictions for the Future of Work in 2023:
Employers will suffer through a perplexing, talent-constrained recession.The demographic changes that underpinned the "Great Resignation" and the ongoing impact of COVID-19-related absenteeism will continue to constrain the talent market in a tight economy.
Recession-focused firms will slow EX investments and pay the price.The rise of employee power and trends such as "quiet quitting" may seem to result from the pandemic, but that's not true: The high quit rates of early 2022 were the continuation of a decade-long trend. By slowing down EX investments in the face of economic tightening, firms will pay for it in labor retention and low-engagement costs.
4 in 10 hybrid-working companies will try to undo anywhere work and fail.In 2023, Forrester predicts acute confrontations in the companies that don't listen to and collaborate with employees in shaping hybrid-work policies. Expect headlines that a major bank is firing employees who don't comply; others won't follow suit in the face of employee ire.
GLASSDOOR, TOP 5 HIRING AND WORKPLACE TRENDS FOR 2023:
Demographic shifts and aging populations mean hiring will remain challenging for years, as labor supply issues will remain. As a result, workers have more leverage to demand change in the workplace.
Remote work, which was a necessity during the pandemic, will continue to thrive.
What employees want is shifting, including compensation and benefits, with inflation playing a key role.
Company culture is valuable in both attracting and retaining employees, as a way for employers to further distinguish themselves from their competitors.
Diversity, equity ,and inclusion will remain top of mind, as employees continue to deeply care about these initiatives and the progress employers are making—or not.
SHIRLEY KNOWLES, CHIEF INCLUSION AND DIVERSITY OFFICER, PROGRESS: 
"Corporations will have to reckon with diversity and inclusion demands beyond their own walls. Talent issues—such as representation and pay equity—remain a pressing L&D concern. But the conversation is growing. There are new and powerful stakeholders at the table as customers, investors, and even risk rating agencies are starting to make their voices heard. Corporations can expect to be called on the carpet for "diversity greenwashing." And they will face increasing calls to take a public stand and respond as changing politics and regulations reach deep to impact marginalized and underrepresented communities.
LAUREN FITZPATRICK SHANKS, FOUNDER & CEO, KEEPWOL:
The top learning and development (L&D)/training challenge I foresee in 2023 will be the continued lack of L&D funding, which HR leaders are already experiencing. Unfortunately, as we navigate economic downturns with organizations cutting back financially, some likely will consider eliminating L&D initiatives. Thus, HR leaders will need to seek out more creative, low-cost, high-impact ways to develop their employees.
The second challenge I believe HR leaders will face is employee reskilling, which is also in response to the economic downturn and layoffs. HR leaders will need a share of voice to help company leaders recognize where skill gaps exist, and provide a framework for upskilling employees.
Finally, the third challenge is proving return on investment (ROI) for L&D. As budgets get cut, additional scrutiny will be placed upon HR leaders, and they will be required to provide meaningful and quantitative data to demonstrate the effectiveness of proposed and existing programs.
In response to these challenges, I believe HR leaders should work to implement L&D solutions that have a "game-first" approach to inspire more effective team communication. Engagement and impact are major priorities in today's L&D world, and games are a great way to not only increase engagement, but also to deepen understanding and retention of information and skills learned.
Next, I recommend that HR leaders create enjoyable L&D experiences that incorporate teambuilding versus just learning. Working remotely, even in a hybrid environment, has changed the daily workflow of employees, so it's important to think about solutions that consider diverse learning styles to meet every employee where they are.
Lastly, HR leaders need to utilize L&D solutions that do the hard work for them. They should identify a solution that offers both quantitative data and impact metrics, reflecting the measurable success of their department. L&D should move far beyond training to impact engagement, innovation, team dynamics, culture, and job satisfaction.
REBECCA WETTEMANN, TECH INDUSTRY ANALYST, CEO, VALOIR:
HR leaders will embrace a more outsourced approach to training in 2023, focusing on the orchestration of career objectives and training opportunities rather than the development, delivery, and tracking of training. Our 2022 Future of Work study found that most employees would give their employers less-than-stellar grades for delivering training that supported their career development. There's a lot of great training out there, and HR and professional development teams that become effective curators of outside training (including certifications and degree programs) will do a better job of attracting and retaining talent by giving individuals access to expanded career development opportunities.
JO DEAL, CHIEF HUMAN RESOURCES OFFICER, GOTO
We saw how quickly "quiet quitting" made headlines, all originating from a Gen Z TikTok movement. This newest generation of workers has the power to change businesses and catalyze a cultural shift in the coming year. So it's critical that companies identify what drives them. In response, older working generations should embrace the opportunity for reverse mentorships that encourage them to learn from the newest additions to the workforce, including tapping into their novel methods of problem solving and approaching work.
As many employees across industries continue to feel the effects of a lack of commute—and the role spillover that often ensues as a result—employers and their employees will need to explore ways to replicate the superficial on- and off-ramps that our commutes brought us. As we look for alternate ways to activate and deactivate, employers will recognize that there's no one-size-fits-all approach for alleviating the impact on employees who are looking for a way to signify the end of their workday. At its core, the lack of commute is about balance and defining where we work. An end to a workday can be something as simple as listening to a podcast or taking a walk—a beneficial activity that is the opposite of a stressful time in traffic during pre-pandemic norms and rising gas prices.
JENNIE YANG, VP, PEOPLE AND CULTURE, 15FIVE:
HR leaders should consider the following during review season:
Visibility vs. productivity.Unless an organization is intentional about preventing this issue, remote and hybrid employees might feel like they need to complete extra work or go above and beyond their job role to gain visibility, especially since they are not present in the office with their managers.
Candid and consistent feedback.Providing regular, ongoing feedback is something that has been a persistent management issue, especially for hybrid and remote teams over the last few years—performance reviews should not be the only time an employee hears feedback from their manager, especially for those not physically present in the office.
Unintentional biases in reviews.Implementing a process to share various cuts of performance data by demographic attributes, such as gender, race, or workplace location (at home or in-office), help eliminate any potential alienation or biases that could impact an employee's review.
5 HR trends that will shape employee well-being and organizational growth in 2023:
The pandemic-fueled burnout epidemic persists and workforce well-being will continue to suffer. Threats to employee well-being continue to intensify with 60 percent of the global workforce reporting at least one mental health challenge, including symptoms of anxiety, depression, or burnout, according toMcKinsey.
HR leaders will recognize that mental health is health. Globally, burnout, anxiety, and depression are at higher rates than ever. In 2023, we'll see employee well-being becoming even more central—with a sharp focus on building mental well-being. This means HR departments will be creating more well-being programs that focus not only on physical health but on mental strength.
Employees want help preparing to adapt to change. HR leaders must make it possible for their organizations and people to rise above the trauma of today, and deliver a positive, proactive approach to workforce well-being. We need to promote self-care for the long haul and boost positivity to move through the trauma stronger than when we went in. It is important that employers encourage employees to rest and recharge and communicate resources to support mental and physical well-being."
Population behavioral health risk analytics will be key to HR's success in 2023. Such analytics will continue to grow as a tool for forward-thinking organizations to identify workforce patterns and risks, and then take action to address burnout risk, stress, and turnover intent in real time.
Skills thatsupport growth-oriented thinkingwill be the new must-haves. Employee mental health fallout from the pandemic and economic uncertainty are continuing. To achieve organizational growth, businesses will look for ways to ensure that their people are engaged, empowered, and aligned. Skills that build trust and engagement—such as empathy, positivity, and well-being—will be the new must-haves. The game is changing. People want different things from work, and this is moving businesses to look carefully at their benefits. Employers must go way beyond health protection and prevention and move toward helping their employees be prepared to adapt and rise to the changes and challenges in the new paradigm of work.
KATIE KULIKOSKI, CHIEF PEOPLE OFFICER, PROGRESS: 
The workforce has undergone a tremendous transformation over the last couple of years. 2021 was about stabilization and people-centric enablement during COVID-19. Then organizations broadened their focus in 2022 to focus on caring for the whole person, with purpose-driven in-person gatherings and flexible work.
I expect 2023 to build on that and push companies to keep widening this duty of care, differentiating themselves to retain key talent by taking an even more human-centric approach to leadership and management. There will be a continued push of the boundaries on how and where people work and a natural tension between employee and employer preferences. I predict the pendulum will come back to the middle eventually, with people getting more comfortable coming together to use the workspaces available to them; however, I don't anticipate the expectation of human-centric design in workforce accommodation and people's working preferences to return to pre-2019 styles.
In addition, I expect the recession concern will have a near-term impact on attrition, challenging organizations to continue to innovate in how and where they engage their people.
KAMAL AHLUWALIA, PRESIDENT, EIGHTFOLD AI:
Soft skills will become more important than hard skills.In many work environments, the ability to learn a new way of conducting your role will be significantly more valuable than remaining on a fixed path for growth. This will be even more important as businesses quickly evolve to keep pace with digital transformations and other potential disruptions in the year ahead. In 2023, we also will see an increased use of technology, such as AI, that can look past bulleted lists in resumes to identify traits and soft skills such as leadership, learnability, or production under pressure.
Upskilling will become more critical than ever—and automation can help. Individuals want to grow and take themselves to the next level, while organizations want to retain their top talent. As such, in 2023, we will see automation become the expected norm, working hand-in-hand to guide internal upskilling processes and allow employees to create their own career paths and build up their experiences for their next role. Companies that make it easy to do this will come out ahead in the future of work or any economic scenario.
Talent strategies will be a top priority on the CEO agenda.The economic climate has forced more companies to realize that talent strategies should be holistic and not siloed within specific departments. We will see the C-suite step into talent strategy discussions and take a firm grasp on the well-being and development of the workforce.
CRIS GROSSMANN, CEO AND CO-FOUNDER, BEEKEEPER:
In 2023, companies will make front-line success a priority. They will work to close the front-line disconnect that drives high turnover and low employee engagement. This requires a holistic approach that will include immediate action to:
Provide front-line teams with more stability, predictable shifts, and support of their basic needs.
Increase engagement through two-way communication and collaboration across teams.
Improve training and development opportunities for front-line managers and supervisors.
Provide a clear path to advancement for front-line workers.
Deliver mobile-first technology that combines communication, employee services, and productivity into one complete system built for front-line teams.
ERIN DERTOUZOS, VICE PRESIDENT, PEOPLE STRATEGY, STRONGDM:
In 2023, we will continue seeing the trend of data driving important HR decisions. Data helps leadership quantify what success looks like, from output to hiring costs. Every HR function now can pull data to help retain their top performers, develop junior employees, and set appropriate goals.
With the current and forecasted economic climate, more employers may be open to part-time work and job-sharing positions. Instead of reaching for contractors, employers with an eye toward diversity, inclusion, equity, and belonging have an opportunity to invest in someone with potential that they otherwise might have overlooked. Also, for workers who had to take time off for personal reasons, health reasons, or to take care of family members, this is an opportunity for them to re-enter the work field and explore new prospects.
Lastly, I think we will see more unionizing from workers. If employees felt respected and heard, they wouldn't feel the need to go that route. These are things management has a lot of control over if the are treating their teams with respect, dignity, and transparency. This trend will continue and hopefully open the eyes of leadership to look at their management style, goal setting, and trust issues. I hope in 2023, leaders will remember that when you treat people well, you will have a workforce who have all the reasons to lean in, work hard, and be proud of their impact on the business.
SAMEER MASKEY, CEO AND FOUNDER, FUSEMACHINES AND ADJUNCT ASSOCIATE PROFESSOR, COLUMBIA UNIVERSITY:
Businesses globally are looking to tap the advantage of data-powered insights, and their success depends on sound data strategies, a reliable pool of data analysts, and artificial intelligence (AI) engineers who can help yield AI's true benefits. As a result, we will continue to see an uptick in demand for data and AI talent in 2023.
This demand likely will trigger more data and AI-focused training and will encompass data engineering, data security, knowledge of automated infrastructure deployment, knowledge of serverless architecture, and training in core topics of building machine learning (ML) models.
While AI functions such as Computer Vision, Natural Language Processing, and traditional Machine Learning will still be highly relevant across industries and academia for the upcoming generation of AI engineers/data scientists, 2023 could see MLOps training soar in popularity.
Learning and Development also will no longer be restricted to simply students enrolled in formal learning. It will become more accessible to professionals whose careers are being disrupted with AI and data-led digital transformation. Additionally, with much needed conversations around AI ethics taking place this last year, training on bias in AI and equitable AI practices also will take more of a center stage.
KAREN PRICE, SENIOR DIRECTOR, ORGANIZATIONAL EFFECTIVENESS, PROGRESS:
In 2023 and beyond, there will be more new tools and approaches, from virtual enablement to more agile and rapid-response ways of working in HR. There also will be a lot of rich talent entering the labor market, and generational shifts will continue to impact employee demands for ongoing learning, contextualized work, and more agile and flexible roles.
Some Baby Boomers may retire later given recession concerns, but that gives organizations an opportunity to harvest their knowledge base and experience across newer generations in the workplace.
Last but definitely not least, social responsibility and justice will continue to permeate the corporate dialogue and create more complexity in 2023 and beyond. Organizations will need to push themselves to break boundaries based on what their workforce wants.
DELOITTE CONSULTING, 14TH ANNUAL FLAGSHIP TECH TRENDS REPORT:
Modern engineering is at the heart of business strategy. But rather than competing to hire the same finite pool of 10x engineers, savvy organizations are creating new IT structures and roles to better align with available talent supply. By prioritizing values, cultural fit, and aptitude, and trusting talent to flex their curiosity and versatility in becoming serial specialists over extant skills, this approach is resulting in an improved talent experience and business outcomes.
While many technology workers have opted to stay remote, creating a more fluid workforce, enterprises are demanding more from their technology teams and are sourcing talent globally, given the rate of digital transformation.
Organizations relying on a single approach—such as increasing compensation, providing flexible work arrangements, and reskilling or upskilling—results in a zero-sum game to attract talent. Technology leaders recognizing there is no one-size-fits-all strategy for talent can expand the scope of their solutions over the coming months.
Using flexibility as the best ability, organizations that meet their talent goals likely will expand their conception of how technology work is planned and executed, instead of over-fitting for current technical needs. Crucially, a skills-based approach can enable organizations to be more creative in addressing their talent shortages.
As economic disruption shifts business and technology strategies, enterprises will look toward the IT lessons of the past to help shape their future.
This year, trust is emerging as the central element across all 2023 trends, as enterprises increasingly recognize that business outcomes are limited less by technological capability, and more by the comfort and confidence in adopting it.Three trends—the metaverse/Web3, AI, and cloud—are focused on enduring eternities. They center around advancements in interaction, information, and computation, and focus on how trust influences enterprise risk, human-computer interaction and data integrity. Tangible, conversational, and virtual interfaces will shift beyond the screen to an immersive Internet that will manifest in three ways: extended reality (including a consumer-facing metaverse experience); enterprise simulation, using digital twins of our physical assets to prototype and experiment; and augmented workforce experience across recruiting, productivity, learning, and more. With the ability to get digital richness in the physical space, companies are trusting in the promise of an immersive Internet to build lucrative business models around the unique capabilities afforded by "unlimited reality." With AI tools increasingly standardized, organizations are realizing that competitive gains will best be achieved when there is high confidence that AI is delivering the right analytics and insights. To build trust, AI algorithms must be visible, auditable, and explainable, and workers must be involved in AI design and output.
CHARLIE STAINFORTH, FOUNDER AND CEO, CIRCL:
Individual leaders and companies are still understandably trying to wrestle with what the defining leadership norm for this decade is. For a while in 2022, it looked like the big theme would be how to navigate hybrid working while keeping teams engaged and productive and avoiding the "quiet quitting" trend. However, 2023 will see ever-growing uncertainty around the wider political and economic landscape, meaning employees are looking for more stability from their employers—stability in terms of job security, workplace benefits, and role progression. What will be different is that leaders will be in a position where they have to make a conscious decision to prioritize their existing workforce rather than using budget to invest in innovation. They will have to get comfortable with being transparent in communication with employees about what is happening and, more importantly, why it is happening in the hope that employees reward them with loyalty in the near term for business payoffs in the long term.
Performance management is continually evolving to cover in-person, fully remote, and hybrid working teams, all with an array of growing flexible working conditions to be aware of. 2023 will be the year when companies build more structure around these variables to allow a consistent discussion and approach to performance management. This is crucial to keep workplaces inclusive and where everyone's contributions are recognized, regardless of working situations. Line managers will continue to be a crucial population to keep up to date with training on how to communicate and navigate performance conversations with employees, many adopting a more "coach approach"-style of feedback where they make space to share feedback about themselves first and encourage a mutual style of feedback conversation with their direct reports. I&D metrics that have been gathered in workplaces around social mobility and disability in the last two years will be integrated into a more inclusive performance management process ensuring that the right support for the advancement of underrepresented talent groups internally is provided as a given and not at request.
There is no doubt that 2023 is going to be a challenging year, but especially so for diversity, equity, and inclusion (DEI) practitioners. In a world of economic uncertainty, the most defining trend of 2023 will come from those who stick to their plans and don't bend to budget constraints. Much progress has been made in the last two to three years, but now will be the time to stand up and prove that investing in DEI was not just lip service. We will see which companies actually believe that building organizations that work for everyone is good for the bottom line. If DEI investment continues in the face of a deep recession, then we will know we really do have a platform for change to build from.
For businesses looking to hire more diverse candidates in 2023, it starts with pipeline building. You need to meet underrepresented young people where they are, well before they are entering the job market. Part of that includes investigating alternative routes into your company. Apprenticeships are a growing pipeline for organizations that are focused on creating opportunities for people from all socioeconomic backgrounds. If you are serious about diversifying your talent pool, you need to diversify how you access that talent. Get out into the communities, prisons, schools, universities, and areas your brand doesn't naturally reach. It's so important to put a face to your organization and to make people realize that your company is an option for them. Actively tell people you want them to apply. So often, people from underrepresented backgrounds think some companies are not spaces for them, so it's our responsibility to literally tell them they are not only welcome but also wanted. Representation matters. Hearing the experiences and stories from your leaders from underrepresented backgrounds helps to overcome barriers and allows people to see themselves at your company.
More companies are starting to understand the importance of empathy building. We need to ensure we are creating workplace environments that support and nurture people so everybody can flourish. Organizations are starting to see how we need to actively set people up for success, and unlocking empathy in leadership is crucial for this. As we lean into equity versus equality, we better appreciate how talent from underrepresented backgrounds might need more support in the initial stages of their career to have the same equity of opportunity as their more privileged peers. Leaders need to be trained in the tools and practices to lead and nurture a diverse workforce with empathy. As a result, more companies are investing in their leaders by teaching them skills, such as coaching, to equip them with the means to hear and understand the needs and challenges of their employees.