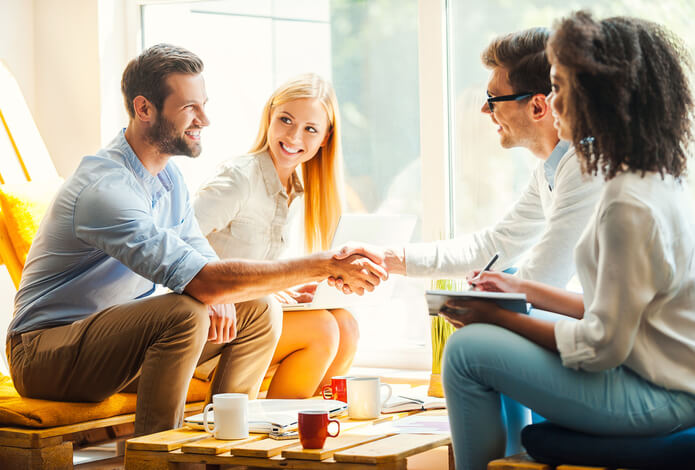 Imagine you're an employee at a small business. You regularly produce high-quality work ahead of deadlines, take on extra projects, and develop new ideas that make your team more productive. However, when performance reviews roll around, you receive a pat on the back. Now, you feel undervalued, and a lack of motivation to exceed expectations begins to set in. 
To prevent these negative experiences, small businesses should consider implementing a performance-based compensation system. This pay structure ties employees' earnings to their individual performance and achievements, motivating them to excel in their role consistently.
Let's look at five steps for developing performance-based pay structures that help organizations engage, retain, and support high-performing employees. 
1. Determine how performance-based pay structures tie into your larger goals. 
There is no one-size-fits-all approach to compensation. That's why it's important to thoroughly analyze your organization's goals to determine if performance-based compensation is the right fit, as opposed to other pay structures such as flat pay, step-based, or total rewards compensation. 
Small businesses that want to achieve the following goals are the most likely to benefit from performance-based pay: 
Increase productivity:

A performance-based pay structure incentivizes employees to excel by rewarding them for meeting or exceeding specific performance goals. This heightened motivation can increase productivity across the organization as employees strive to achieve higher performance levels.

Improve customer satisfaction:

By linking performance-based pay to customer-centric metrics such as customer satisfaction scores or response times, employees are encouraged to prioritize exceptional service. This focus on customer satisfaction can lead to stronger customer loyalty and positive word-of-mouth. 

Achieve revenue growth:

Performance-based pay structures also tie financial incentives to achieving sales targets, revenue goals, or cost-saving measures. When employees are directly rewarded for contributing to the company's financial success, they are more likely to align their efforts with driving sustainable business growth.
You also should evaluate the nature of your employees' roles and responsibilities. Jobs that require individual initiative, creativity, and results-oriented work lend themselves well to performance-based compensation.
2. Map out specific performance levels. 
Companies typically define different performance levels in a performance-based pay structure and attach specific pay tiers and incentives to each. Here are four common performance levels your small business may use:
Exceeds expectations:

Employees consistently exceeding expectations will be placed in the highest pay tier. They may receive a higher base salary that accounts for a cost-of-living adjustment and a merit increase, along with a higher performance-based bonus equating to 10 percent of their salary. 

Meets expectations:

Employees who meet expectations can be placed in the middle pay tier. They may receive the average base salary with a cost-of-living adjustment and a modest performance-based bonus of around 5 percent of their salary.

Needs improvement:

Employees who need improvement may receive the average base salary and an opportunity to earn additional compensation through performance improvement plans or training programs. 

Unsatisfactory:

Employees who consistently perform below expectations may receive a base salary lower than the market average and compensation without performance-based bonuses. Instead, they may be placed on a performance improvement plan or face disciplinary actions, with the potential for pay increases once they demonstrate significant improvement.
It's important to note that these specific performance levels will vary based on your unique needs and goals. The key is establishing clear and objective criteria for evaluating employee performance and linking it to compensation decisions.
Astron Solutions recommends working with a compensation consultant if you need assistance throughout this process. These experts will analyze market trends, industry benchmarks, and internal data to develop a performance-based compensation plan that makes the most sense for your small business.
3. Identify metrics to measure performance. 
Identify the specific metrics that will be used to assess employee performance within each level. Remember that these criteria should be aligned with the specific roles and reflect your organization's strategic objectives. Examples include: 
Sales targets and revenue generation:

For sales and business development roles, measure an individual's ability to meet or exceed sales quotas and contribute to revenue growth.

Customer satisfaction scores:

Evaluate customer feedback to gauge an employee or team's effectiveness in delivering exceptional customer service.

Customer retention rates:

Track the percentage of customers retained over a specific period to reflect the team's ability to satisfy clients' needs.

Project completion timelines:

Monitor an employee's ability to meet project deadlines and deliver quality work within specified timeframes.
Ensure that employees are well-aware of these metrics. That way, when performance reviews roll around, everyone will be on the same page concerning  their successes and opportunities for improvement.
4. Communicate the performance-based pay structure to employees. 
Host a company-wide meeting to explain the new pay structure to employees and other members of leadership. Use clear language and avoid jargon that might lead to confusion, as transparency and trust are paramount when discussing organizational change. 
Additionally, consider communicating the new pay structure in a way that is motivating and inspiring by: 
Introducing the new performance review process.

Explain how regular performance evaluations and feedback sessions will be conducted, emphasizing that employees who go above and beyond will be rewarded.

Using visual aids.

Use charts or graphics to represent the different performance levels, benefits, and progression from one performance level to another. Visualizing the path to success can be motivating.

Sharing success stories.

Share real-life success stories from companies that have benefited from the performance-based pay structure. This shows it's attainable and rewarding.
Maintain an open-door policy for discussions about the new pay structure as more questions and concerns arise. During these conversations, gauge employee interest and ensure they are willing to embrace a performance-based pay structure. Having employee buy-in will make the implementation process much easier. 
5. Provide continual training and learning opportunities. 
Prove that you are invested in your employees' success by providing resources, training, and support to help them achieve their performance goals. Depending on your budget, you may offer:
Skill enhancement workshops:

Offer workshops focused on enhancing specific job-related skills, whether that be communication, problem solving, leadership, or technical expertise.

Professional development courses:

Provide access to

eLearning courses

and certification programs that allow employees to develop their skills at their own pace.

Mentorship programs:

Pair employees with experienced team members who are willing to offer personalized support for achieving their performance objectives.

Feedback and evaluation sessions:

Schedule regular feedback sessions to assess an employee's progress, identify areas for improvement, and strategize ways to meet performance goals.
Employees who have access to these opportunities and see a clear path for development are more likely to remain committed to your organization for the long term.
For small businesses, developing performance-based pay structures can be a game-changer for motivating employees, driving productivity, and ultimately achieving success. Remember that compensation is just one piece of your company culture puzzle. Cultivating a positive work environment, fostering employee development, and recognizing non-monetary contributions are equally important in nurturing a high-performance culture.