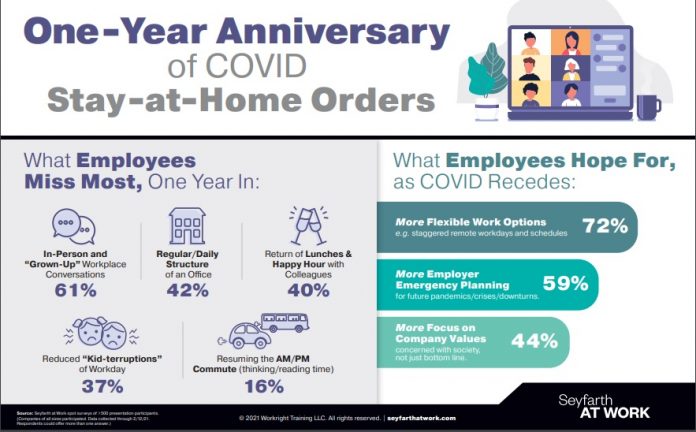 Consultancy Seyfarth at Work surveyed 500 participants from companies of all sizes about what employees are specifically missing and yearning for most as we've just passed the one-year mark of the COVID-19 pandemic. Plus, a look at what the pandemic has changed about future work-life expectations.
What Employees Miss Most, One Year In:
(Survey responses indicated as a percentage; respondents could offer more than one answer)
Renewed in-person and "grown-up" workplace conversations: 61%
Regular/daily structure of an office: 42%
Lunches/happy hour with colleagues: 40%
Fewer "kid-terruptions" of workday: 37%
The am/pm commute (as a time to think/read): 16%
Workers' Emerging Expectations of Employers Post-Pandemic:
More flexible work options (e.g., remote workdays; staggered schedules): 72%
More employer emergency planning (for future pandemics/crises/downturns): 59%
More focus on organizational values (concerned with society—not just the bottom line): 44%
Given these results, Seyfarth at Work's Philippe Weiss recommends the following for bosses and organizations:
Strategically game-plan now regarding your return-to-office process for those working remotely. Will you invite your people back in waves? All at once? How will you integrate those who are not likely to get vaccinated for medical or other reasons? How can you excite employees about their upcoming return?
Example: Some of Weiss' clients are preparing to send staff newly created maps of their office layout, with arrows pointing to any workspace improvements, along with creative commentary such as: "Stop here (in our renovated employee snack bar) for a socially distanced chat."
Start initial retraining of managers regarding your on-site policies and protocols. But also give them skills to manage a hybrid workforce (folks splitting time between home and the office). Be creative and flexible—expect that terms such as "Zooming in to a meeting," "virtual sales call," and "who's hosting?" are all here to stay.
Example: One of Weiss' insurance clients already is planning to set aside several "in-office team days" per month, thereby allowing additional work-location flexibility for the remaining days.
Set up contingency plans for confronting future calamities and economic upheaval.
Example: One of Weiss' entertainment industry clients is establishing an employee rainy-day fund with seed money contributed by the company owner—and a promise to match amounts contributed by employees.
Stay vigilant in terms of supervision once people start returning to the office. Employees' understandable temptation after many months apart to chat non-stop or take extended lunch breaks with officemates may be hard to resist.
Example: One of Weiss' hospital clients brought its administrative staff back to on-site work, as most had been vaccinated. After a week, managers learned that many of the employees were sneaking off to quietly shoot the breeze and catch up on lost time in sleeping patients' rooms. (They were reported by an irate patient who was also a light sleeper.)
Get our newsletter and digital magazine
Stay current on learning and development trends, best practices, research, new products and technologies, case studies and much more.