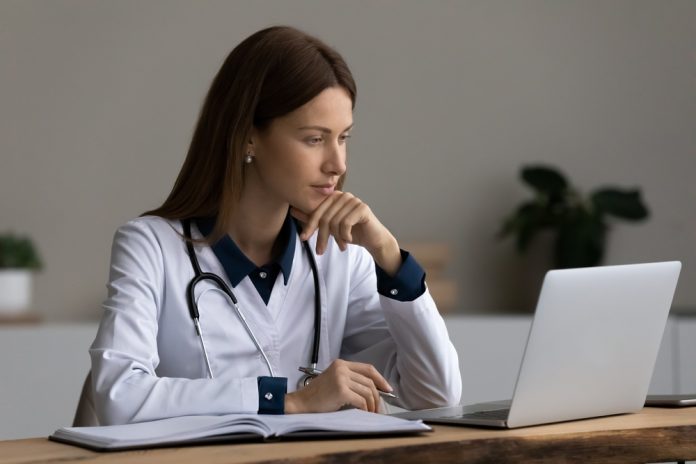 Training should be a valuable addition to the employee and customer experiences. It should enhance a learner's perspective, improve workflows, and enable the learner to thrive in their role. Unfortunately, few companies have cracked the code to effective training, especially in hybrid work environments. Bridging the gap between hands-on, technical training, and digital training has been a hurdle on the minds of training managers across industries.
The healthcare industry, an already technical field, relies on regular compliance training in order to keep professionals on track with requirements under regulations like HIPAA and 21 CFR Part 11. However, digitalization in the healthcare industry needs to catch up. With an increasing cross-industry skills gap and anoverwhelming shortage of healthcare talent, training is even more essential than before. However, digitalization is long overdue in the healthcare sector in particular.
The most prevalent assumption is that digital training does not and cannot serve the learner effectively. This belief was built when companies first struggled to adopt digital training using systems that did not provide engaging courses, had a limited function, and did not help companies manage compliance. Originally, training technology within the healthcare system was a small component of a larger, complicated compliance process—one that was often disjointed.
This no longer has to be the case. Training in healthcare can be both digital and effective—the two concepts are no longer mutually exclusive. Digital learning has evolved to be a better solution to the hurdles that healthcare companies face in training. Ultimately, while digital training benefits the learner, yes, it also has a trickle-down effect and helps organizations craft better patient experiences.
Save administrative time and effort with a comprehensive LMS solution.
Healthcare organizations are already short-staffed and crunched for time. Outdated, paper-based processes cannot support the industry's need for streamlined training management. Some healthcare organizations have been hesitant to implement digital training technology, like an LMS platform, because of fears of added administrative time. In fact, the industry as a whole has largely delayed digitalization due to fears about adding complexity and reducing efficiency. However, the right technology will improve these processes, not hinder them. With a digital LMS platform, healthcare organizations can and will see improved productivity, reduced administrative time, and streamlined workflows.
One key example of this is an LMS platform's ability to automate necessary functions like course reminders, compliance tracking, and other critical (and sometimes tedious) functions. Instead of assigning these tasks to a training or compliance manager who is already strapped for time, the LMS automates compliance date management, reminders, and notifications. This frees up the administrator to focus on more nuanced tasks.
For the individual learner, the healthcare provider who must complete training to serve patients well, the streamlined learning platform enables them to provide better patient care. With a flexible learning pathway (one that can be completed anytime and anywhere), training can be completed faster and with greater ease. This ease of use is precisely what healthcare professionals want — to spend less time at their computers completing training and more time with their patients. The accessibility of training means that patients will ultimately be served by well-equipped, highly trained professionals and receive better care overall.
It's a myth that digital training technology, like an LMS, will make training more cumbersome for healthcare organizations. When chosen to fit the organization's unique needs, an LMS can improve standard operations and provide a higher level of insight into essential compliance processes while simultaneously improving the overall training experience.
Build engaging, interactive courses to boost knowledge retention.
One of the biggest questions and also hurdles of healthcare training is effectiveness, especially when it pertains to industry-mandated learning objectives. Organizations must move beyond simply checking the box of compliance training to creating workplaces where knowledge is gained, retained, and implemented. This is how healthcare organizations can win competitive advantage and innovate in their fields. Knowledge retention is key. Engagement is the principle that enables overall knowledge retention. Both of these objectives—engagement and retention—can be achieved through interactive digital learning experiences.
The highly technical courses required in healthcare training can be improved in a digital context by adding interactive modules. The benefit of an LMS platform is that it allows organizations to convert existing training into an interactive learning experience with little effort. Adding a poll, quiz, video, audio, or another interactive component is a brief but transformative part of course creation.
Engagement goes far beyond the course itself, however. To boost knowledge retention and improve learning outcomes, healthcare organizations must facilitate engagement across the learning experience. This means training must be a valuable addition to the learner's experience at work. Simply by providing a system within which learners can engage with essential training—both required, industry-mandated courses and bonus courses that contribute to the advancement of their skills or certifications—organizations can facilitate better experiences for learning.
Manage compliance and adhere to industry regulations within a single system.
Chief on the minds of healthcare training leaders is the compliance equation. Industry regulations, like those under 21 CFR Part 11, make compliance tracking an essential component of any healthcare organization's operations. How can an organization adhere to and manage changing, varied, and sometimes endless compliance requirements? Audit trails must be available to demonstrate how an organization has managed compliance. Organizations face fines or even the threat of closures without proper compliance management. Compliance management has historically been a tedious and imperfect process—with paper-based and electronic systems that do not comprehensively understand an organization's compliance standard.
To overcome this hurdle, healthcare organizations need systems that can govern all relevant compliance data, run reports, and keep a record of training history. Learners must also be able to import previous certifications and keep a record of past learning. This way, the system functions beyond simple compliance tracking and creates a larger picture of the organization's compliance status. This data is valuable for tracking industry regulations and improving training objectives, determining learning gaps, and creating better learning experiences for employees.
Healthcare industry leaders need to know that digital training can and will serve their learners with better experiences and improve essential outcomes like knowledge retention and overall compliance. Implementing digital training technology, like an LMS platform, will make training more accessible, effective, and impactful for the organization—it won't hinder operations.
Now is a critical moment for healthcare leaders to embrace the digital age and implement better training solutions for their teams. With streamlined processes, effective training, and engaging learning experiences, healthcare organizations will be equipped to address issues like the worker shortage and the growing skills gap.