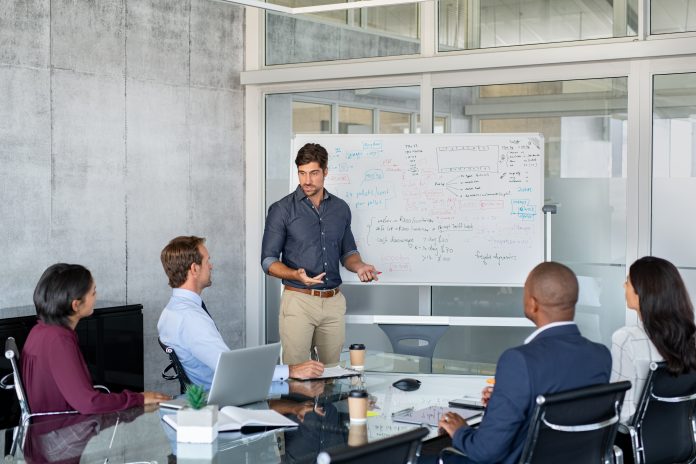 In the post-pandemic era, knowledge-based approaches will help corporations survive while those companies struggling with inertia will forfeit the recovery effort to some extent. The post-pandemic solution for survival is human resources as talent will be fleeting and newcomers will be flooding the resume surge. Behavior has also become an elusive target as many people are not sitting by the computer all day and yet the perception is that human resources are available 24-hours a day, seven days a week. My discussion with executives revealed that corporate strategy could positively contribute to the post-pandemic recovery in organizations. I pose a question that gets to the heart of post-pandemic recovery. Answering this question is indicative of the new mindset today: What type of strategic shift need to make?
The Post-Pandemic Recovery
The post-pandemic recovery requires a strategic initiative that is developed to monitor and sustain competitive advantage concurrently. In the post-pandemic era, executives are striving to meet customer needs while maintaining employee satisfaction levels and stockholder equity. Objectives are key to success if they counteract the demise of supplier support and vendor relationships as the world manages the pandemic. The pandemic evolves around the most hypercompetitive pressure from both internal and external sources as a result, corporate strategies are formed to efficiently deploy the capabilities and interact with environments.
Using Strategy to Meet the Goals of Knowledge Management
Based on my discussion with executives, they believed that leaders could apply strategy to meet the goals of knowledge management, which seeks to provide new and innovative solutions for organizational problems. The point was emphasized with the newly structured use of resilience and the focal point moving tandem with operational risk management. Financial risk management illuminated but the operational risk superseded as organizations struggled for survival. Focusing on the post-pandemic, leaders realize the need to develop an effective strategy to develop a more comprehensive vision for the future and incorporate upcoming trends in the business environment. I found that mission and vision statements were altered for con-current pandemic concerns. An operative and breathing movement that first surfaced as safety measures for all were implemented.
One can also now justify that the social media network has expanded to include remote workers. These workers may not realize it but they are now showcased online. Either they adapt and open up to be more vocal in meetings or they find themselves reclusive. Some employees have left industries due to the pandemic and executives and mindful of this. At the same time, they are cognizant of retaining talent from afar as they navigate through the pandemic to the post-pandemic. Thus, executives are stuck in a vacuum and they are using strategy. The C-Suite regards strategy as an ongoing process, iterative, and without no end in sight as they search for problems and their root causes, and directly or indirectly, generate better alternatives to solve them.
Also, executives mentioned that they worked together with Human Resources to save as many jobs as they can in such a turbulent environment and that one of the parameters that helped was that many people selected early retirement leaving a gap in attrition levels. In the post-pandemic, executives agreed that strategy could promote knowledge management by providing a series of clear guidelines for companies to track future trends in the business environment, and accordingly conduct "what-if" analysis and allocate organizational resources.
To best describe the actions necessary to handle to tumultuous post-pandemic, I, once again, emphasize the importance of strategic knowledge management. My reasoning is that more so today than pre-pandemic times, organizations exist as social communities designed to enhance competitive advantage by utilizing and creating new ideas and knowledge. Particularly, I feel that in the post-pandemic, executives have to create innovative strategic initiatives. Without a grasp on this tenet, executives are bound to fail in the post-pandemic. These proposed linkages can be illustrated in Figure 1.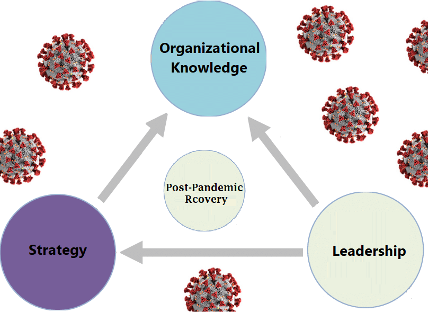 In Conclusion
This article offers several management implications for practice. I found that executives are coming together to incorporate strategic agility into the operational risk management areas of the business. This effort, not fully secures the financial future but helps them sustain the impact of the pandemic and survive. Most executives interviewed agreed with my assumptions found in the literature that cultivating an effective strategy requires the development of leadership within organizations not only during the pandemic but also as they prepare for the post-pandemic. This article also highlights the vital importance of leadership to stimulate effective strategies within organizations as executives address the need for a post-pandemic strategic initiative.