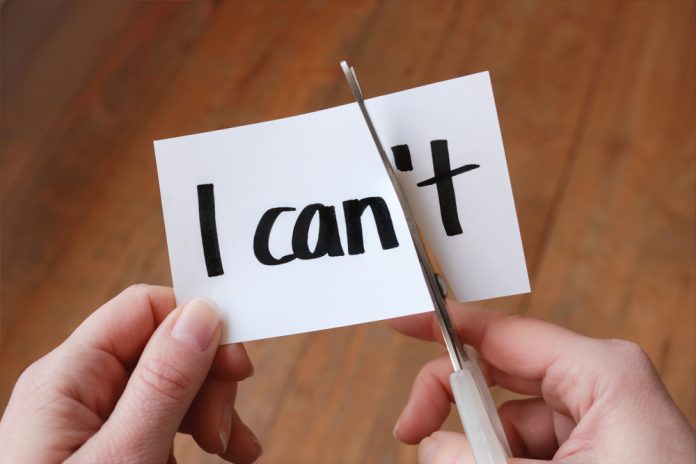 "I don't think I can do this" is something I hear repeatedly in my training classes—especially with my new hires. And my response is always: "Not only can you do this, but you can also be great at this!"
Now more than ever, we must train our learners to believe in their ability to do hard things, pivot when necessary, and learn new systems. When people do not believe they can do something, they set a barrier between themselves and achieving their goals. A confident person will approach learning with an open mind and continue to seek resources to help them gain understanding. So training on confidence should not be an afterthought; it should be treated as a critical skill.
3 Simple Ways to Help Learners Be Confident
Promote Positive Self-Talk
Positive self-talk is critical to building confidence. We can encourage our learners in class, but we must prepare them to encourage themselves when they leave training. Take intentional time to focus on self-talk. Have trainees think of phrases that help them thrive. Consider using a brain break to guide learners through creating self-talk visuals and let them know it might be helpful to place them somewhere they can see daily.
Lead by example by starting each day with a positive quote or comment in a morning check-in. Help to frame their self-talk with clear examples. Allow them to share vocally or in chat the go-to phrases that help motivate them and keep them positive so they can get ideas from their peers. When positive-self talk is a consistent conversation in training, it helps learners to develop the habit if it was not already there or support the habit if it was already something they practiced. When individuals can talk themselves up, they are able to talk themselves out of doubt and into doing things with confidence.
Address Fear
Fear is a natural emotion and one that should not be shut out; however, it should be addressed. In my training, I make time to talk about fear in detail. I ask everyone to share what they were afraid of when it comes to their new role. Then I categorize the list of fears. For example, fears about not knowing what to do or making a mistake would go into the "Mindset" category. Fears about not having anyone to help would go in the "Role Support" category.
After we have all the fears classified in a category, we talk about each one. I let them know what support systems are available to them, including coaching programs, mentors, peers, etc.
Then we address the fears in the "Mindset" category. Fears are everything from what if they fail an assessment to what if they take too long to find information for a customer? We discuss possible outcomes for all scenarios. I let them know that assessments are only a part of the data we collect. I assure them that taking longer to find information is not just a new hire issue; it is something that happens to tenured employees because processes change. So rather than focusing on that, they should focus on how to manage the interaction when it happens.
After we go through every fear and address it, there is always a shift in the class. Fear does not disappear altogether, but there is less focus on it and more understanding of the outcomes associated with their fears. This simple process helps to build their confidence and shift their outlook.
Give Clear Guidance on Resources
What do you do when you get stuck? This is a question we need to pose to our trainees, and we need to make sure they understand the resources that are available to them and how they can access them. There is no value in vagueness when it comes to helping learners understand their resources. When they know they have support, where to turn for that support, and that they should be utilizing it, they will step into their role with a different level of confidence.
Sometimes our confidence is shaken when we feel like we do not have help, or we do not know where that help is. In training, we are tasked with helping our learners to learn everything from technical skills to soft skills, with the goal of them ending the training near proficiency. However, we cannot focus so much on proficiency that we forget to discuss the resources available to them when they get stuck. It should be clear to trainees that while, yes, their goal is to learn everything they can in training and leave being able to engage in their job, it does not mean they cannot ask for help.
In my training, I am always open about how much I ask for help and use external resources—whether it is a subject matter expert or a Google search. I often tell my learners that while they are in the driver's seat, there are other people in the car who might be able to read the map better or have a shortcut. And instead of driving in circles, we should utilize our resources to get to our desired destination.
Being confident is being OK not knowing something, and telling yourself you can get help, talking through your fears, and understanding proficiency is an ongoing process.
I work confidence building into all my training and do daily check-ins, as well as provide a "Confidence Tracker" for learners (see below) to self-identify and understand that the goal is to focus on growth daily. Confidence trackers also serve as good data for content or soft skills you may need to review.
Find ways to help your learners build confidence daily, and watch it serve as the foundation for your learners going from hesitant to feeling excellent.