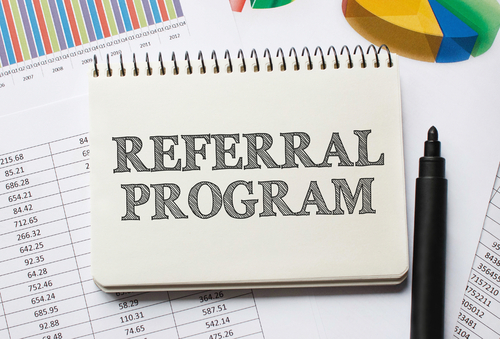 What sales rep doesn't want to make more money? While it might not be their #1 driver, it is definitely important to most reps. So what is the best way to coach and mentor your reps to get a pay increase today?
Help them create a consistent referral program.
I often talk with sales reps, and they love referrals. They say it is one of their best ways to grow their business as those sales tend to be quicker and for higher value. Sadly, they often do not have a plan to get referrals, and if they do, they are not strong enough to leverage the different types of referrals they can ask for and use to help close future sales.
Elements of a Strong Referral Program
Let's break down what is involved with a having a strong referral program. Then as sales leaders, mentors, and coaches, we can ensure they adopt the program to drive results for 2021.
First, we need to breakdown the different types of referrals to ask for. Most sellers put the work of the referral on the person they are asking for help vs. having a targeted plan to determine what referral they want to get. Let's break down the different types:
Direct referral to another contact at the same company. This is critically important as you continue to engage the multiple decision-makers and buying decision processes that are involved in sales today, especially business-to-business (B2B) sales. Ask for them by name, title, or department.
Direct referral to another contact at a different company. You have to think beyond the current company. Look at their history to know how long they have been at their current company or previous companies. They might have a significant number of contacts at other companies you might be targeting.
Referral to an industry or network group. This is where a seller needs to take a few minutes and look at the background of their contact and determine if there are areas they might want to get an additional contact. Open your mind to go beyond the obvious of an industry or LinkedIn group. It might be a contact from your past schools, professional organizations, religious organizations, community organizations, location, role, etc.
Endorsements of any kind. These can be recommendations, "5-star" reviews, quotes, case studies. You can put these on your LinkedIn.com profile as a recommendation, attach the positive review to your business, or add the reference or quote to your auto signature or presentation materials.
Use referrals throughout your sales process. A great example is using that referral as a reference for potential future business with a prospect you are going after. You can leverage your expertise in selling to specific industries or personas or even solving specific business challenges.
When and How to Ask for Referrals
Now that we have identified where we want the referrals to come from, now we need to make sure we know when and how to ask for referrals.
When to ask for referrals: There is no need to wait until after the customer buys or even three, six, or 12 months later. A simple rule to follow is to ask after a positive conversation with the customer. If you solved a problem, gave them value, proved to be an industry or product expert, established rapport, made them laugh, or got any form of commitment from the contact in your last conversation, then you have every right to ask for a referral.
Typically, I encourage sales reps to ask for referrals:
At the close of any call where the client is excited to move forward or sees value in my product, service, company, or me.
A few weeks post-close to have a checkup call with stating, "Wanted to check in and see how things are going and ask…"
Just after a launch, go live, delivery, installation, or even a renewal.
At the end of any positive engagement where you established rapport, solved a problem, provided value, acted as an extension of their team, or extended yourself beyond expectations.
Anyone who touches the customer and has a positive engagement should be asking for referrals. Many sales managers and executive leaders leave this to the rep to handle, when they should actively be asking for referrals, too. Think of all the touchpoints you and your sales teams have with your customers: if you just completed a Quarterly Business Review, closed a support ticket, reviewed a product enhancement, received a positive Net Promoter Score (NPS), have a high "customer health score," or even posted a customer event such as a client advisory board or annual customer summit. I have seen this work well after a cold call, even when a client does not buy. I also have seen executive sponsors ask for referrals from other executives, as well. Do not close your own doors by only asking once you close a deal or not leveraging everyone touching the customer.
How to ask for a referral: Almost every time I role-play with sellers to review how they ask for a referral, I get the basic reply, "Do you know of anyone you could refer me to so I might be able to help them like I helped you?" While that is asking for a referral, it is the bare minimum. It only asks for one and is very generic. Here is what a strong referral program sounds like:
"Thank you for your time today. I appreciate you being actively involved in the discussion. Before I hang up, can you please refer me to three contacts who might be in need of our solution?"
Ask for more than one referral. The more you helped them or provided those positive experiences noted above, the more confident you should be in your ask.
If you ask for three and you do not get them, then you have many other options. For example, "Thanks for that referral! Can I also get…
A LinkedIn.com reference?"
A customer testimonial from you?"
An introduction to XXX as I noticed you are connected to them?"
"And when I need a customer reference, would you mind if I connected you to customers who want to hear from other customers?"
Leveraging Referrals
Now that we have the referrals, we have to use them throughout the entire sales process. Maximize every opportunity as you interact with customers:
Whether you meet them in a cold call, trade show, or wherever you start off the sale process, referrals at the initial touchpoint stage help you to build trust and make the contact more willing to listen. Referrals at this stage create curiosity and develop interest about you, your company, your solution, and the problems you solve. A great example is to use "referred" in your e-mail subject line/cold call as it will significantly increase your response rates. I have seen more than a fivefold increase in response rates from reps using this tactic.
As you learn who is involved in the sales process, referrals help identify all of the stakeholders and gain access to decision-makers.
As your solution is being vetted, referrals help you overcome objections and position yourself against the competition.
As you negotiate toward a close, a reference from an existing customer will help you gain agreement on that deal you are trying to close.
As a sales leader, one of your primary job roles is to be a coach and mentor your reps so they can improve their skills. Ensure your reps have a referral plan and then hold them accountable for the execution. Talk about the tactics, lessons learned, and results in your team meetings, one-on-ones, "huddles," and deal review calls. You will see almost instant results in getting referrals to help with new deals and close deals currently in the pipeline.
Good selling!
Get our newsletter and digital magazine
Stay current on learning and development trends, best practices, research, new products and technologies, case studies and much more.