July / August 2014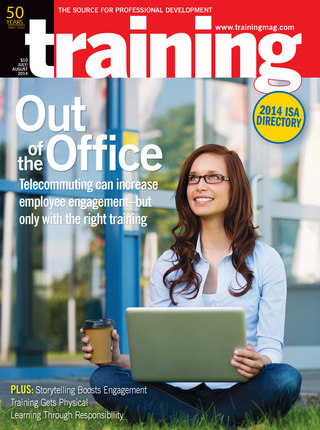 View Digital Edition
For the first time since the creation of the Training Top 10 Hall of Fame in 2008, Training magazine required all Hall of Famers to submit an Outstanding Training Initiative that would be shared with our readers throughout the year. Here are the details of Ernst & Young LLP (EY) and SCC Soft Computer's submissions.
Training magazine taps 2014 Training Top 125 winners and Top 10 Hall of Famers to provide their learning and development best practices in each issue. Here, we look at mentoring and competency maps.
How this utility infrastructure construction company designed and developed a customized learning management system (LMS) to manage its new training programs.
Some people like walkabout sessions to stay in shape and get creative juices flowing. Can it work for training?
While independent contractors often pinch-hit for employees in the corporate world, they don't always receive the same training as the rest of the team. It can make a big difference.
And how they negatively impact employee intentions.
Companies are striking a balance between additional responsibility and promotion to ensure employees have the growth plans that suit them best— and encourage them to stay.
Employees not grasping your trainers' lessons? The content may need a kick-start from storytelling. Illustrative anecdotes go a long way to helping learners get the point.
 Working from home can drive employee engagement and performance, but companies first must provide telecommuting training and reinforcement.