July / August 2014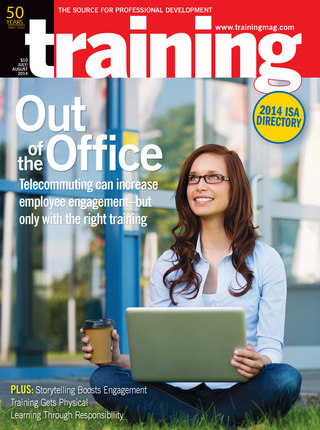 View Digital Edition
The latest products and services launching in the training industry.
An interesting thing happened during the years companies pulled back on training: The level of content and information coming at employees from all directions didn't pull back with it. Instead, the noise only grew louder. The competition for attention became fiercer. The disruptions, priorities, responsibilities, and demands piled on at an alarming rate.
Research shows that the more closely the subject matter is related to a participant's job, the higher the levels of engagement, retention, and post-classroom application.
Leveraging the internal tales of leadership to reinforce positive culture and right behaviors.
Saying goodbye to Don Kirkpatrick, a friend and colleague—and a true legend of the training profession.
Online learning in higher education poses different challenges due to unique characteristics of the market.
The key to developing engaging education lies in first establishing the motivation to learn.
Research demonstrates that we all harbor unconscious biases. The good news is that enhanced awareness and training can create an inclusive culture that identifies and helps eliminate these hidden biases.
Training costs may be higher in Finland, but this is balanced by the low-risk environment and excellent growth potential.
The science of data collection is meaningless without the art of interpretation.