March / April 2015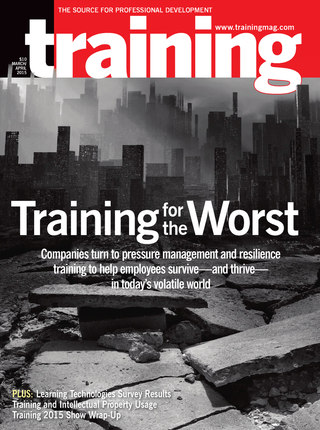 View Digital Edition
Each year, Training magazine requires all Training Top 10 Hall of Famers to submit an Outstanding Training Initiative that is shared with our readers in a print issue. Here are the details of KPMG LLP's Tax Training Redesign and The Ritz-Carlton Leadership Center's Advisory Services for Hospitals submissions.
Enthusiasm for this mantra and passion for training permeated the halls of Atlanta's Georgia World Congress Center during the 2015 Training Conference & Expo.
Many current learning management systems don't play well with others. Next-generation learning platforms are designed with consolidation and integration in mind to allow you to keep what you want, and let go of what you don't.
Continuing Training magazine's exploration of awareness of learning technologies, we look at survey results on how trainers prepare for and participate in the purchasing process.
You might have found just the right image, song, or article to incorporate into your training program, but do you have the right to use it? Being familiar with copyright law is key.
Disasters - whether manmade or the result of nature - are bound to occur, no matter how finely tuned a business is. Resilience training is key to making people more capable of bouncing back quicker and emerging stronger from these shocks and stresses.
Today's employees often feel like they work in a pressure cooker that is ready to explode at any given moment. Some organizations are implementing training programs to help their employees better manage that pressure and improve their performance in the process.